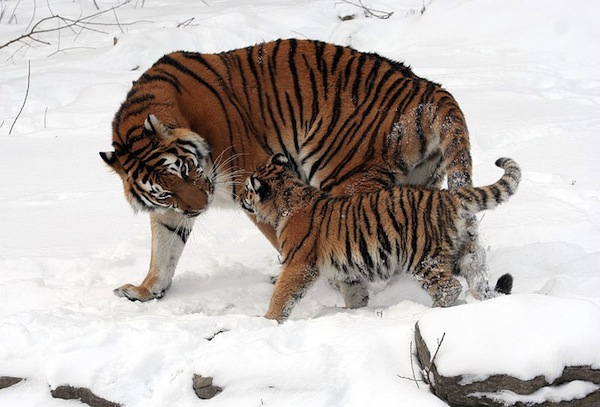 The snow day! It's luxuriating in the extra hours of winter sleep snuggled under a pile of thick blankets.
It's waking up at noon and pulling on my snow pants over my pjs, my moon boots over my thick wool socks, and squeezing my snowflake hat over my tangled mess of hair, then venturing out with my sister and neighborhood compadres to build a mazelike snow fort through the front yard.
And only after pelting each other with compacted snowballs until Timmy's red, snowy face gives way to tired tears, do we succumb to the cold and go back inside to lay our soaked mittens, hats and scarves on the wood stove and warm up with a cup of hot cocoa. Ah, the snow day!
As a zoo professional, snow days have a deeper meaning to me now. They're a zoo-born Siberian tiger in Tennessee who's never seen snow before. They're the beaver in the Minnesota Zoo who's hidden inside his iced over dam, cuddled up next to (hopefully) the guest viewing window. They're the polar bear luxuriating in the extra hours of winter sleep snuggled under a pile of thick, white snow.
They're the experiences people forget to experience at the zoo.
So What if Winter wasn't the Dead Zone for Zoos?
Winter is not prime time for most temperate zoos. Winter is in fact the lost season. The dredges. The figurative Atlantis. The time for zoos to get projects done since no one is at the zoo anyway. But what if winter wasn't the dead zone for zoos? Can we make winter exciting for guests, and profitable for zoos?
We've been asking this question recently with several of our clients ( at architecture firm PGAV destinations). Winter, for many zoos, means essentially shutting down half the zoo. No food or drink carts can be found. No Dippin' Dots, no popcorn stands. Most of the restaurants and satellite retail shops are shut down, too. Not to mention the rides, and the shows.
They do this, they say, because most January and February days see only a lowly 15 people–up to 100 on a good day. And this makes sense. In this way, they keep the operating costs down while maintaining the animals' health.
But what if we didn't need to shut down most of the zoo? What if we made an attempt to get guests to show up, even on a snowy cold day? What if snow day meant Zoo Day?
To understand the state of the industry, we've done a quick survey of zoo websites to see if anyone out there is making a big deal out of winter. Generally speaking, most zoos are not.
Mapping out a Winter Experience
Some zoos do market special themed weekends with unique activities like ice sculpture carving and music and dance presentations. Toledo Zoo used to give it a cute name'Frozentoesen'although it seems this year Frozentoesen is no more. Some zoos, like Toledo, have also added more indoor activities like a kids' zone with bouncy houses and climbing equipment.
But what I've found to be missing from all zoo websites is an actual campaign to show visitors what a great day they can have at the zoo during the winter. What about mapping out a winter experience route that not only highlights the indoor experiences and the shortest routes between them, but also stops at exhibits where animals will be more active and happy in the winter, like the polar bears? What if along this route, temporary spaces for warming are erected seasonally? What if these warm zones had changing activities, like enrichment creation stations or animal interactions? What if some of these zones supported unique revenue makers like s'mores or gourmet flavored hot cocoa?
If zoos marketed this specific route, told people how long a walk it was between indoor activities, and maybe went the extra mile to provide enclosed transport from the furthest points, maybe we'd see an increase in attendance. We know people are willing to come to the zoo in the winter, as witnessed by the prevalence of holiday lights programs at zoos across the country. But what is it that keeps these folks from coming during the daytime hours?
I think it's a simple lack of understanding that the zoo is just as good a winter experience (and sometimes better) than a summer experience.
Marketing and Strategy in the Snow
Of course, we could also do as the Minnesota Zoo does, and physically plan the zoo to have a continuous linkage between indoor zoo experiences thus providing a wholly indoor wintertime zoo. But for those who aren't ready, willing, or able to go down that road, why not just first try with simple marketing campaigns and guest experience strategies. Why not just first try. Why not just'try?
And if it fails, don't just give up. Examine why it failed. Could you do something different? Humans are fickle and sometimes unpredictable, but if you get it right, they will come.
Even on a snow day.
Image credits: Tigers and Polar Bear courtesy Buffalo Zoo, Giant Panda and Red Panda courtesy Smithsonian's National Zoo