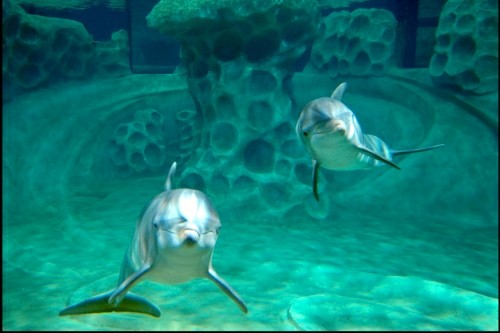 Stacey Ludlum continues her review of innovation in zoos'
I want to talk about the things that have been slowly happening, without much fanfare, across the United States in nearly every city from New York to Saint Louis to Portland. I want to talk about how things that the supposedly paradigm-changing design from Europe insists are innovative, or at least "rarely seen in zoos', have actually been around for years (and in some cases, decades) here in the United States.
Zoo Innovation #4: Sneaking in the Veggies: Education Disguised as Fun, and Fun Disguised as Education
Ultimately, the zoo is supposed to be fun. But all AZA accredited zoos and aquariums must include education and conservation as part of their mission. As such, disguising conservation education into a fun, engaging experience is a recent innovation on which many zoos are still working. Today's zoos are using many strategies (and often innovations unto themselves) to achieve this.
The first is a deeply thematic exhibit. Think theme park attraction quality storyline, thematic architecture and propping. Animals are not just being presented in their "natural" habitat; that's just layer one. Add complex stories involving cultural, historical references, and conservation threats and solutions alongside imaginative, adventurous settings, and visitors are being swept away to another place and time to encounter an animal experience.
In addition to the thematic exhibits, some zoos and aquariums are truly taking a cue from theme parks and are adding shows'from elaborate stage productions with lighting and sound to more modest (and therefore more often implemented and repeated multiple times throughout the zoo) keeper chats and training demos.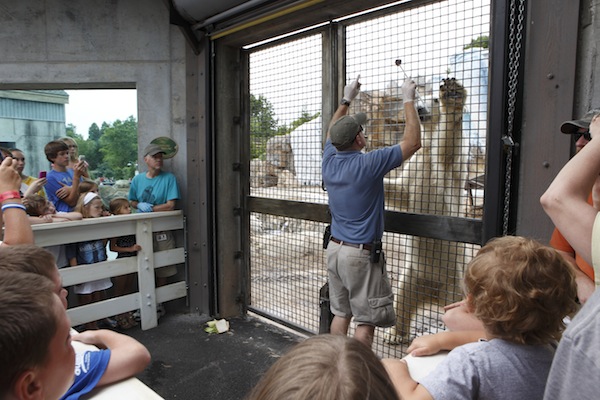 Some zoos even embrace non-animal shows with a conservation message, like the puppet show at the Bronx Zoo.
Rides are also a commonplace element of a zoo these days, but the real innovation here is the integration of ride and animal habitat. From the very simple skyride across an African savanna exhibit, to monorail systems immersing guests in large enclosures. New ride systems are continuously being evaluated for the ability to direct guests exactly where the animals are, controlling flow, and generally controlling the experience as a whole.
Finally, interactions with animals are becoming more and more popular. This is a bit of a retro innovation as guests feeding animals has long been a tradition in historic zoos as well as in less than ideal zoos of today. But the innovation here is not in the interaction itself, but in how it is being achieved. Today's interactions are highly controlled, managed and messaged by trained keepers, and provide the animals the choice of whether or not to participate. Regulations for dolphin encounters, for example, require a "sanctuary' space into which dolphins may retreat if they decide they no longer want to participate. Giraffe feeds occur on a single platform and giraffes decide if they want to participate. Feedings in general occur on a timed schedule and the food is carefully allotted, allocated, recorded, and considered an integral part of the animals' diets.
All of these provide a platform for communicating an educational message while guests are just having a great time.