The Big Apple Coaster at New York-New York is a destination in its own right.
Even in a city famous for wild resorts, the New York-New York Hotel and Casino complex on the Las Vegas Strip in Paradise, Nevada is something special.
Owned and operated by MGM Resorts International, New York-New York is way more than just a casino and hotel. Amongst its many attractions it features the famous Big Apple Coaster, the world's first roller coaster to feature a 180-degree "heartline" twist and dive manoeuvre.
Blooloop spoke to Wendy Ellebrecht, Operations Manager of the coaster about her unusual career path and why The Roller Coaster (as it's often known) is still one of a kind.
From Iceland to The Big Apple
The idea of creating a casino modelled on the unique and instantly identifiable New York skyline was conceived by a former White House staffer and US Ambassador to Iceland, Sig Rogich, along with Mark Advent, a Las Vegas developer. Rogich brought the idea to his friend, Gary Primm, a casino developer and head of Primadonna Resorts. Primm approached MGM president Bob Maxey in 1994 with the idea for MGM's prime Strip location. A joint venture was formed between the two companies. Construction began in March 1995.
Completed at a cost of $460 million, New York-New York opened on January 3, 1997.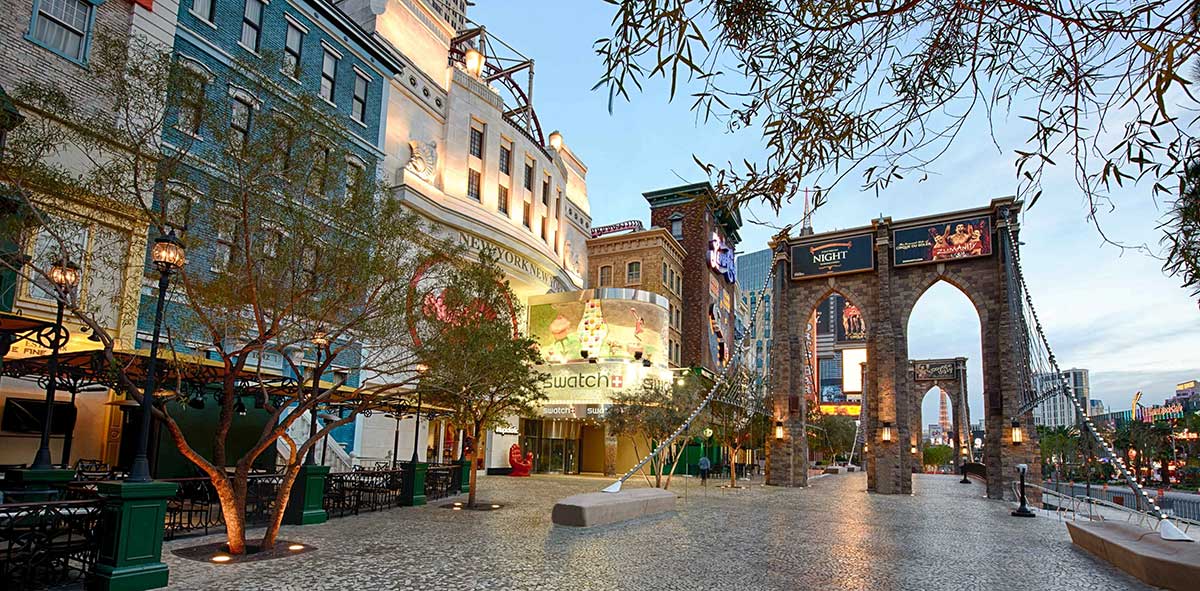 A Stunning Setting and Superlative Theming
The setting of New York-New York is stunning. The resort's twelve towers summon the iconic New York City skyline of the 1940s. Replicas of the Empire State Building, the Seagram Building, the former AT&T Long Lines Building, Lever House, the CBS Building (Black Rock) and the Chrysler building are all built at a third of the size of the originals.
An artificial lake represents New York Harbour, complete with a 46 metre Statue of Liberty. Grand Central Terminal, the main Ellis Island Immigration Station, the Soldiers' and Sailors' Monument, and the Whitney Museum of American Art add to the mix. A 'Brooklyn Bridge' the length of a football field stretches across the water.
The NYC connections continue inside the resort. Restaurants, lounges, meeting rooms and gambling areas are all named after famous New York landmarks or neighbourhoods. The shops are themed so they replicate Greenwich Village as far as possible.
In the casino, the 'heart' symbol on the playing cards has been replaced by a red apple.
The Big Apple Roller Coaster is the Kingpin
As if the evocative architecture weren't eye-catching enough, the iconic skyline is encircled by the famous Big Apple roller coaster. Its trains are designed to resemble New York yellow taxicabs. The station is themed along the lines of a New York City subway station.
The coaster, one of the most popular Vegas attractions, features high-speed dives and two inversions, including a unique 180-degree 'heartline' twist and dive. It offers a gut-tugging sensation of negative G's as it zips along a 1,465 metre (4,806-foot) route at speeds up to 67 miles per hour. It dips between buildings, looping upside down, and dropping 14 stories before disappearing through the casino roof and back to its station.
The coaster was originally called The Manhattan Express. It's now known as The Big Apple, or simply The Roller Coaster. It made its debut on the Strip in January 1997. Around a million visitors experience the ride each year.
From Street Level to Sky High – Ellebrecht's Career Path
Wendy Ellebrecht oversees 33 ride attendants, three supervisors and 10 maintenance staff. She has been working at New York-New York for eighteen years.
Back in 1987, she dropped out of high school. "After almost two years of no school, my father convinced me to go back," she says. "I was over 18, so they would not let me go to regular high school. Instead I went to an adult school in Antioch, California where I lived with my father. In just a few short months I made enough credits to receive my High School Diploma. I worked on my GED® tests at the same time, so I now have both.
"I moved to Las Vegas in 1999 with my mother. One of the first things that caught my eye when we drove into town was that huge, red roller coaster you can see from the freeway. I thought to myself 'I can't wait to ride that thing.'"
For a few weeks, she worked for a temp company, doing various jobs around the town. One day her mother asked: 'If you could work anywhere in this entire city, where would you want to work?' Ellebrecht replied: 'I want to work at the roller coaster!'
"I applied and was hired on November 11th, 1999, as a ride attendant and worked my way up from there," she says. "The training was all hands-on. I started by loading guests. I guess you could say my parents' guidance is the reason I am here today."
Safety is Key
After that Ellebrecht was supervisor for two and a half years. This entailed riding the coaster every morning to check it. It was a far cry from frustrating temping jobs.
In her present role as operations manager, Ellebrecht may no longer be riding the coaster daily. However safety remains key. The attraction has an impressive record. With her team of ten maintenance staff, she performs meticulous checks daily, weekly and monthly. Once a month they walk the tracks, including the loops. "Annually the trains get taken out. They are totally torn down and put back together."
As is the case with many modern coasters, the trains have six wheels at each end, and 'anti-rollback dogs'. These are a built-in safety feature. If the train has to be stopped as it ascends the first hill – to confiscate a phone or camera that has been sneaked onto the ride, perhaps – it won't roll back.
The Famous Twist-and-Dive Roll
The roller coaster was designed by TOGO. This was a Japanese amusement ride company that built roller coasters, giant wheels, carousels, flumes, dark rides, and sky cycles, amongst other amusement rides. The company, which went bankrupt in 2001, was renowned for inventing the Twist-and-Dive roll. In 2004 magnetic brakes were installed on the Big Apple by Premier Rides. By 2006 the trains themselves had been replaced, also by Premier.
The Big Apple has five trains altogether, two of which are always running. On busy days as many as four trains – which can be can be diverted to a side track for maintenance – can be on the tracks at one time. The coaster is, in a sense, a separate entity from the hotel and casino complex. It is a destination in itself. A million adrenaline junkies visit each year, to experience the dizzying heights, drops, swooping G-forces and barrel rolls.
For safety reasons, riders are asked to leave phones in lockers. The coaster's twists and rolls mean objects can be dropped and become dangerous projectiles. Nevertheless, social media plays a role in keeping the iconic coaster relevant. Thrill-seekers tweet, Instagram or snapchat pre- and post-ride selfies.
"The ride is really repeatable," says Ellebrecht. We have an average of 3,000 re-rides a month."
Wendy adds, with the satisfaction of one who has landed her dream career: "I love working here!"
Working With Ride Entertainment
By Adam Sandy, Chief Business Development Officer at Ride Entertainment
"New York-New York has been a great partner for Ride Entertainment's installation division. Bill Wright, who runs that part of the company, used to work for TOGO and was one of the team members that ran the installation in the mid-nineties.
"In the past decade Wendy and her team have asked Bill to do the more significant projects on the coaster. These include: brace and track tie replacement, selling and installing a new lift chain and sprocket set, column head replacement, pipe brace replacement, and general structural upgrades.
"The logistics of working on the coaster are always unique because we have issues that do not come up at other sites, such as: traffic control, night work, and the fact that the property is open every day of the year. But these challenges require Bill and his team to approach each job differently and we appreciate the fact that Wendy always has tight planning and coordination in place, which allows us to pull off some large projects in a matter of days- sometimes without us shutting down the coaster at all!"