Prejudice and Pride is The National Trust's programme to explore and celebrate themes of gender and sexuality in 2017.  This year marks the 50th anniversary of The Sexual Offences Act.  This was passed in 1967 and decriminalised 'homosexual acts in private between two men' – provided they were over the age of 21.
It also makes a nod to the 'Alan Turing Law' – which finally saw the posthumous pardon of thousands of gay and bisexual men convicted of now-abolished sexual offences.
Blooloop spoke to Joe Watson, creative director of The National Trust London, about Prejudice and Pride.
Engaged with Heritage
Watson worked initially for the Courtauld Institute of Art, then for the V&A. He moved into the heritage sector through running two historic Hampstead houses for the National Trust: Fenton House and 2 Willow Road.
"It was that desire to be engaged with heritage very directly, and with the running of places of importance that really interested me," he says.  "Then I found myself being pulled into roles that were much more focused with programming and with audiences. And that's really what I have been doing for the National Trust for the last five years or so."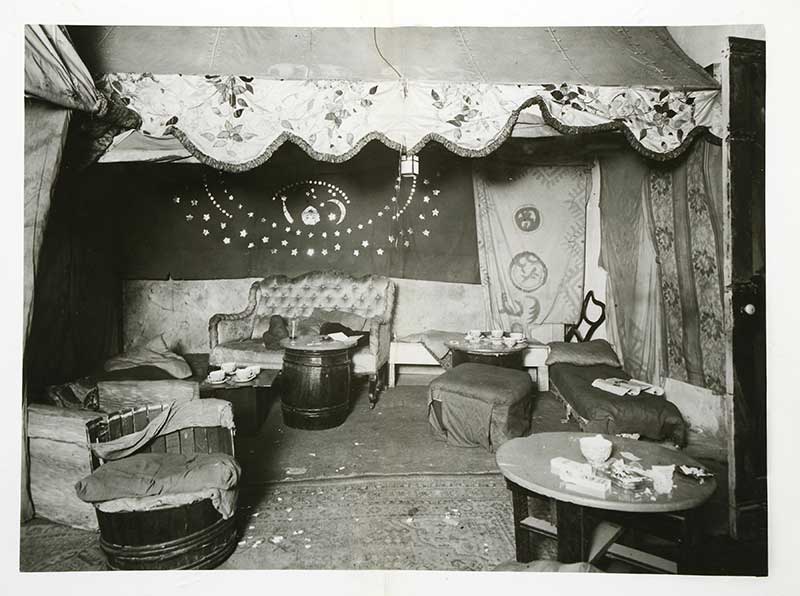 Queer City: London Club Culture 1918-1967 – a Unique Collaboration
Queer City: London Club Culture 1918-1967, is a unique collaboration between the National Trust and The National Archives.
The key event was the re-creation of the Caravan Club, a queer-friendly members' club, which existed for a mere six weeks between July and August 1934.
Being gay or bisexual in the 30s meant persecution, humiliation and prosecution.  The Caravan was billed as 'London's Greatest Bohemian Rendezvous' and 'the most unconventional spot in town'.  Later it was described in the press as 'a sink of iniquity'.  It was essentially the equivalent of a modern-day pop-up venue: a clandestine LGBTQ+ destination. Clubs of this nature were opened in the full knowledge that they would not survive for long. They were transient sanctuaries, places where the gay community could enjoy what the heterosexual community has always taken for granted: the right to dance, drink, and socialise.
The Caravan's name is derived from 'caravanserai', a term describing a guest house or hostel designed to welcome travellers.  The original caravanserai were found across the Silk Road countries from Turkey to China.  They were not only resting places, but a chance to exchange ideas and cultures.  The Caravan Club was briefly recreated very close to its original location, at Freud Café on Shaftesbury Avenue, in London's West End.
Bringing LGBTQ Narratives about Places to the Fore
"The Prejudice and Pride Season is mainly based in National Trust places around the UK," says Watson. "But we wanted a particular London contribution to it. So we worked closely with The National Archive to think about what that might look like."
It rapidly became apparent that recreating a particular space would not only be an interesting way of marking the fiftieth anniversary of the 1967 Sexual Offences Act. It would also open up a wider theme, about bringing LBGTQ+ narratives about places to the fore.
"Working with The Archive, we identified various places that were particularly well documented," says Watson. "The Caravan is perhaps the most notable of those, because of the wealth of documentation: a series of photographs that were taken of the interior, a plan, and various police accounts of observation and raids."
The History behind the Legend
The Caravan was funded by Billy Reynolds and run by Jack Neave, a former strongman and escapologist. Neave was known as 'Iron Foot Jack' because of the metal platform he wore to correct a shortened leg, The Metropolitan Police put the club under surveillance, watching from unused offices at the Shaftesbury Theatre, opposite. In August 1934 the club was raided.  Plainclothes officers gained entrance by pretending to be visitors.
120 men and women were arrested.  Billy Reynolds and Jack Neave were sentenced to 12 and 20 months' hard labour in prison respectively. Reynolds was accused of 'maintaining a place at Endell Street for exhibiting to the view of any person willing to pay for admission lewd and scandalous performances'.
A Project that is Poignant as Well as Celebratory
Watson talks about the wealth of documentation facilitating the club's re-creation.  "We really wanted to inject the human element into this story," he says. "Importantly, there are the love letters between people that were swept up off the floor and used as evidence in the subsequent trial. They have injected that very human element to this whole project."
He says they were keen to have a project that was poignant as well as being celebratory.  "What we wanted was a project that would really flag up the devastation that was caused to many people when they were outed or taken to court. We wanted to understand and convey that sort of impact, and the kind of clandestine nature of these spaces and their importance to a particular community."
The resurrected club was open from the 2nd to the 26th March 2017.  It has been the endpoint of tours which took in the much wider area of Soho and North Covent Garden.  "On Thursday, Friday and Saturday evenings, the club was brought to life by a cabaret artist called Ralph Bogard," says Watson.  "He brilliantly managed to rope in some of the very finest cabaret artists in town to come and give short performances as part of the evenings."
Watson points out that it was not by any means a formal performance.  "It's as if, for those three hours, you stepped into the venue in full swing. People just stood up and gave impromptu performances, and there was lots of audience participation as well;  people standing up and reading poems and telling stories, and even singing, on occasion.  It's been great fun."
The National Trust – Moving Away from Privilege and Potpourri
All this is a long way from the common perception of the National Trust, which calls to mind scones, stately homes, privilege and potpourri.  "I think that's fair to say," Watson agrees.  "This project provides a timely reminder of the importance of side-lined cultures to our national heritage."
It is part of a multi-year programme, Challenging Histories. "This is both about histories which may be provocative," says Watson. "But it's also about us, as an organisation, challenging ourselves to really look at the kind of histories that we tell at places.  And, where necessary, rewriting those histories, recognising that there are various things that have been to the fore, and others that haven't. And maybe it's time to shine a light on some of those that haven't."
Prejudice and Pride Continues
The recreation of the Caravan Club will not exist in any permanent form. This, Watson points out, seems strangely fitting.  "The original Caravan was only there for six weeks. We would have loved to have done it for six weeks. We would have done, if we could.  However we did manage to get the space for four weeks, which is pretty close."
There will, however, be footage and a continuing online presence to perpetuate the exhibition and its underlying message.
"There is also a guidebook which has been written by the National Trust and National Archives colleagues," says Watson. "It has an essay by Professor Matt Holbrook at the University of Birmingham, contextualising the whole thing, and looking at ideas of queer space in the city."
Challenging Prejudices that Still Exist
"For us, this is about revealing a history that we know will probably surprise lots of people," says Watson. "In general, I think people think of Soho's clubs as quite a recent thing. So this is, as much as anything, about making it clear that the narrative is much longer and runs much deeper than people might realise. That's a very important element."
The whole season is called Prejudice and Pride.  "We want people who are part of the community, and others, to take pride in these histories and to challenge some of those prejudices that still exist in parts of society."
The Prejudice and Pride programme continues thoughout 2017, even though the Caravan is now closed. The National Trust will be telling the stories of people whose challenging of the conventional notions of sexuality and gender shaped the properties in which they lived. Events will be held across the country at locations with LGBTQ connections.  The National Trust will also involve itself in Pride festivals and community-focused celebrations.