An English garden themed attraction in Japan has launched a new area children's area featuring Aardman's Shaun the Sheep.
Opened on March 31, Shaun the Sheep Farm Garden at English Garden Rosa & Berry Tawada, Shiga Prefecture, was created as a collaboration between Aardman and Tohokushinsha Film Corporation.
The 5,000 square-metre attraction allows children and adults to have fun together. Life-sized replica sets from the award-winning world of Shaun the Sheep feature alongside statues of Shaun and other characters including Bitzer and the Farmer.
Key features of Shaun the Sheep Farm Garden include:
The Farmer's House
Focused on the theme of 'seeing', the ground floor of the house is a faithful recreation of the farmer's sitting room. Here guests can take photos next to him as he sits in his favourite armchair, and also see the farmer's kitchen. His bedroom and bathroom are featured upstairs. In addition, panels introduce visitors to the history of Aardman, next to genuine character puppets from the Shaun the Sheep animation series.
The Sheep's Barn
This is the place where Shaun and the flock sleep at night. It's also where children and their parents can focus on 'experiencing' and 'learning' through various games and activities. As well as the interior, exterior details such as a corrugated iron roof and exterior walls have been recreated.
The Café/Terrace
Here a taste of British culinary culture awaits visitors. Light meals and snacks can be enjoyed here whilst overlooking the beautiful Rosa & Berry grounds and countryside beyond. In addition, a gift shop offers official Shaun the Sheep merchandise, including items developed exclusively for Shaun the Sheep Farm Garden. This facility is also available for hosting exhibitions and events.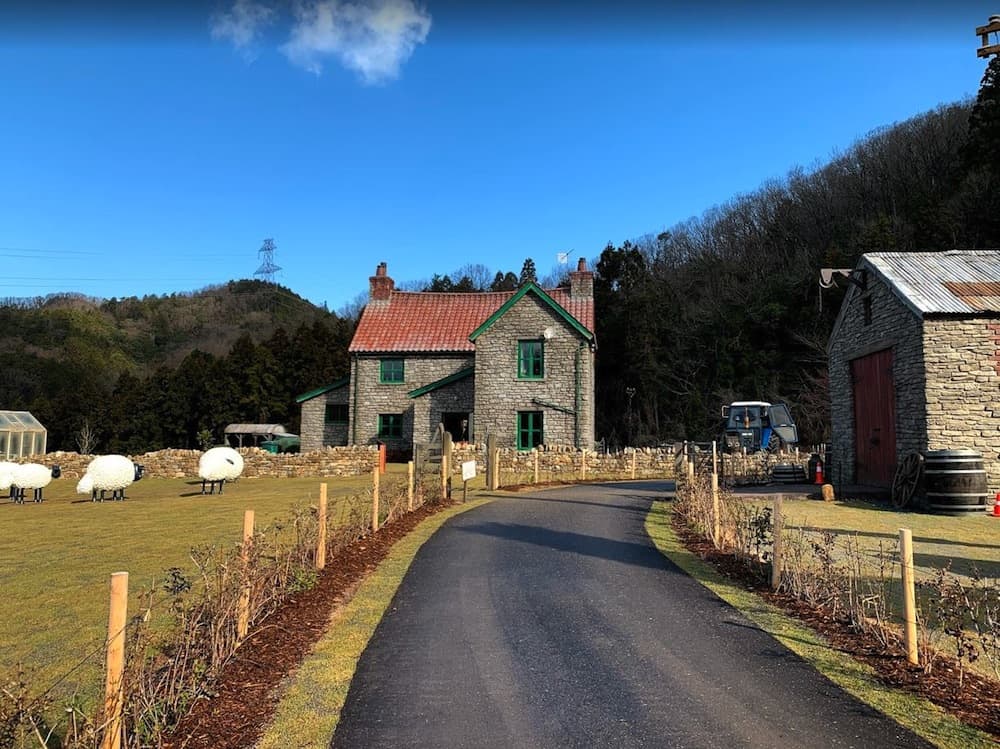 Aardman's head of Attractions and Live Experiences, Ngaio Harding-Hill says the attraction offers "an exciting world first – the opportunity to experience a life-sized recreation of Mossy Bottom Farm, set in the stunning countryside of the Shiga Prefecture."
The English Garden Rosa & Berry Tawada occupies a 3 acre (1.2 hectare) site surrounded by lush and peaceful mountains. In addition to its signature garden, the tourist facility also features restaurants and cafes, workshop facilities, a sheep farm and gift shops. Shaun the Sheep, which is broadcast in 170 territories around the world, was therefore a natural fit. So faithful is the finished product, you'd hardly know you were in Japan.