Casino operator NagaCorp has revealed that it expects to invest between US$3.8 billion and US$4 billion in Naga 3 – another extension to NagaWorld casino resort in Cambodia's capital, Phnom Penh.
Naga 3, to be developed in a combined land area of 16,837 square metres, will expand the company's gaming and non-gaming offerings, NagaCorp said in a filing.
Naga 1 opened in December 2006, while the Naga 2 expansion opened in November 2017. Together, they form the NagaWorld Complex and are connected via an underground shopping mall called NagaCity Walk.
Naga 3 will be located next to and connected to NagaWorld via the NagaCity Walk.
The company said that Naga 3 will add a total 4,720 hotel rooms to the NagaWorld Complex, split between four hotel towers and one condotel.
VR interactive indoor theme park
Other amenities will include a high-tech virtual reality interactive indoor theme park, sky pools, conference space and an outlet mall.
Guests will be able to take a zip line ride through a fantasy video played on a digital ceiling above the lobby. The "digital street" will be a first for Asia and is expected to be popular with Instagrammers.
Proposals have been put forward for an underground walkway between Naga 1, 2 and 3 with shops and space for entertainment attractions.
The hi-tech digital theme park will span over three floors with the latest digital attractions as well as retail and F&B. This indoor FEC is expected to attract 1.65 million visitors a year.
Attractions will be inspired by Cambodia's past as well as a digtal future, with attractions such as a digital a "fly over Cambodia or Angkor Wat".
Naga 3 casino and hotel
NagaCorp revealed that it expects to engage one or more well-known international hotel brands to manage some of the hotels in Naga 3.
Hong Kong-listed NagaCorp has an exclusive licence to operate casinos in Phnom Penh and its surroundings.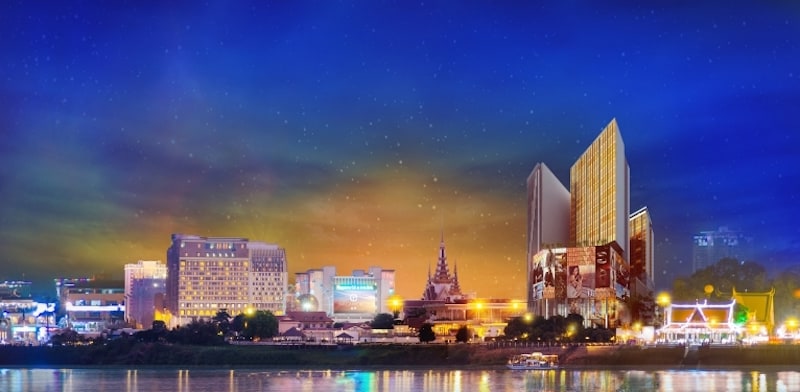 Under its exclusive casino licence, the company has no restrictions on the number of gaming tables, electronic gaming machines (EGMs) and gaming space. Naga 3 could include up to 800 tables and up to 2,500 EGMs.
Steelman Partners will return as design architect, planner and interior designer for Naga 3. Funding for the project is still tbc.
On Wednesday (April 3), NagaCorp also published its results for the first quarter of 2019, revealing its gross gaming revenue for the first three months of 2019 as $321.2 million – up 32 percent from Q1 in 2018.
Worldwide casino industry
Millennials are changing everything, but perhaps no business is having a harder time adjusting than the casino industry – read more about millennials and a faltering casino industry.
At the Galaxy Macau Casino, Zero Latency has partnered with Tomorrow Entertainment for a second time to create a free-roam VR arena.
Images: NagaWorld / Steelman Partners