Burberry and Tencent have collaborated on the first social retail store in Shenzhen, China. The digitally immersive retail experience opened in Shenzhen Bay MixC on July 31.
The store is powered by Tencent technology and is designed to entertain luxury customers with exclusive content and personalised experiences.
Visitors to Shenzhen's flagship Burberry shop can use Tencent's WeChat, a messaging and social media app, to interact with the window display and play their own music in fitting rooms.
"Together with Tencent, we have pioneered a new concept that will redefine expectations of luxury retail," said Marco Gobbetti, CEO at Burberry.
"It marks a shift in how we engage with our customers and we can't wait to share this innovative experience with the world."
Personalised experiences at Burberry Shenzhen
The shop was designed with Shenzhen's growing reputation for technology in mind, and app users can book one of three themed fitting rooms, pre-select clothes, make appointments with stylists, and book a table in Thomas's Cafe.
The store is comprised of a series of spaces for customers to explore, and each has its own concept and personality, offering a unique interactive experience.
To encourage engagement, the app has a rewards system that unlocks custom content, including new outfits for users' avatars and exclusive dishes on the café menu.
Tencent and Burberry have 'pioneered a new concept'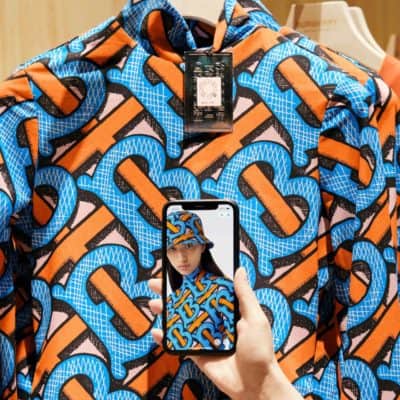 All products have QR codes, which can be scanned to display more information. Additionally, the interactive window display is a sculptural recreation of the runway for Burberry's Autumn Winter 2020 show.
Martin Lau, president at Tencent, said the company hopes to contribute to "the upgrading of luxury retail, improving the quality of people's lives, and promoting sustainable development, through which we hope to ultimately support maximizing the social value".
"I am fascinated by the balance between nature and technology, and the energy that connects the two," said Riccardo Tisci, chief creative officer at Burberry.
"This store explores this relationship, blending the digital and the physical realms in an exciting new concept."