Mall of America has launched an online-only Santa experience for COVID-19 Christmas 2020. Kids worldwide can help elves at the retro '70s Candy Cane Institute with their market research, before discussing their Christmas list with the Big Guy.
Mall of America's online Santa retailtainment experience is a response to the global coronavirus pandemic. Initially designed as a socially distanced, bookable tour with a video call to Santa, the mega mall had to pivot and move online after the state Governor scrapped indoor Santa on November 18th.
In a tongue-in-cheek, press release, Jill Renslow, Executive Vice President of Mall of America, says, "The holiday season needs more magic than ever this year, which is why we were thrilled that the Candy Cane Institute chose Mall of America to help bring this virtual experience to our guests all over the world. At Mall of America, we've always been guided by data-driven information to create a better guest experience, so we appreciate the efforts of the Candy Cane Institute and look forward to welcoming families to this new online holiday experience."
A socially distanced Santa experience
Lead Storyteller & Experience Designer at Mall of America, Chris Grap told Blooloop that Mall of America had looked at several socially distanced design concepts over the summer, many of which put Santa behind glass, for instance trapped in a snow globe. These all felt too scary and dystopian. The Candy Cane Institute concept created with Hotopp Associates, was a nicer scenario. By introducing a science lab, the elves could wear masks naturally as part of the story.
"It was a very clever way to to kind of the Christmas lab opportunity. There's a bunch of curious elves who are trying to figure out what makes the holidays so special. And they've been working since 1972 in secret. And finally Santa has relented and given them the opportunity to set up a field office at Mall of America."
The experience was intended to be a guided tour of the research outpost. Guests would see various experiments including the Ugly Sweater Analysis machine which tests whether a holiday sweater is ugly or funny.
"The machine's pulling the thread through and there's little meters and analyze it, but it gives those moments of interactivity for the guest and it is kind of like highlighting some of the absurdity of our traditions. If it's ugly, why do you buy it? And this fruitcake, why do people give this to each other if nobody likes them? So it's a very playful environment."
The action would then move on to the Focus Group Room where the elves would present their findings and conclusions back to visitors.
"The elf who collected all the data and said, all right, so we got it. You love candy canes and you love sneakers. So clearly the best gift for you would be candy cane flavored sneakers!"
Having interpreted their data completely incorrectly, it would then be time to see the Manager. Guests progress to the boardroom where they would have a video call with Santa.
Moving Santa online
But the experience had to be moved online when new regulations came into force.
"So that was our plan until November 17th and November 18th. We got the order from the Governor – no indoor entertainment and no in-person Santa visits. We had to rework the entire experience now to be virtual. So now the Candy Cane Institute is back at the North Pole and we're connecting people virtually. They're getting a hosted tour with the elves through the Christmas lab. And then Santa interrupts the call at some point and then the guest is connected to Santa and they have their they're kind of virtual Santa visit that way."
Grap says that working with Hotopp was "a perfect partnership", even when the experience had to be reworked at short notice.
"They're on site putting everything in and I have to come in and go, hey, this is great, but we've got to do something wildly different."
Mall of America's IT department also deserve credit for working out a solution quickly.
"It isn't as easy as just setting up a zoom. They set up a system using Cisco and had about four days to implement."
A virtual holiday experience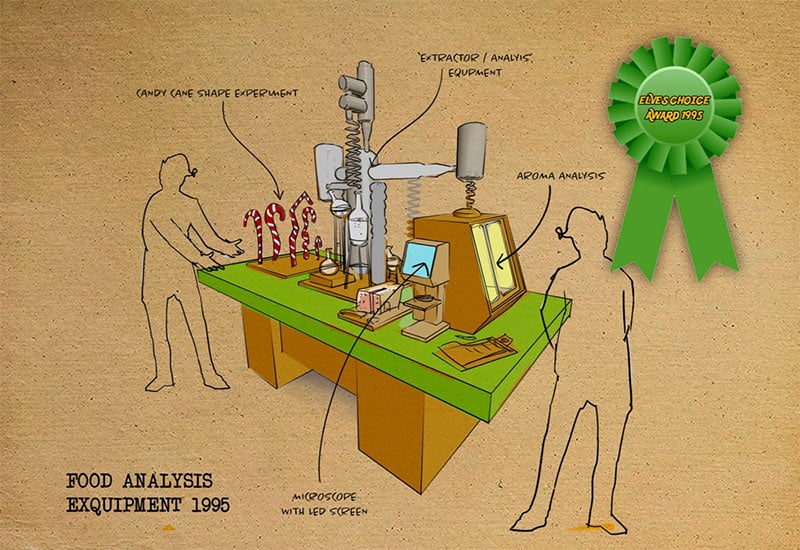 The commitment to keeping the concept for an online experience speaks volumes as to the strength of the concept and the buy-in at all levels of Mall of America and owners Triple Five, says Grap.
"That's just the strength of the IP that Hotopp created. Everybody here believed in it so much. This was never a money maker – it's a memory maker, but also a traffic driver because people were going to physically be in the space and do it. The fact that our ownership and management said we're just going to do virtual and we're going to get it to as many people as possible, I think really speaks volumes for who they are and what the season means to them and how much they believe in the experience. Because, you know, this effort to have wasted this effort would have been a real shame. "
Grap explains that some of the "Pixar level" humour for adults has been lost with the move online, but that the hope is to return to the Mall for Christmas 2021.
"So this year, here's a peek. Next year, when we're all able to gather we'll set up the real field office at Mall of America."
Virtual visits to The Candy Cane Institute launched on December 1st. The 10 minute virtual holiday experience costs $20.
Mark Ghermezian discussed technology in retailtainment and plans at American Dream at the blooloop V-Expo 2020.