Culturespaces founder, Bruno Monnier discovered his chosen site in the French capital in 2014. After extensive but sympathetic renovations, the former foundry in the 11th arrondissement of Paris opened as the Atelier des Lumières (Studio of Lights) in April 2018. Since then it has hosted around 2.5 million visits.
Projected masterpieces from the likes of Leonardo da Vinci, Egon Schiele and Gustav Klimt surround visitors. Each programme is also accompanied by a soundtrack that makes the experience more reflective and immersive.
According to Augustin de Cointet de Fillain, Culturespaces' Director of Art, Music and Immersive Experience, most people stay for between one and one-and-a-half hours. That, in the heart of this metropolis, is time well spent, taking them away from the hustle and bustle outside.
Some people walk around and some perch on seats or view from the balcony. Others lie on the floor. "Some, they are dreaming," says de Cointet de Fillain.
Immersed in art
The exhibition's content is projected onto all four walls and the floor of the 3,300 square-metre space, as well as a cube and a cylindrical structure in the centre of the room.
The main programme, lasting around 35 minutes, is currently dedicated to the work of Vincent Van Gogh. This is complemented by a 10 to 12-minute film and a shorter production by a contemporary artist. Currently, these are the enchanting Japon Rêve (Japan Dream) and Verse by Paris-based film-maker Thomas Vanz.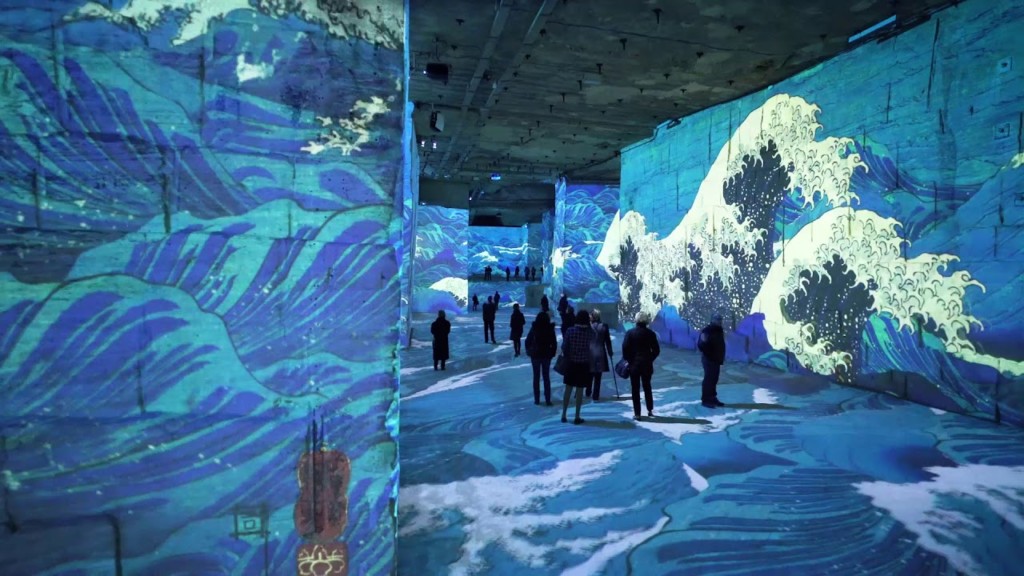 To make the digital art exhibition possible, Culturespaces worked with Cadmos, which commissioned a projection solution from Barco. The Belgian company's projectors also feature at the original exhibition in Provence. A total of 144 projectors are employed in Paris, together with 50 speakers.
The longer productions feature around 2,000 images taken from 800 individual paintings, including close-ups and animations.
Culturespaces sees the light in Provence
The roots of the Lumières concept date back to 1977. This is when a former underground quarry in Les Baux-de-Provence was used as the setting for a sound and light show inspired by scenographer Joseph Svoboda.
Culturespaces has been running the space, now trading as the Carrières de Lumières, since 2012. The private company also manages monuments, museums and prestigious historic sites around the country, catering to an annual audience of around 4 million.
It runs many of these venues on behalf of public bodies. They range from Paris' Jacquemart-André Museum and Musée Maillol to one of the best-preserved Roman amphitheatres in Europe, in the city of Nîmes.
In Les Baux-de-Provence, Culturespaces Digital has transformed the Carrières de Lumières into a Thea Award-winning attraction. This entertains around 700,000 visitors a year. "That," says de Cointet de Fillain, "is great in this region."
Over the past seven years, the huge rock walls of the quarry have provided the canvas for projected works of art from such iconic painters as Picasso, Gauguin, Van Gogh, Monet, Renoir, Klimt and de Vinci. As well as Arcimboldo, Bosch, Brueghel, Goya and Sorolla. Content from several of these has since gone on to play to audiences in Paris.
An air of tranquillity in the French capital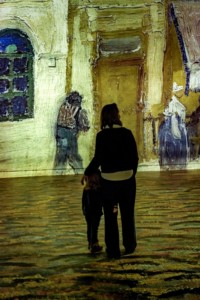 Atelier des Lumières is located between the eastern neighbourhoods of Bastille and Nation in Paris.
Whereas visitors are free to roam widely in Provence, they tend to be more static inside the Parisian attraction. This allows the 1,200 capacity venue to accommodate a greater number of guests, in spite of its smaller size. Nevertheless, the venue maintains a maximum number of around 850 visitors at any one time, in order to preserve an air of tranquillity.
The audience at each venue differs somewhat too, says de Cointet de Fillain. "While in Provence we mainly welcome tourists, many art lovers visit the Atelier. They are more critical and pay close attention to details."
A total of 128 Barco PGWU-62L laser projectors deliver the artwork onto the room's 10m high walls. These are backed up by 16 F50 'panoramic' WUXGA projectors with short-throw lenses. To achieve image quality fit for scrutiny by visiting art buffs, they use a pixel pitch of 4mm. Colour matching was another important consideration.
"The technology projects razor-sharp images with high contrast, thus depicting the images in the most lifelike way possible," says Bruno Monnier.
Atelier des Lumières – digital art to pique the senses
De Cointet de Fillain describes the Atelier des Lumières as sensory rather than intellectual. He believes this is part of its success. "Afterwards, if people want to continue the experience, they can have an intellectual experience," he says.
In Van Gogh, La Nuit étoilée (Starry Night), the exhibition is accompanied by a soundtrack from Italian composer Luca Longobardi. Those that wish to extend the experience can download an accompanying app offering 50 audio commentaries.
This particular programme will end on 5 January 2020. Monet, Renoir… Chagall. Voyages en Méditerranée, will replace it on 20 February, again featuring music from Longobardi. It will be accompanied by a shorter programme focusing on the work of Yves Klein. Both of these will be resident for the remainder of 2020.
In addition to the scheduled exhibitions, the Atelier des Lumières can also provide a backdrop for custom content for after-hours corporate events.
On Thursdays, Fridays and over the festive season, the public can visit until 10 pm. On other days, the closing time is 6 pm or 7 on Sundays. Adult admission is €14.50.
The visitor profile is very wide, says de Cointet de Fillain. However, "because it's multimedia you [also] have a lot of young people."
Bringing the concept to Bordeaux
In its inaugural year of operation, which began last April with a show on Klimt, the Atelier des Lumières welcomed over 1.2 million visitors. This year's total is likely to be a little higher, due to the February launch of the Van Gogh and Japon Rêve exhibitions and the venue's growing reputation.
Between 500,000 and 800,000 people per year are also expected to visit Culturespaces Digital's latest project in Bordeaux. Located in the port city's former World War II-era submarine base, the Bassins de Lumières (Pool of Lights) will be the world's largest digital art centre.
"It's absolutely huge," says de Cointet de Fillain. "The surface area is more than three times what we have in Paris, and will be able to reflect onto the water."
The new facility will open to the public on April 17. Visits will take place on gangways above the water and along the quays of the venue's four 110m long basins. In total there will be 12,000 sq m of projection surface.
Klimt will again launch this latest Lumières project. A flagship programme focusing on the work of the Austrian symbolist and his successors will be interspersed with a shorter programme on German artist Paul Klee. In the special exhibition space, Le Cube, visitors will be able to discover new work by the studio Ouchhh as well as Bordeaux-based digital artists.
Shining a light on Asia
In addition, Culturespaces is looking for new venues around the world to which it can export the Luminieres concept. Last year it launched an exhibition called Bunker de Lumières on South Korea's Jeju island. This was in partnership with local company TMONET.
With these mesmerising exhibitions, Culturespaces has created a signature style of digital art that celebrates some of the world's greatest painters of all time. And at Les Bassins de Lumières, water should provide the pièce de résistance.
All images copyright Culturespaces Digital.