June 11 saw Ecsite Day, a busy day to celebrate the Ecsite network. Taking place online, Ecsite Day was a chance to catch up and feel connected to a community of like-minded individuals. The event was free and open to anyone.
The day was filled with thought-provoking lectures and discussions, with interactive games, meetup sessions and, of course, a pub quiz to end the day. It was followed by Ecsite's Business Day on 19 June.
A warm welcome
Ecsite day started with Herbert Münder, General Manager at Universum Bremen and President of Ecsite, welcoming everyone to the conference. He highlighted that getting back to museums and science centres is a step back to normal life before COVID-19. But getting people back into these institutions may be difficult, so "we as a network have to work together" and learn from each other.
Ecsite Online explores design fictions
For the Kavli Foundation Keynote lecture, Nicolas Nova discussed how we can plan for and predict the future. At the Near Future Laboratory, Nova takes an idea that is innovative such as self-driving vehicles and tries to predict a future world around it.
A lot of research has to take place to understand the existing context of the future. Nova looks at academic research, studies and questions people, and then thinks about the potential problems. He can then create a scenario about possible future technologies.
Predicting the future is not new. At the 1939 New York World Fair, General Motors created 'Futurama', a mock-up of a futuristic city filled with skyscrapers and cars. It was designed to influence the future and encourage people to buy more cars.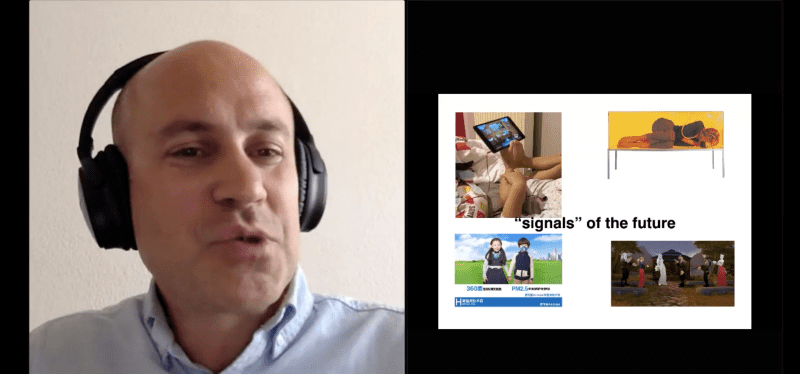 For Nova, there is not just one possible future. The future gives signals for what will happen. But observing the future means understanding the signals of the future.
For example, he spoke of seeing an image of children wearing masks in China five years ago. At the time, it was an odd and jarring image, but it prepared Nova mentally that this is a situation that could exist (and does exist right now with the COVID19 pandemic).
In conversation with Kersnikova Institute's Artistic Director
The Kersnikova Institute is a non-profit and non-governmental cultural organisation founded by the Student Organisation of the University of Ljubljana. In this session for Ecsite Online, Andrea Bandelli spoke to Jurij Krpan from the Institute.
For Krpan, the role of science centres and museums is for future science thinking. In one project, a camera looked at microscopic stomata on a plant. Using video projection and a time-lapse, researchers saw the stomata opening and closing like mouths. Using lip-reading software, they 'read' the stomata.
Following a break for lunch, delegates at the virtual conference heard from Ecsite's Executive Director, Catherine Franche.
She delivered a message of hope to the science engagement community and looked ahead to when centres will be allowed to welcome visitors once again, saying: "History is at our door, and will be a part of its future…Precious is our freedom to move and to touch. Freedom and touching – that is our dance. We will come up with a new music."
Crisis as a Catalyst at Ecsite Online
The afternoon sessions then kicked off with a panel discussion on Crisis as a Catalyst, moderated by Mikko Myllykoski from Heureka – The Finnish Science Centre. Speaking on the panel were Nicolas Nova from the Near Future Laboratory, Marie Hobson from the Natural History Museum and Michael John Gorman from BIOTOPIA Naturkundemuseum Bayern.
Hobson spoke about the potential of situations such as the COVID-19 pandemic to change the status quo, saying, "If the museums we reopen are the same as the museums we closed, have we missed this opportunity to learn?"
Gorman then presented a fascinating audio project featuring birdsong, which is connecting people during the lockdown. Nova also gave some insights on the topic from the perspective of design fiction.
Kitchen Table Tinkering Workshop
This Ecsite Online session was an interactive opportunity to tinker at home. The Ecsite Maker Group took everyone through playing with light and shadows. This session highlighted the ways a museum can engage its community at home through tinkering.
Although many museums have done lots of online teaching programs like this throughout COVID-19, they are a great way to continue to engage even when museums reopen.
The Future of Business Models
During this Ecsite Online panel, four professionals from museums across Europe discussed the various business models of museums and how COVID-19 has tested the viability of their funding models. Brad Irwin from the Natural History Museum in London emphasised that the current business models for museums are vulnerable if they are too reliant on commercial income.
Joanna Kalinowska from the Copernicus Science Centre explained that sponsorship has been very useful for her museum. They have a good relationship with their sponsors who have been supportive in this moment of crisis.
Camilla Rossi-Linnemann, from the National Museum of Science and Technology Leonardo da Vinci in Milan, agreed, saying that museums must now think about "creating more long-lasting relationships with sponsors."
Irwin then asked the other panellists if the current business models are dead. Andreas Heinecke, CEO of Dialogue Social Enterprise, said that they are not dead but they need to change. Joanna and Camilla agreed, and both said that in the future museums need to emphasise that they are an important social institution.
Camilla explained, saying that museums should "develop a new way of talking about our strategies to speak not only to sponsors but to individuals and the public." All panellists agreed that hybrid funding will be vital for the survival of museums.
Looking forward to Stavanger in 2021
The day concluded with a video looking forward to Ecsite 2021 in Stavanger, Norway. The theme next year will be 'Exploring Synergies'. Almost 800 attendees joined from 57 countries throughout the day. By using a digital platform, Ecsite Day was able to reach 341 newcomers.
The success of Ecsite Online means the organisation will likely continue with a digital aspect for future, real-life conferences. There was then the opportunity to join in with a virtual happy hour that saw Ecsite members representing their home countries, dance to the Ecsite Jazz band, and then join in the pub quiz based on trivia from speakers, sessions and themes from the day.
Ecsite Business Day
On June 19, Ecsite held its Business Day online. Exhibitors had a business page for people to browse through photos, videos and brochures. There was also a full day of sessions and more opportunities for people to connect through meetups online. This allowed discussions from sessions to continue on Zoom.
Exhibitors
One of the exhibitors, and a Gold & Extra sponsor for the event, was Imagine Exhibitions. At the company's Special Exhibit page visitors could see how the leading travelling exhibitions company is serving the industry during these difficult times.
Several Imagine Exhibitions shows, such as Dinosaurs Around the World and Real Bodies the Exhibition can accommodate social distancing measures, such as drive-in exhibitions at zoos and other attractions.
JRA exhibited on Business Day, showcasing their innovative and educational exhibitions that have been used in the Field Museum, Science Centre Singapore and more.
Teo, a one-stop resource for the international touring exhibitions community, exhibited. Visitors could explore the living resource that allows people to explore travelling projects and connect with the industry.
Both Science North and Universcience also exhibited and presented their latest travelling exhibition at the end of the day.
At the start of the day, Franche thanked everyone who has supported Ecsite and this event. She also promised that "Next year we'll celebrate with two drinks – maybe more."
The Jungle Bunch: the Exhibition
Damiano Bedini and Théodora Nikolitsopoulou from TAT Productions and Joy Latour from the Muséum d'Histoire Naturelle Toulouse discussed The Jungle Bunch exhibition. TAT Productions created 'The Jungle Bunch to the Rescue' in 2013, and it became so popular there are now several feature films and a tv series.
Using this successful IP, The Jungle Bunch exhibition is a travelling exhibition for children. Latour explained that they wanted to "address serious issues like protecting ecosystems to raise awareness to our young visitors".
The exhibition has hands-on games, such as dropping a seed, as well as a multiplayer game at the end. A cast of a gorilla can be touched by visitors.
Immersing visitors in interactive worlds
Ilse Wachtelaer from CREATE.EU, a company that specialises in creating immersive experiences, discussed the best ways to immerse visitors into an interactive world and its benefits.
CREATE.EU uses immersion, such as a 360-degree projection, to share art and science information. The aim is to give the theme context through immersion.
By using camera tracking, visitors can interact with the world they are immersed in. This is also a touchless experience, and so is corona-proof.
Multiple visitors can be in the space at the same time, however, they can remain socially distanced and can learn at their own pace. This creates a group experience but also allows visitors to control their own experience.
Once this has been created for one location, it can be moved quite easily, and content can be created from any studio.
When exhibitions about the future become the present
After lunch, Mark Read and Helene Wang from Universcience spoke about imagining world-changing events that lead to changing horizons. The museum's new 2021 travelling exhibition, Renaissances, is about the future we imagine for ourselves.
The pandemic has changed the exhibition, so it will now have minimal buttons and touch-points. The content has also changed. Universcience has asked experts to reflect on how the pandemic will affect our future.
Pascal Goblot from Escalenta spoke as part of Ecsite Online with Mark Read about a new project from Universcience, 'Data of the Future'. Scientists from around the world are modelling the future and producing data.
This project will use this data to create an immersive installation on a 180-degree panoramic screen. There will be VR applications and it is a purely visual and audio show with no commentary. This will allow the spectator to create their own story in the show.
Turning data of the future into images allows the visitor to understand the key challenges of the world to come. 'Data of the Future' will not predict the future but will help us to anticipate the questions that will arise tomorrow that we should be aware of today.
From Jurassic Oceans to Wildlife Photographer of the Year
Five professionals from the Natural History museum discussed two exhibitions at the museum- Jurassic Oceans and the Wildlife Photographer of the Year.
The Jurassic Oceans exhibition showcases some of the largest creatures that ever existed. However, we only have their bones, and so do not know what they looked or moved like. Robotics research helped the team to work out the most efficient way to move through the water to inform the CGI.
Scientific advisors worked with the exhibition and CGI team on the movement and texture of the body of these Jurassic creatures. The skin colour was based on fossil pigments.
The Wildlife Photographer of the Year exhibition is high profile and easy to set up, which is good for travelling, especially in a post-COVID-19 world. The exhibition is about protecting the planet, a theme that is more important than ever.
The images help visitors to examine their relationship with the environment and have different conversations about the state of the planet today.
Memorable Experiences Through Gamification
At this Ecsite Online session, Caroline Julien and Michel Groulx from Creo explored how exhibitions can combine knowledge and games. Creo specialises in creating game-based exhibitions to captivate and educate museum visitors.
They explained that games are a good way to encourage engagement with knowledge because visitors increasingly want to personalise their experience and be in an active position.
They gave some top tips for optimising gamification by creating an immersive atmosphere, ensuring visitors can collaborate and compete with each other, and provide immediate feedback for the players. Most importantly, "Technology is not the hero, it is the content". You have to ensure that technology is used to make sense of the content, not become the focus.
Finally, they discussed how COVID-19 will reinvent the visitor experience again. Games will have to be low-touch. At Creo, they have developed a gamified floor where visuals are projected onto the floor. Motion sensors in the floor allow visitors to play with their feet.
Corona-proofing Museum Interactives
Anna Heimbrock from Yipp then gave some practical advice to Ecsite Online attendees on how museums can corona-proof interactive exhibitions. Yipp is a digital studio that creates immersive installations using VR, AR, apps, games and more.
She urged everyone to see the positive of the current situation and become more creative. This is an opportunity for exhibitions to move beyond a simple touch-screen and try something new.
Heimbrock gave several examples of different technologies that could be used, from light sensors to infrared cameras. One example was an Eye Tracker, which is cost-effective and touch-free. A camera detects where a visitor is looking, and it can be easy to use for wheelchair users so it is a very inclusive experience.
Or exhibitions could use a depth camera, where the visitors use their bodies to engage with the exhibition. It is a highly engaging experience and is easy to encourage social distancing with it.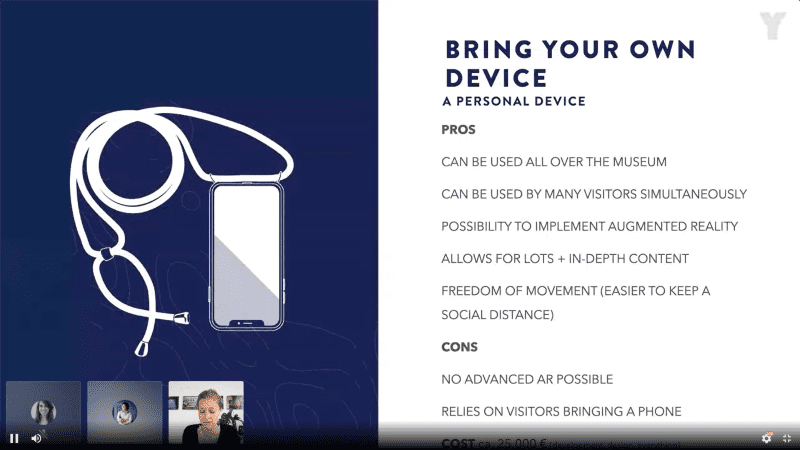 Another simple option is to use an app on the visitors' phone. Visitors just need to scan a QR code and they can access an app that allows them to interact with the exhibition. Just like the Ecsite app, using a QR code means there is no need to design an iOS and android app so it is much easier to create.
At the end of the session, someone asked how exhibitions can change to stop people from touching touchscreen devices. The answer was to change the design of the visual interface. For example, you could physically move the screen so it is less intrusive.
What's new in touring exhibitions
Audrey O'Connell hosted this final session of Ecsite Online, which saw two-minute presentations from a variety of new touring exhibitions that are coming up in the next year.
Universcience highlighted its exhibition 'Spies: An exhibition mission at the heart of the intelligence services' that is currently at the exhibition until July 2021 and is then available for touring. This exhibition puts visitors in the place of an intelligence officer to explore the techniques at work in the intelligence world.
Science North also presented 'The Science of Guinness World Records'. The 600-1000 square metre exhibition puts visitors into the shoes of record holders. They can even try some of the challenges as they explore the science behind these achievements.
A reconfigured linear floor plan means this travelling exhibition helps control visitor flow and capacity limitations for COVID-19 restrictions.
Both Ecsite Day and Business Day were successful in bringing people together online, even though they couldn't meet in person. It was a shared space to discuss the future of museums and science centres, and share best practices for getting visitors back to these institutions.
Header image from Ecsite 2019