Founded in 1870 and at its current location since 1909, Boston's Museum of Fine Arts is one of the most comprehensive art museums in the world, with a collection encompassing nearly 450,000 works of art.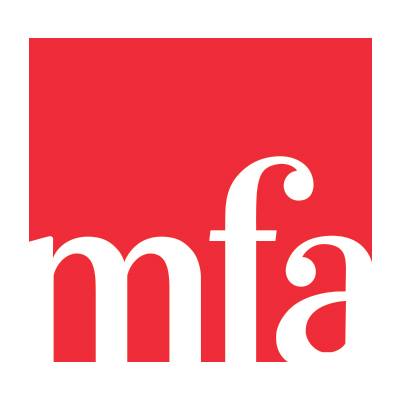 Renowned for the quality and scope of its collection, the Museum of Fine Arts, Boston (MFA) has more than 140 galleries displaying an encyclopedic collection, including Art of the Americas; Art of Europe; Contemporary Art; Art of Asia, Oceania, and Africa; Art of the Ancient World; Prints, Drawings, and Photographs; Textile and Fashion Arts; and Musical Instruments.
A leader in thinking analytically about its audiences, the MFA is characterised by meticulous interpretation, and media-enhanced exhibitions.
Blooloop caught up with Janet O'Donoghue, Director of Creative and Interactive Media at the MFA, and Michael Roper, Manager of Interactive Media, who designs and directs multimedia for the Museum, exploring new ways of using media both in the museum and on the web.
A progressive career path with the Museum of Fine Arts, Boston
Janet O'Donoghue, outlining her career and the incorporation of tech into the MFA, describes herself as something of an anomaly:
"I started my career here at the Museum in the 1980s, fresh out of college. I first became attracted to it before the Web or even fax machines, because it was such an interesting place. Who wouldn't be interested in the Museum of Fine Arts?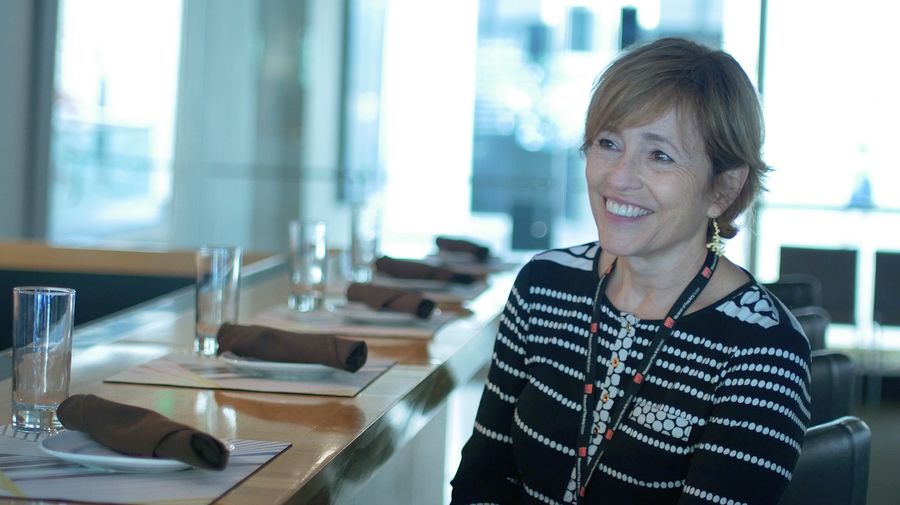 She started out in an administrative position, and progressed through the organisation. Describing that progress, she says:
"I started out in the publications office here, where they did book publishing and marketing material; then educated myself in graphic design, becoming a graphic designer for the publications group. Then the slant of what I was doing turned away from scholarly publishing towards marketing and communications. Around that time everybody started using personal computers. I ended up teaching my department how to design on computers; we moved from sending material to typesetters to doing it ourselves.
"Then the website started becoming a bigger thing. While initially my group had nothing to do with it, over the years my team started looking at the website as something that needed to look as if it belonged to the Museum of Fine Art. We helped establish a visual identity for the website, and made sure that the content made sense, and was lively and encouraging."
More media for audience engagement
In the early to mid 2000s, the museum added a large wing comprising 53 new galleries for American art. O'Donoghue says:
"At that time we were also looking to increase media in the galleries. Initially that was little touchscreens that related to the art on view. Then they became more immersive and a little bit more playful; bringing us up to where we are now, where we still have print, we still have a website, and we are putting more media into more galleries; both permanent galleries and rotating exhibitions."
Often, this might be something as simple as a video licensed by the MFA; that nevertheless contributes to audience engagement. O'Donoghue says:
"If you can just get your hooks in someone, they will stick around longer. It does seem that media doesn't distract people from the art, but tends to engage them more. So if they watch a video and something resonates, then they'll walk back over to the work of art and look at it a little more deeply."
Additionally, she says: "This move towards media is a bit of a social outcome, because everybody has a screen in their pocket; and that's how people communicate."
Communication is the underlying theme
And while her career appears to have been characterised by reinvention and successive new roles, O'Donoghue identifies communication with the public as the underlying common theme.
"That isn't particularly profound, but it is to say that everything we do is just a set of tools. Everything is to spread the word, to promote an exhibition, to explain an exhibit. And my team does work that is not only related to exhibitions and galleries, but to membership, and to visiting.
"So what makes a person decide to visit the museum? When they get here, what makes them comfortable? When we greet people at the museum, we have digital screens, we have live bodies, and we have print pieces; so it's all serving the same goal."
Technology's role in art engagement
O'Donoghue says, technology can deepen engagement with art and artworks in a number of ways.
She says: "The website allows works of art to be shared and seen and dug into by people all over the place. If you are in London, and you know the Museum of Fine Arts has a great Gaugin, but you're not going to be visiting Boston; you can go to our website, open up that page and zoom in on that artwork, looking at the brushstrokes. That sort of distance learning is one way that technology has really helped.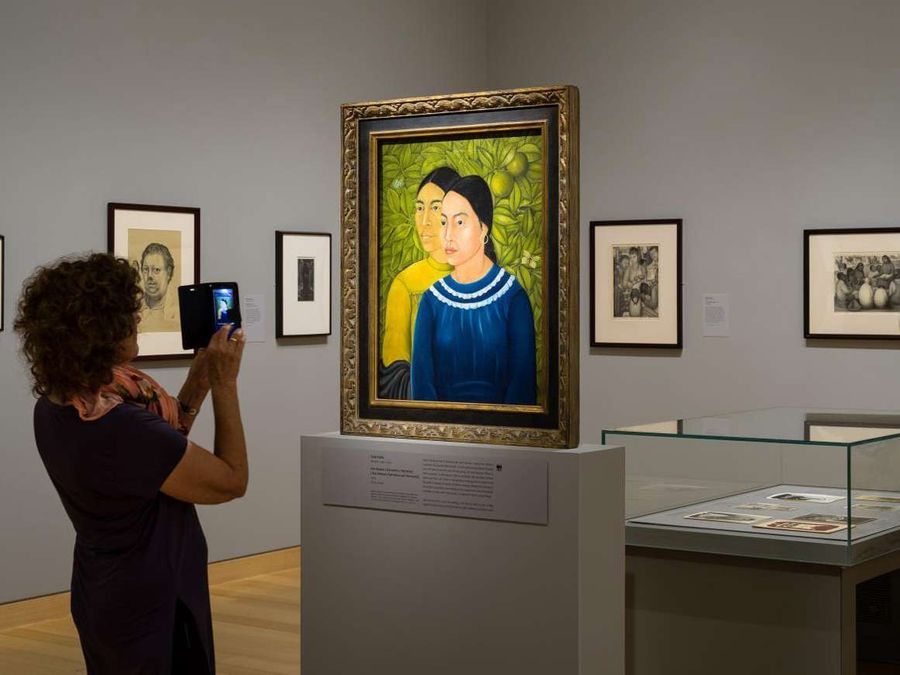 "And within the museum, sometimes technology can slow a person down, and make them look a little more closely. There is technology in the galleries and in proximity to works of art.
"We do an exhibition tour, where you either listen or look at a video, and those things really work. It's a little bit self-selecting, of course. Certain people want to learn more and will rent the device from us or download it. But it really contrives to foster a much deeper engagement, for the type of person who likes to be told the story. It can focus your attention."
Accessibility through technology
Technology can also be used to make art more accessible; particularly to those who find art to be intimidating, or feel that they aren't sufficiently well educated.
O'Donoghue says: "Here in the museum we work really hard to make the wall labels friendly and approachable; we have gotten away from the style of 30 years ago, where it was insiders talking to insiders, but, still and all, it's reading. And everybody is sort of familiar with the TV screen. So to walk over and watch a video, or content on their own handheld screen or phone, that is a friendly and familiar way to get information."
Expectations in driving change
The museum and art sectors are not immune to the trend of visitor expectations in terms of technology and immersive experiences driving change.
O'Donoghue says: "In some sense we are in competition with every other person or venue offering immersive experiences; including their own video game outfit at home. So there is a bit of keeping up with the Joneses that is going on; you have to keep up. You have to meet people where they are.
This photo is pure poetry! We love Instagram user thisisemtography's recreation of "Dante and Virgil" (modeled 1861; cast 1862) by Baron Henri de Triqueti. pic.twitter.com/d8Otq93VEV

— Museum of Fine Arts, Boston (@mfaboston) November 14, 2018
"Virtual reality hasn't really entered the art museum sphere yet, or at least I haven't seen a super successful use of it, but I'm sure that's only temporary. But social media is a big thing for this museum and other ones. We probably weren't there as fast as some others, However, while we are still using old-fashioned print, we are also pushing everything to our social media channels; because that is where everybody is.
"It's similar in the galleries. People are used to seeing movies, they like an immersive thrill; so that has to be part of the interpretation of exhibitions, as well as part of the exhibition itself."
That distinction is a subtle nuance
"If it's a screen that is telling you about the thing, we'll call that interpretive; but if putting on earphones and talking back and forth with mannequins is part of it, that's the exhibition itself."
She adds: "We just did an exhibition on Casanova and 18th-century Europe; where we created soundscapes that were immersive and ethereal and ambient. They weren't remotely interpretive. We weren't saying, this woman is wearing a petticoat that means whatever; you just heard the music of the time, and lilting laughter, and so forth. So that is where immersive technology helps to build these experiences that can go beyond interpretation to a kind of full body experience."
O'Donoghue is cautious about committing to long-term plans in terms of technology.
"I think long-term planning is tricky in the world of technology."
Being cautious and nimble towards technology
"I have plans for maybe the next two years, for exhibitions, for what we are doing. However, I don't have a real five-year vision. We have to be a little bit nimble with technology. This is an example: we have what used to be an audio guide, where you would rent a device and listen to a talk about an exhibition.
"Then, eight years ago, everyone was doing video, so we switched over to multimedia guides that had audio and video. And we are at this point now where people seem to be wanting audio only. With audio, you can wander around, and your eyes are free. It isn't too much of a distraction. People are looking at the art, not at their screens. It's a new, old direction for us.
"So I feel you can make these plans that are two, three and five years out, but the media and technology landscape changes so quickly you have to be flexible, and to be prepared to rethink.
"Technology is a tool. We had cassette tapes; 20 years ago we switched to CDs. Now we are on digital players. Everything we do is to deepen the visitors' experience; to get them to stay a little longer, to smile more at something, to get them excited. Those are the long-term goals that we can look at, and it is the tools that we need to react to."
Early beginnings in media for Michael Roper
Michael Roper's illustrious career began in media at eleven, working with his father, Dean Roper; a well-known radio broadcaster in Lancaster, California. He started working with video while studying history and philosophy at Pitzer College. He then spent eight months in Appalachia producing documentaries on the culture and politics of the region for Broadside Television in Norton, Virginia.
On returning to Pitzer, he made two autobiographical documentaries about his hometown.
After graduating in social philosophy and intellectual history, Roper got a job at Television Associates in Mountain View, California, before being accepted onto MIT's Film/Video program. He studied with Richard Leacock, one of the founders of the cinema verite movement.
After earning a Masters Degree in Visual Studies from MIT, and then working with the MIT faculty and the Laboratory for Advanced Technology in the Humanities, he created a series of interactive documentaries on specific neighborhoods of Paris, Boston, and Hiratsuka, Japan.
A shifted focus to interactive media
In the mid-1990's, Roper's work in interactive documentaries was spun off into an independent company when he co-founded Botticelli Interactive with Shigeru Miyagawa and Ellen Sebring.
After 2001, his focus shifted toward producing interactive media for museums, non-profits, and corporations. In 2001 he joined Krent/Paffett/Carney, now known as Experience Design – a leading design firm based in Boston and Providence.
As Experience Media Group, he developed interactive media for a large number of clients. This included the Mary Baker Eddy Library, DuPont, the New-York Historical Society, the Boston Children's Museum, MetLife, the National Constitution Center, and the Denver Art Museum; winning himself three AAM MUSE awards during this period.
A great fit at the Boston Museum of Fine Arts
In 2013, Roper moved to the Museum of Fine Arts in Boston, as Manager of Interactive Media.
He says: "It was just a great fit. This is an encyclopedic museum dealing with contemporary art, the Renaissance, and every kind of art.
"I learned a lot about film making and interactive media at MIT, so I have been able to apply those skills to making media that helps people enter into and deepens their experience of artworks."
Describing some of the innovative media applications he has worked on recently at the MFA, Roper says:
"We are just finishing up our special exhibition, called Casanova's Europe, Art Pleasure and Power in the 18th Century. For this, I came up with the idea that we needed to add soundscapes to the three 3-D tableaux; one in Paris, one in Venice and one in London."
Bringing art to life through soundscapes
The tableaux feature mannequins in authentic costumes amid period settings, bringing Casanova's world to life.
"In London, we are in a drunken card game where someone is cheating. In Paris, it is a beautiful morning, the lady of the house is doing her toilette; there is a gentleman caller, and the maid is handing him a secret message in an envelope.
"And the last features two suffering lovers: one is in a convent, having been promised to someone else.
"For all these, we made soundscapes to bring the stories to life; you hear footfalls on tiles and the ringing of the bell. We developed dialogues, and it all adds a whole new dimension to a major exhibition. When you hear it, you're in the 18th century, experiencing it through these tableaux which present all aspects; the furniture of the period, the costumes of the period and the artwork, displayed the way it would have been at that time. You are an aristocrat, suddenly, walking through the rich environment of the rococo era in Casanova's time."
Casanova's Europe: Art, Pleasure, and Power in the 18th Century ran from July 8, 2018 – October 8, 2018 in the Ann and Graham Gund Gallery at the MFA.
Not to replace art with augmentation
Roper conceived and directed the soundscapes for the exhibition; as well as finding the actors, writers, and a sound artist, Jason Reinier of Earprint Immersive; to do the sound design and audio mixing for the soundscapes. Roper says:
"One thing I really like about that project is that it didn't fight in any way with the objects. Because while we want to augment the experience for the visitor, we are not going to replace the art with that augmentation."
For the museum's special exhibition, Roper and his team created video wall pieces:
"They are a soft entry into the experience; very visual, using the correct music and appropriate animation. We did one for Casanova's Europe, which includes someone in the costume of the period playing a Parisian harpsichord, and we made that the soundtrack. We used all kinds of effects to make that a really powerful entry point into the exhibition."
Using technology to enhance fashion
Another media-enhanced exhibition, one for which the MFA won a silver MUSE award; was called, '#TechStyle', and it ran from March 5 – July 10, 2016.
Exploring innovations such as clothes that respond to the environment, fabrics that are 'grown,' dresses that can be tweeted and garments that come off a 3-D printer ready to wear, the exhibition examined how the synergy between fashion and technology is changing the way designers design, and the way people interact with their clothes.
Roper says: "It was an exhibition about how technology is being used to design, produce and perform fashion today; with new designers using video and other technology as an integral part of what they do. So we had 15 to 20 pieces in three rooms, and I had to figure out how to blend and choreograph all this video and sound so that it would not become a cacophonous disaster.
Dramatic experiences at the Museum of Fine Arts, Boston
"It was a very media rich, immersive space where, in the first gallery, there were four mannequins with four types of designer clothing, all with monitors next to them. I created media for each one of those that was short and had a musical theme so they could all play in succession and cross fade both aurally and visually. I wasn't creating pieces from scratch. These were pieces the designers or people that worked for them had made. But I edited them down and found musical themes in each one so they could play kind of like a musical chorus; where the soprano sings, and then the baritone, and so on.
"It made a kind of introduction to the show. Moving into the next gallery, we had four large screens, and they were playing in succession.
"We had another space where we had individual interactives playing. But in essence, we were able to combine visual elements and sound in a beautiful dynamic piece which people could experience as an environment, while still being able to focus on individual artworks.
"The big pieces in the second gallery were wall sized, and very avant-garde videos. So watching them was kind of like going up on Mount Sinai, with these major messages on each wall. It was very dramatic. The lighting was much darker there, really drawing people into these different designers' worlds."
Adding motion and interpretive power into media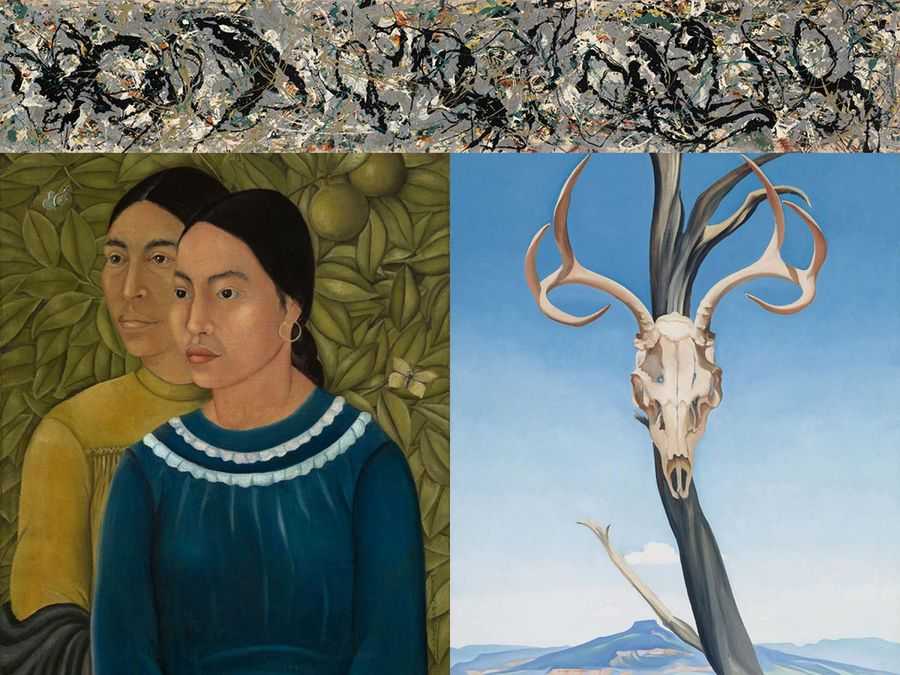 Another interesting – and deceptively simple – example Roper cites is a video introduction to a permanent exhibition.
He says: "In our permanent collection, we have a gallery called Making Modern. And within that, we have an area called Pollock and Picasso.
"We do a lot of media there that just adds motion and more interpretive power into what might be seen as a more traditional gallery. However here it is integrated into the introductory signage.
"It shows Picasso and Pollock both painting on pieces of glass, so the camera is looking through the glass. The artists are painting simultaneously; you can see their expressions, their personalities, the kinds of art they are doing.
"This is a piece that loops, and is probably about a minute and a half long, but people are just fascinated by seeing these artists at work."
Finding ways to open art up to people
The footage used is, of course, quite old. Roper says:
"What I was able to do was to integrate those films; make them into one, align them together, and edit them in such a way that you can clearly see the artists painting, and signing their work at the end."
The aim is, he maintains, always to find every efficacious way of opening art up to people:
"Artists are the key. In the sense that we can learn more about ourselves by looking at the work of artists, learning about their lives, and learning about the times in which they lived."
Creating conversations to connect with artists at the MFA
As far as living artists are concerned, this involves interviewing them.
He says: "I interviewed Takashi Murakami in Japan last summer. This was for a major exhibition we did on his work here at the MFA."
Takashi Murakami: Lineage of Eccentrics ran at the MFA from October 18, 2017 – April 1, 2018. It is an exhibition in which contemporary works by the imaginative and important artist were juxtaposed with treasures from the museum's renowned collection of Japanese art.
Roper continues: "And about a month ago, I went to Mexico City and interviewed Graciela Iturbide; probably the leading living Mexican photographer, for her forthcoming exhibition, and had a wonderful conversation with her."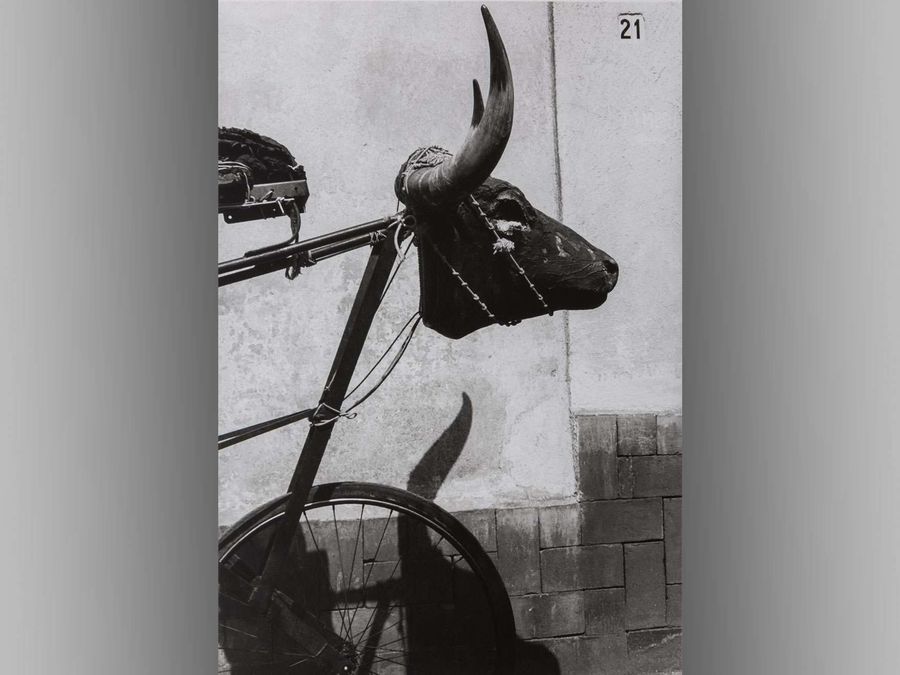 Graciela Iturbide's Mexico will run at the MFA from January 19, 2019 – May 12, 2019.
He concludes: "Obviously, there is more than one way of approaching this. But if we want to reach a larger and wider audience, I think we need to take away some of the worry around going to a museum; do I know enough, and so on.
"I think what people want to do today is to look at art on their own terms. And by caring about the real artists, by caring about about their stories, we are making them more accessible for people. That is the idea."
All images courtesy of Museum of Fine Arts, Boston.