The Las Vegas-based museum dedicated to organised crime, The Mob Museum, is adding a speakeasy to its unusual offering.
The Mob Museum presents a bold look at organised crime. Based in Downtown Las Vegas, the unusual attraction recently announced a $6.5 million extension, set to open in the first quarter of 2018.
Planned new exhibits include "Organized Crime Today," "The Crime Lab" and a "Firearms Training Simulator." There will also be an expanded retail area and a new food and beverage outlet. A speakeasy and distillery will form part of an interactive exploration of the Prohibition Era.
Crime certainly pays. The museum brought in over 350,000 visitors last year.
Jonathan Ullman is Executive Director and CEO of The Mob Museum. He spoke to Blooloop about the museum's history and function, and about its expansion and renovation plans.
From science to crime
Ullman (right) has a background in science. He was pondering whether to go into a graduate programme or pursue medical school. Then he took up a part-time position in jersey City's Liberty Science Center. "I was completely captivated by the environment," he says. "I could pursue the science content that interested me, while being in this realm of informal public education. Plus it provided entertainment for the general public."
See also: AREA15: re-imagining retail and immersive entertainment in Las Vegas
So he decided to go back to college and get an MBA. "My interest was gravitating more towards management," he says. "I wanted to know about the intricacies of strategic planning, and forward viewing growth for an organisation like that. So museums have been my career for my entire professional life."
Ullman spent nearly fifteen years with the science center, before moving to the National Soccer Hall of Fame. "After that I saw this amazing opportunity at the Mob Museum. That was about six and a half years ago. It is everything I had imagined it possibly could be."
Rehabilitating a Historic Building
The Mob Museum is more formally known as the National Museum of Organized Crime and Law Enforcement. It occupies the former Las Vegas Post Office and Courthouse, a neoclassical building situated in Downtown Las Vegas. It is a historic building, and, by Las Vegas standards, an old one.
"You must bear in mind that Las Vegas only came into being in 1905," says Ullman. "It is also the largest city that was born in the 20th century in the US. This building is on the National Registry of Historic Places. It is an amazing landmark for the community."
In 2002, the then Mayor of Las Vegas, Oscar Goodman, learned that the building could be acquired, effectively free of charge, from the federal government. The only proviso was that the City would honour its historic past, and commit to rehabilitating the building, and re-purposing it for a cultural use. "It was mandated upon that deed transfer that it would be a museum of some sort," says Ullman.
The Mob Museum is a Unique Concept for the United States
The city went through a thoughtful process of evaluating what kind of museum would work. "They ultimately settled on this topic of organised crime, because, frankly, it is part of Las Vegas's history," says Ullman. "It is how the city came to be."
If the museum was going to further the development of Downtown Las Vegas, it needed to be a unique attraction. "Currently there is no museum like this in the United States. It plays an important role in terms of educating about the past. It also educates on topics that are often glossed over by other educational institutions.
He continues, "it was initially driven by the City. However the City never intended to be the operators of the museum. One of the really unique and wonderful elements of this arrangement is the private/public partnership that was established. In 2007 a volunteer Board of Directors came together and created a non-profit that would ultimately govern the museum going forward."
The Building itself is a Historical Exhibit
"The exhibits are wonderful," says Ullman. He points out that, first of all, the building in itself is an exhibit. "It's not the wonderful neoclassical Depression Era architecture of the building. It's also about the events that took place here. This was a further reason for creating a Mob Museum. Our courtroom was one of the locations of the Kefauver Committee hearings that took place in 1950 and 1951. These were a series of US Senate investigative hearings all about exposing organised crime. This was really a national phenomenon. It was a turning point in gathering the public's attention to government corruption and to the organised crime syndicates."
Ullman points out that this was particularly important for Las Vegas' history. "At that time, 1950 to 1951, there was gambling happening across the United States. Other states and municipalities were turning a blind eye to it. Some states, in fact, were contemplating legalising it. As a consequence of these hearings, there was such a backlash that it wasn't until the late 70s that legalised gambling came on the scene in any other state. The evolution of Las Vegas could have been quite different, if 25 years earlier other states had started legalising gambling."
Telling the Story of the Social Conditions that Boosted Organised Crime
The original courtroom has been restored. A dynamic multimedia presentation tells the story of the Kefauver Committee hearings. "As you go through the museum, you get this wonderful juxtaposition of the historic building and the very modern exhibits," says Ullman. "We have interactive exhibits with original video created for the museum. Then, of course, we also have artefacts that date back to particular events in time."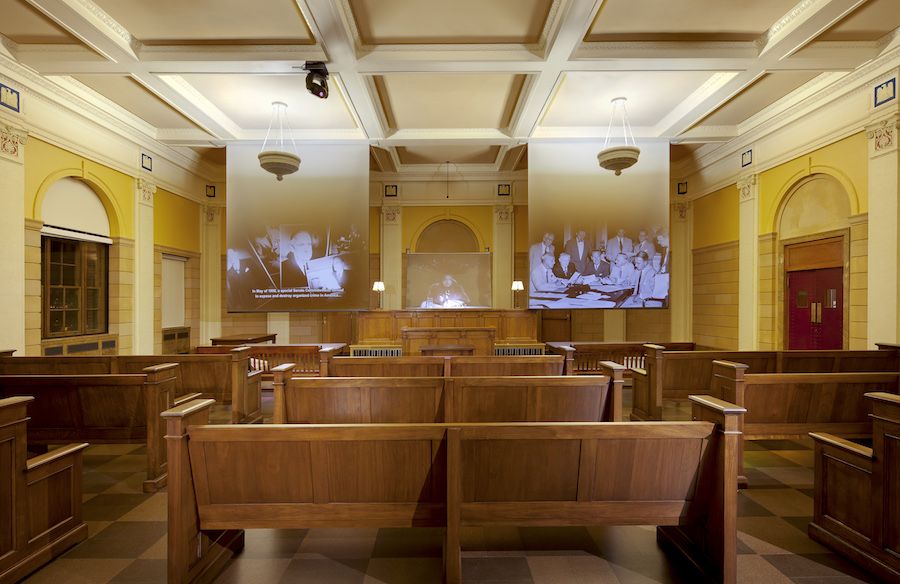 The visitors' journey begins on the third floor, at the turn of the 20th century. Then they work their way down.
"It is about telling the story of immigration and social conditions in the United States that allowed organised crime to take root. As the visitor makes this journey, from the turn of the 20th century to the present day, they are toggling in and out. They move from a Las Vegas-centric story to one that is more national."
The Birth of Modern Forensic Ballistics at The Mob Museum
One prominent exhibit includes the wall from the scene of the St Valentine's Day massacre that took place in 1929. "It was one of the most famous domestic crime scenes ever," says Ullman. "Members of Al Capone's gang gunned down members of Bugs Moran's gang. We have some amazing ballistic evidence from that crime. This also includes the actual coroner's reports alongside the bullets and bullet fragments that were collected."
These tie back to Colonel Calvin Hooker Goddard (1891 – 1955). Goddard was a forensic scientist, army officer, academic, researcher and a pioneer in forensic ballistics. "He became the father of modern forensic ballistics testing," explains Ullman. "His work helped to identify the weapons that were used in that crime, and in narrowing down the suspects."
From Wire-tapping to Mob-related Movies
Other exhibits include objects that relate to early Las Vegas casinos, and the entertainment that took place in them. So there are displays from the Folies Bergère and objects from the original Flamingo and other famous properties in Las Vegas. "Great exhibits focus on things like wiretapping," says Ullman. "So you can actually use an interactive, or listen to recordings of mobsters that were acquired through wiretaps. These were used in evidence for prosecuting these criminals.
"And then, of course, we also include popular culture, so we have costumes and scripts from famous mob -related movies."
Renovation and Extension Creates Space for Expansion
The Mob Museum's renovation plans will expand the Museum's exhibit offerings and guest experiences. "The expansion is very exciting," says Ullman. "It is going to focus on renovating the existing first floor, and then extending into our basement."
At the moment the basement is used for administrative purposes only. The renovation will see it converted into public space. "And on the first floor we are also going to have a very rich area that will focus on modern organised crime."
"The Story Never Ends"
Ullman points out that this is one museum which isn't merely documenting the past. "Clearly, one of the unfortunate realities about this topic is that the story never ends. So we may start off discussing bootlegging, for example. In the modern era, this equates to cybercrime, and arms and people trafficking. There are still so many ways in which organised crime manifests on a global basis.
"So we will be devoting a fair amount of exhibit space to telling these contemporary stories. We will show how organised crime manifests around the globe in the present day. We'll also discuss what types of criminal activities exist and what law enforcement is doing globally to counter organised crime."
Crime Lab – a Mediated Experience of Forensic Science
A number of richer experiences will also be added. These include the Crime Lab, an intimate, mediated space. Small groups of guests will enter the lab where they will be able to explore different forensic science techniques. Furthermore, they will be better able to understand questions like: how is the DNA analysis conducted? How does ballistics testing work? How does a coroner or a forensics pathologist truly determine the cause of death?
"It won't be what you see on a television crime show," says Ullman. "It is about what is truly used as methodology in the laboratory today."

The Topical Issue of Law Enforcement
Another space will be devoted to exploring the issue of use of force by law enforcement. While learning about force, visitors will be able to experience the Firearms Training Simulator, an intense training exercise.
"What is a continuum of force?" asks Ullman. "How do law enforcement personnel become trained? How do they prepare themselves to be in dangerous situations where one must
make very quick decisions about the appropriate use of force? This could not be a more topical matter to be addressing."
The Prohibition Era Exposed
The lower level will be devoted entirely to the Prohibition Era. "Think about major time periods of transition, of conflict, and in which organised crime was able to proliferate. In the United States, the Prohibition Era comes first and foremost," says Ullman.
"For many of the criminal syndicates of the day, this was how they acquired the seed money to become involved in all sorts of other rackets. As a result, this was how they expanded across the country."
This area will be an extension of the Prohibition exhibits currently on the third floor. It will focus on the political, social and business elements that were part of this unique era in the United States.
"It was a time of great social change," says Ullman. "A time of change in constitutional law, and a time of change for women's rights issues; for how men and women interacted with one another. From an organised crime perspective, we look at how they capitalised on all of this. We then learn how the illicit booze got manufactured, transported and smuggled, and we explore the rum running, the bootlegging, the context in which people were consuming that booze. We also explore speakeasies and the jazz era. There are phenomenal stories to be told, and we will be doing it in what we believe will be a unique fashion."
Adding a Distillery and a Speakeasy to the Mix
The expanded Mob Museum will comprise a working distillery and a speakeasy. These will play an active role in documenting how the moonshine business was run during Prohibition. "Let's not forget, this is Las Vegas," says Ullman. "If there's one thread that runs through everything we do at the Mob Museum, it is the fact we are committed to telling the entire story and doing it as authentically as possible. We're very excited about the distillery and speakeasy, which will be extremely engaging for the guests. They will have the opportunity to learn about important periods of history, while having an extremely entertaining, memorable visit."
The Mob Museum, A Large-scale Footpath
"The renovation project is a large-scale footpath," says Ullman. "But we have been operating since February 2012. We have been refining the exhibit experience on a smaller scale constantly."
This comes in the form of acquiring new objects and new artefacts. However it also comes from refining the graphical presentation and the interpretive language used to tell the stories. The video and interactive displays are also revitalised.
"Continuing to refresh the base level experience is key for us. It is a factor in our repeat visitation. Equally, if not even more impactful, is the dynamic programming that we use to supplement the visitor experience."
This comes in a number of different forms. "For example, last Friday we had Tom Wainwright in our courtroom. He presented on narconomics, the economics behind the drug cartel business structure."
A Wide Variety of Presentations
The museum also offers a wide variety of presentations. "These range over a whole number of topics. As a result, they appeal to different types of audiences. So there are author talks combined with panel discussions about something either current or more historical in nature."
"A few weeks ago, we had a panel discussion that focused on the media covering mob events, crimes and investigations in Las Vegas. The presentations can also be lighter, focussing on popular culture: mob movie screenings, for example. We also had Jonathan Fernandez here, who wrote the screenplay for Rob the Mob. In addition, we have a whole series on community safety forums. Members of the public can therefore come in and learn about topics like elder exploitation, or community policing."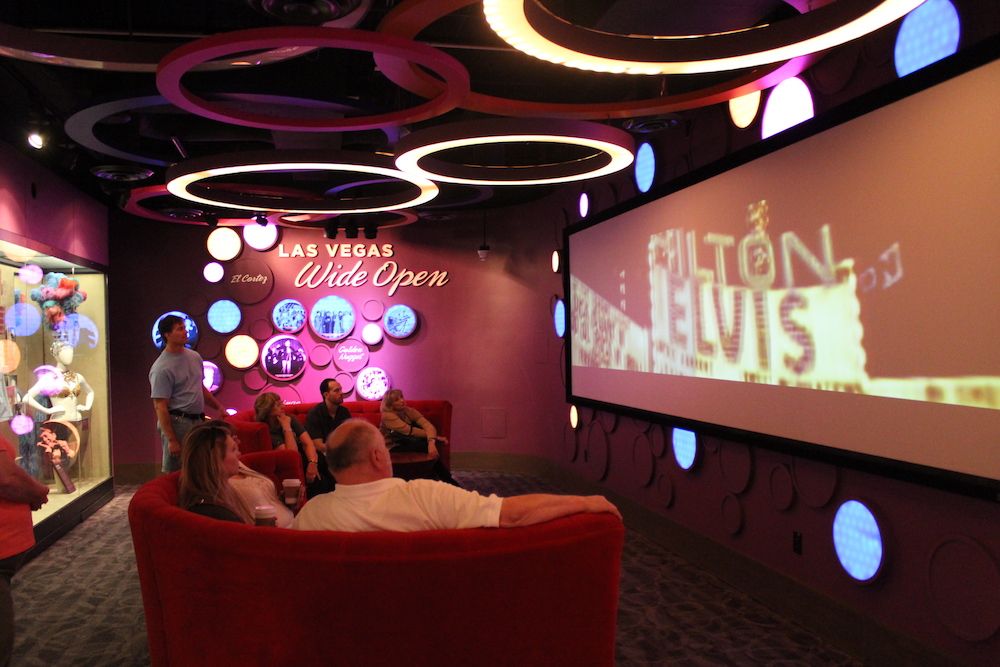 In addition to these formal programmes, staff and volunteers provide interaction with visitors. "On any given day you might come across a staff member showing objects that date back to, or artefacts that connect to, a casino property. This also allows you to get an up close examination of these one-of-a-kind pieces of history."
The Dynamic Nature of the Exhibit Experience is Essential
Exhibits change frequently. Ullman points out that recently they had a Ready to Roar exhibit, about fashion during the prohibition era. "The programmatic ways in which we make that dynamic is really important for repeat visitation. It's also a way for us constantly to garner media attention."
Generating awareness in the public sphere is imperative, particularly as the museum is competing in the entertainment marketplace that is Las Vegas.
"The guests, particularly our members, know that something is always coming," says Ullman. "We send out a newsletter. We also send out our e-blast looking ahead at upcoming events. Let's face it, an organisation of our size has to have dynamic programs that are followed by the media, in order for us to continue to generate awareness out there in the public."
Maybe they are taking their inspiration from Al Capone. The gangster famously said, "You can get much further with a kind word and a gun then you can with a kind word alone." The Mob Museum isn't holding a gun to anyone's head, but it is getting seriously organised and deeply dynamic. And that's no crime at all.
All images, video kind courtesy The Mob Museum.