When it comes to shocking museum exhibitions, where do we draw the line between taste and controversy?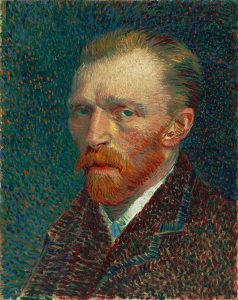 Works by Matisse, Picasso, Van Gogh and many others were deemed radical, inauthentic and incomprehensible when they were first shown in America in 1913. In fact, students from the Art Institute of Chicago burned copies of works by Matisse outside on the street in protest. Now, of course, those same artists are held up as some of the finest of all time. Tastes change, and exhibitions that are regarded as outrageous one day might be perfectly acceptable in another time. We look at some examples of shocking museum exhibitions from the modern day and explore the reasoning behind them.
A memorial with an impact
Some of these exhibitions and installations serve an important purpose. For example, a memorial commissioned by the Whitney Plantation in Louisiana, USA. Other plantations often focus mainly on parties and picnics. However, the Whitney Museum provides an in-depth history of slavery in the South.
The museum opened in December 2014. It is home to a memorial by artist Woodrow Nash, depicting four rows of heads on spikes. Shocking, yes, but it has an important role to play. The installation commemorates one of the largest slave revolts in the US – one which was almost forgotten by the history books.
On the 8th January 1811, slaves from three parishes rose up and marched towards New Orleans. They armed themselves with whatever they could find – rifles, oak sticks or farm tools. The resistance was quashed two days later, amongst much bloodshed. Around 30 of the insurgents died in the fighting, many others were sentenced to death as a result.
Their heads were stuck on spikes. The purpose? "To frighten by a terrifying example all malefactors who would attempt any such rebellion in the future." Nash also created several sculptures for a series called Children of Whitney. These haunting depictions of child slaves can be found at several locations around the museum.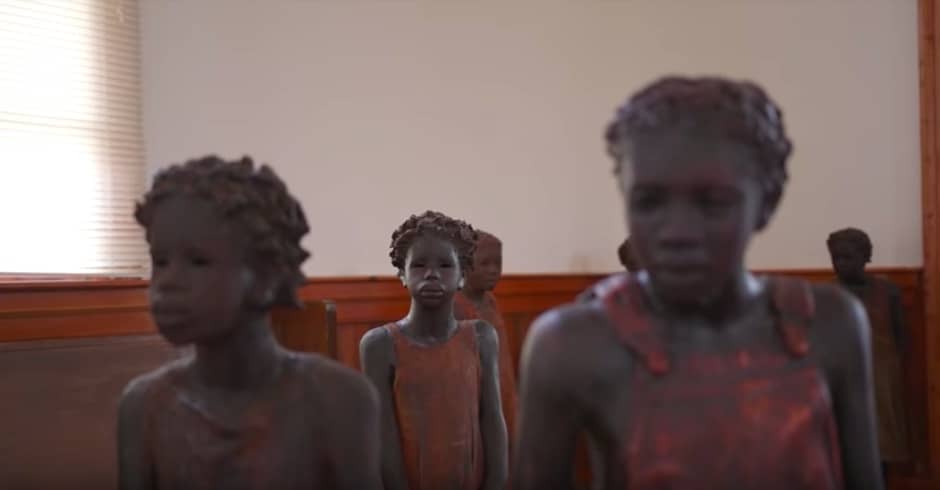 The infamous Princess Diana crash-themed attraction
The above exhibition is gruesome but necessary. However, some shocking museum exhibitions may serve a less noble purpose. In early 2019, some news sources reported that the National Enquirer was creating a ride about the death of Princess Diana. The news was mostly met with horror.
Now that the National Enquirer Live museum is open to the public, it is clear that initial reports were not accurate. For one thing, it isn't a ride at all. But there is still some doubt over the tastefulness of the attraction's Princess Diana exhibit, which follows the route her car took on the night of her death.
The museum in Pigeon Forge, Tennessee is home to pop culture and celebrity exhibitions. These take inspiration from the magazine's often shocking and provocative cover stories. The displays feature a model of Michael Jackson dangling his baby over a balcony. Visitors can also see a Kim Kardashian selfie station and several conspiracy theory exhibitions.
One exhibition, Royals Closet, explores the British Royal Family. This is where the display based on the 1997 car crash can be found. Here, a light-up display lets visitors follow Princess Diana's final journey. Afterwards, a quiz deals with some of the conspiracies surrounding her death. The museum's managing partner is Robin Turner. He told NBC's Today Show that the exhibit was "done in very good taste."
"Our readers will never have a chance to go to Paris to see it, so here is a way they can experience it," he said.
A fascination with death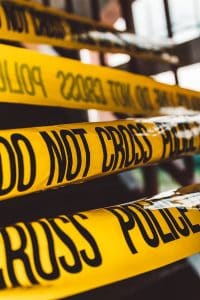 Museums reflect the things that people and societies are interested in. So, perhaps it isn't too much of a surprise that there is a whole museum that deals with the topic of death.
The Museum of Death has two locations, in New Orleans and Hollywood. It says that it aims to "fill the void in death education in the USA". It is certainly home to several shocking museum exhibitions. Here, it is difficult to see where the line is between education and the desire to court controversy.
The museum houses a large collection. This includes serial killer artwork, antique instruments, memorabilia, taxidermy and more. Visitors can view letters from serial killers and grisly crime scene photographs. They can even see the guillotined head of a notorious French murderer. The website warns that visitors may need to have a strong stomach to view the exhibits. This is due to the fact that there have been several fainting incidents in the museum
The Body Worlds exhibition
The Museum of Death fulfils some kind of gruesome instinct. On the other hand, Body Worlds sets out to educate people on the intricate workings of the human body. Unlike some shocking museum exhibitions that are out to create waves, this show aims to help visitors learn more about themselves and their bodies.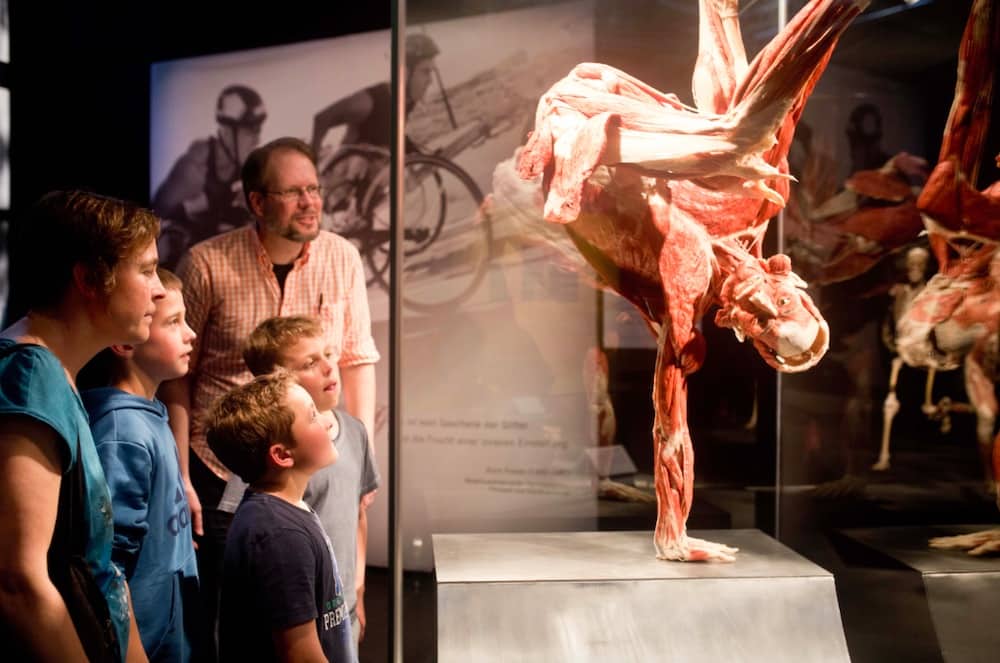 The exhibition has a permanent home in London. It also travels to other locations around the world. Dr Gunther von Hagens' renowned display of real human bodies has had over 48 million visitors globally. It takes visitors on a journey through the human body, revealing more about the mysteries underneath their skin.
All anatomical specimens in the exhibition are real. In fact, Body Worlds has its own well-established donor programme. There are more than 17,000 donors worldwide. These are people who have agreed to donate their body to the exhibit for public display and educational purposes.
According to the website, six months after their visit, 68% of visitors said that they wanted to pursue a healthier lifestyle. 25% had taken up more exercise and 33% had started a healthier diet.
Grope Mountain
If the previous shocking museum exhibitions mentioned make you feel slightly queasy, this one is more likely to make you blush. Sam Bompas and Harry Parr, the architectural foodsmiths, use a blend of art, food and sensual expression in their creations. The pair are known for outrageous stunts such as setting the iconic SS Great Britain in 55,000 litres of jelly. Or creating inhalable 'cloud' cocktails. In 2015 they teamed up with MoSex, New York's Museum of Sex.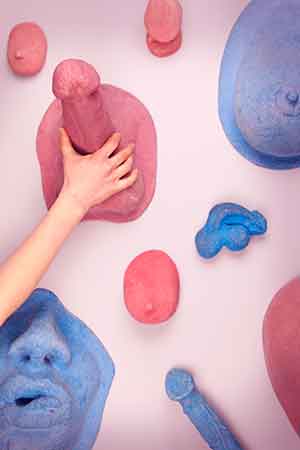 The project, Funland, aimed to connect with the frisson that people might experience on a visit to a sex museum. Rather than suppressing this feeling, Bompas and Parr set out to embrace it.
"We worked with Professor Vanessa Toulmin (Director of the UK National Fairground Archive)," said Bompas. "We channelled what happens in a fairground, which is a space of transgression anyway, to give people this quite physical museum experience."
One of the resulting interactive exhibitions was Grope Mountain. The orifice and appendage climbing wall was so successful it went on to feature at two UK locations in 2017. Bompas and Parr also created a breast bouncy castle for the museum. This installation, called Jump for Joy, became a permanent exhibition.
"It was fun," said Bompas. "It broke down barriers in the museum. So people might actually talk to a stranger, rather than issuing covert glances at them as they sidled up to the artwork."
Mona – pushing the boundaries of shocking museum exhibitions
Art has long been able to push the boundaries of what is acceptable. One particular attraction, the Museum of Old and New Art (Mona) in Tasmania, Australia, takes this to the extreme. Creator David Walsh describes the attraction as a "subversive adult Disneyland."
Mona is a dimly-lit space, set largely underground. It explores the twin themes of sex and death. The museum opened in 2011 with a general collection called Monanism. It has been no stranger to controversy from the media ever since.
Pieces at Mona that have brought about a reaction include 'My Lonesome Cowboy' by Takashi Murakami (1998). This is a lifesize sculpture of a blue-haired anime boy holding his penis as a lasso of semen spirals around him. It is worth $20 million. Stephen J Shanabrook's 'On the Road to Heaven the Highway to Hell' (2008) shows the remains of an 18 old suicide bomber cast in chocolate.
Art, honesty & reality
Talking about the sometimes shocking museum exhibitions at Mona, Walsh spoke about his take on art. In an interview with ABC News he said:
"Mostly what I'm really looking at are the motives of artists, and most of them are pretentious twats. Making biological statements… dealing with, inadvertently, the reality of human motives. They create stuff… because they think they are trying to create beauty or create a new movement, or they want to do an exhibition on the moon. But really all they want to do is get laid."
Mark Wilsdon, co-CEO of Mona adds that one of the key intentions of the museum is to subvert the pomposity of the conventional art museum. "We try to do that at every turn. I think it is dangerous to take yourself too seriously in anything; you need to be brutally honest."
"When we opened, we were anticipating a little bit more controversy and a bit more backlash. I think we just perhaps underestimated the intelligence and the openness of our public, and the community."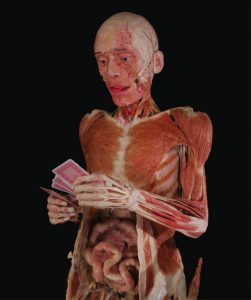 Why create shocking museum exhibitions?
Museums and art galleries are both a mirror and a record of human experience. And human experience is not neat and tidy. In fact, it can be complicated, full of controversy and downright messy. Even installations such as those at the National Enquirer Live are a reflection of society. After all, even though the National Enquirer's trashy, salacious headlines provoke outrage, people still read it. And the newly opened Pigeon Forge attraction has already seen a steady stream of visitors since it opened in May.
There is, of course, a line between creating outrage just for the sake of it and making something with a truly meaningful or educational impact. But museums can't be seen to shy away from "shocking" subjects if they are to truly represent humanity.
Top image – Jump for Joy by Bompas and Parr