SPYSCAPE is a new spy museum developed and funded by Archmedia, a private investment group. The museum numbers among its other investments; including Virgin Mobile, Moncler, Aman Resorts, and spy-themed film projects The Night Manager and A Most Wanted Man.
Using cutting edge technology to explore the stories of spies, spycatchers and the tools of their trade, SPYSCAPE is an immersive experience featuring interactive experiential Spy Challenges, in which visitors test their own spy skills.
Challenges include lie detection, observation as part of a surveillance mission, and agility in special ops laser tunnels.
The Man behind the scenes
Blooloop caught up with Ian Oldaker, COO at the unique museum.
Oldaker's operations background with attractions and museums began with the 911 Memorial in New York. He says: "I was fortunate enough to be there during the entire build; the debut opening and operational creation of that museum, and to work there for a decade. It was a contact from that museum who told me about the opportunity here at Spyscape. I was available, and moved over.
It is, obviously, a very different experience; telling a different story in a very different way, and has been a great transition for me."
About SPYSCAPE
SPYSCAPE was conceived and designed as a multi-sensory environment. Architecture is by Adjaye Associates, whose credits include the Nobel Peace Centre, the Smithsonian National Museum of African American History and Culture, and the Moscow School of Management.
Audio design is by composer and sound designer Nick Ryan, whose recent projects include works for Tate, Rolls Royce, Dolby, and the Imperial War Museum.
Lighting design is by Lighting Workshop, whose diverse projects span Adidas, Belstaff, W Hotels and Kith.
Realised by a creative team of storytellers, designers, educators, curators and programmers, the groundbreaking museum has benefited from the expert advice of award-winning investigative journalists, former directors of international intelligence agencies and station chiefs, and former members of renowned hacking collectives.
What is it that makes espionage so fascinating?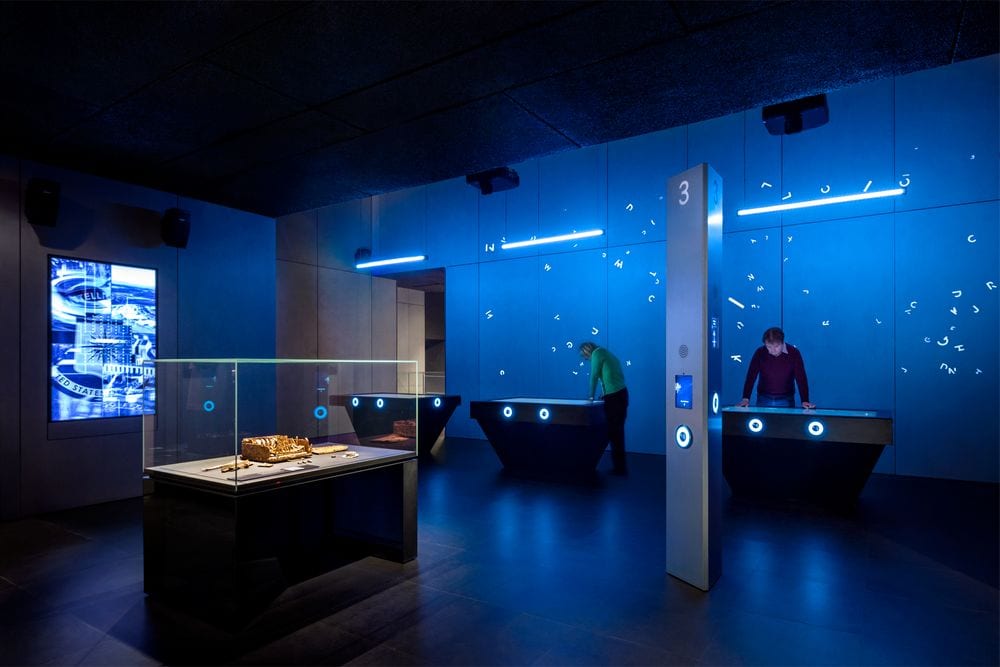 Oldaker feels the almost universal human fascination with espionage to be twofold:
"I think there are two aspects. One is popular culture; the Bond films and Jason Bourne films are entertainment icons, and on a real level, we all do it. In some way or another, the idea of gathering information about other people is just something we all like to do."
A visit to Spyscape begins, as with any good spy mission, with a briefing. This takes place in a high-tech theatre that is also an elevator. Oldaker says: "It happens in a lift that goes up from the first to the second floor of our building. During that lift ride, visitors are presented with a three-sided video presentation."
This is an immersive film developed with the studio that creates VFX for films such as Ex-Machina, Avengers and Blade Runner 2049.
Oldaker continues: "Each visitor receives a unique RFID identity band that personalises their experience. Then, the briefing in the lift describes how to use those bands as they progress through the different galleries.
Once you exit the briefing lift you are ready to enter SPYSCAPE. You are also ready to experience an interactive contemporary museum where the point is to figure out where you would end up in the real spy world and what type of spy would you become?"
What does it take to become a Spy?
SPYSCAPE's galleries are dedicated respectively to Encryption, Deception, Surveillance, Hacking, Cyber-Warfare, Special Ops and Intelligence. All display and interpret historical content.
Oldaker explains: "There are lots of graphics, and video content telling stories about real-life spies.
For instance, our first gallery is about encryption, expanding on the science of encryption and deciphering. We talk about the true story of Allan Turing at Bletchley Park. You take that content, and display what you have learned in one of our interactive challenges."
Throughout the visitor's journey, they will encounter Spy Stations testing attributes such as risk tolerance, brainpower and personality.
Data from interactions in Spy Challenges and with Question Stations are used to create participants' overall Spy Profiles, which are analysed in Debrief. Oldaker explains:
"According to an authentic profiling system developed with a former Head of Training at British Intelligence, we develop your spy profile, and tell you what type of spy you would be.
You might be an Agent Handler, you might be a Spycatcher or Spymaster, a Cryptologist, a Hacker, an Intelligence Analyst, Intelligence Operative, Special Ops Officer, Surveillance Officer, or Technical Ops Officer. There are a number of different archetypes."
Potential spy recruits visit SPYSCAPE, the new spy museum
The museum has attracted a range of people. Oldaker says:
"We have been really pleased to see such a wide spread of demographics. In terms of numbers, right now we are seeing around 1000 visitors a day. We are pretty sure we will hit 2000 a day by the end of the year. Once we hit 2000, we are confident we can stay there in the long term."
The interactive nature of the spy museum means the experience is repeatable:
"It is a contemporary museum, where the content is more about the guests and how they react to the content, and to the interactive challenges. Specifically, creating a different journey each time they come through."
Spy Tips & Tricks 101
The key experiential elements making the experience infinitely repeatable are:
The Encryption Challenge, where visitors use ciphers to send and receive coded messages to and from behind 'enemy lines'. Speed and accuracy determines the success of missions, which are then played out as animated stories rooted in true-life events.
In the Deception Challenge, visitors are taught to lie, and to learn the art and science of spotting lies in an interrogation room situation.
Tech including a pulse monitor and audio and facial recognition software track visitor responses as they try to lie convincingly.
During the Surveillance Challenge, visitors will wear headsets fitted with microphones and voice recognition software. They will also be surrounded by 360-degree projections of live and pre-recorded CCTV imagery as a surveillance officer tests their powers of observation through authentic surveillance missions.
The Special Ops Challenge tests reaction times, agility and strategy as visitors reach for illuminated targets while negotiating a path through a laser-beam maze against the clock.
Training and Missions at SPYSCAPE
Programs and events serve to highlight and enhance the museum's offering.
Oldaker says: "We have a 'Mission and Martinis' night. It is a social sort of engagement where we stay open a little bit later. And for a certain ticket guests get a martini at the end of their journey. We get a lot of repeat visitors coming for that event; they have gone through once, and now they want to go through with their friends. You can become a little competitive, sometimes, when you get into these challenges.
Another is our Special Ops challenge, which is actually a laser tunnel. This is where people can watch their friends and their family members go through, and try to beat their scores. It's really fun. One of our favourite pastimes, as staff, is to watch people watch their friends. They get really into it, and try to outdo one another."
A spy is incomplete without their gadgets…
The spy museum features a Spy Shop, where visitors can buy a range of fun gadgets, smart tech, spy games and products to protect personal communications and transactions.
There is also a book shop, offering more than a thousand spy-related titles, and a selection of rare and first-edition titles curated by experts – and a Café & Bar, serving food and beverages in a dramatic setting.
For corporate gatherings there are Multiple Event Spaces, offering one-of-a-kind surroundings for board meetings, celebrations or immersive AV events.
Mission De-Brief
In conclusion, Oldaker says:
"As long as we have the breadth of the story, we can remain relevant, as a museum.
"We show a lot of very simplistic early artefacts that did the job of ciphering or spying in some way that was rudimentary, but we also show a lot of really high-tech cryptology, hacking and surveillance equipment. Our collection spans all different types of artefacts from all ages, and we tell a number of different stories with that range."
He adds: "SPYSCAPE is the must-see attraction in New York; there is a great buzz about us. We just had two enormous billboards put up, one at New York airport, and one at LaGuardia airport. So visitors coming into New York see us literally the moment they step off the plane.
We have a lot of different marketing out there right now. Therefore in terms of driving people here, it's a tremendous opportunity to be the new kid on the block.
We believe we have a great product, a great experience: it's not a traditional museum; it's something different, unique, where people can really learn about spies, spying, and themselves."
All images courtesy of SPYSCAPE.