A practising lawyer with an interest in violin and modern dance, Komoroske has a long-held passion for the arts.
She has held numerous board and executive positions, including General Counsel and Vice President of Human Resources for Tyco Electronics Corporation, Interim Vice President of Human Resources at Groupon, Inc., and Chair of the Board of Directors of the Peninsula Humane Society & SPCA.
She spoke with Blooloop about Walt Disney's legacy, and driving the museum's mission of celebrating and driving creative innovation.
"I have always had a passion for mission-driven work," she explains.
"I became Chair of the board of a sizeable non-profit in this area, and would tell anybody who would listen that I wanted to get into mission-driven work. When the last CEO departed from the Walt Disney Family Museum, they asked me to cover in the interim, and help them find their next CEO and executive director. I fell in love with the museum."
The museum, owned, operated and funded by the Walt Disney Family Foundation, a non-profit organization established by Disney's heirs, was founded by Diane Disney Miller, Walt Disney's daughter. It was she who asked Komoroske to take the post:
"It's my dream job; I'm lucky to have it," she says.
The real Walt Disney
In founding the museum, Walt Disney's elder daughter wanted to tell the true story of her father, and to dispel the numerous myths that had grown up around his name.
Additionally, Komoroske says: "A lot of younger people didn't realise that Walt was actually a person. The museum started as something small scale, but, like all things Disney, it became something much larger and more fantastic."
The main museum is 40,000 sq foot , and the average visit lasts from 2.5 to three hours. A 3500 sq ft exhibition hall dedicated to Diane Disney Miller, who died in November 2013, is the venue for a special exhibition that changes every year.
Throughout the museum, Walt Disney's voice can be heard telling stories and offering insights into his life and work. They are in a series of recorded interviews by Pete Martin and commissioned by Disney that comprise 20 hours of audio footage.
In 2017, around 350,000 people visited the museum, both locals and tourists making pilgrimages from all over the world.
What is Walt Disney's enduring appeal?
"He was a master entertainer; he really knew what pleased the public, and he was driven to leave his legacy in entertainment. It's not all upbeat . People think of the Disney brand as all things happy, and… Disneyland. However if you really look at his work, he was telling the human story, and addressing the challenges and difficulties which affected his own life, too. I think that's also something that's unique about Walt Disney", says Komoroske.
Disney had a gift, Komoroske says, for constantly breaking new ground, pushing forward to the next thing.
"He did not have an easy time. There were multiple significant failures and challenges throughout his life. However, what was remarkable about him is he never was one to dwell on it. He just moved forward. Disney was also remarkable in that he had these incredible successes – Mickey Mouse in 1928, for example – but he didn't rest on his laurels; he pushed boundaries and got into new areas. People thought he was crazy to produce a feature-length animation film, Snow White, and they thought he was crazy to have a movie based on classical music, Fantasia, and to get into live action films, and to get into theme parks, but he was just fearless about forging ahead into uncharted territory."
Walt Disney and his Nine Old Men
Current exhibitions at the Disney Family Museum include Make Believe: The World of Glenn Keane. This showcases the influential animator's work, and will run until September 3, 2018.
"Just two days before the exhibition opened, Glenn Keane won an Oscar for the best animated short. He partnered with Kobe Bryant, a basketball player who wrote an ode to basketball when he retired from NBA. Glenn animated it, and so we have the full exhibition of his work," says Komoroske.
In partnership with Google, the exhibition features a 3D-printed rendering of Keane's creation 'Victory Dance'. This is the first in a series of Tilt Brush artworks that will be showcased throughout the year. It is in conjunction with Make Believe, and the special exhibition, Walt Disney's Nine Old Men: Masters of Animation. The special exhibition opened on May 17, 2018 and will run until January 7, 2019.
Komoroske says: "Walt jokingly called his key animators the Nine Old Men as a riff on the United States Supreme Court justices. They were his really important animation artists, and we have a full exhibition of their work."
Kirsten Komoroske on accessibility and art
"Every year we have an access exhibition. This is an opportunity for artists who don't normally have access to museums to display their art. For the first year, we partnered with three local organisations that encourage people with disabilities to create art. Last year, we partnered with the local organisations that support people suffering with memory disorders. Then this year in September we will open an exhibition of work from kids who are incarcerated in juvenile detention centres.
It is important to us at the museum to provide access to all sorts of visitors and artists who might not normally be able to access the museum," adds Komoroske.
The museum recently employed a member of staff whose job is devoted to access.
The museum also boasts a robust educational offering.
Komoroske says: "We have become the centre of animation training in the area; we offer scholarships, and try to encourage kids from under-served communities and schools to come to the museum. We underwrite their transportation and waive all fees so that those kids can also experience the museum."
There is also a teen animation film festival.
"It is in its fourth year or so, and encourages kids from all over the world to submit animated films. Then we have a film festival over a weekend in April or May. Kids from all over the globe have participated in that. So that's really exciting, and we are thinking in terms of potentially expanding that into something more robust."
Largely because of the Walt Disney name, the family museum draws from all communities and across the age spectrum.
"Some of the local museums struggle to get field trips to their museums. However, once we post them in August, they are booked for the entire year. This museum seems to appeal to a broader audience than most, and doesn't face the same challenges," says Komoroske.
However, she adds: "A lot of people think that, because we have Walt Disney in the name, we are going to be kid focused and there will be rides."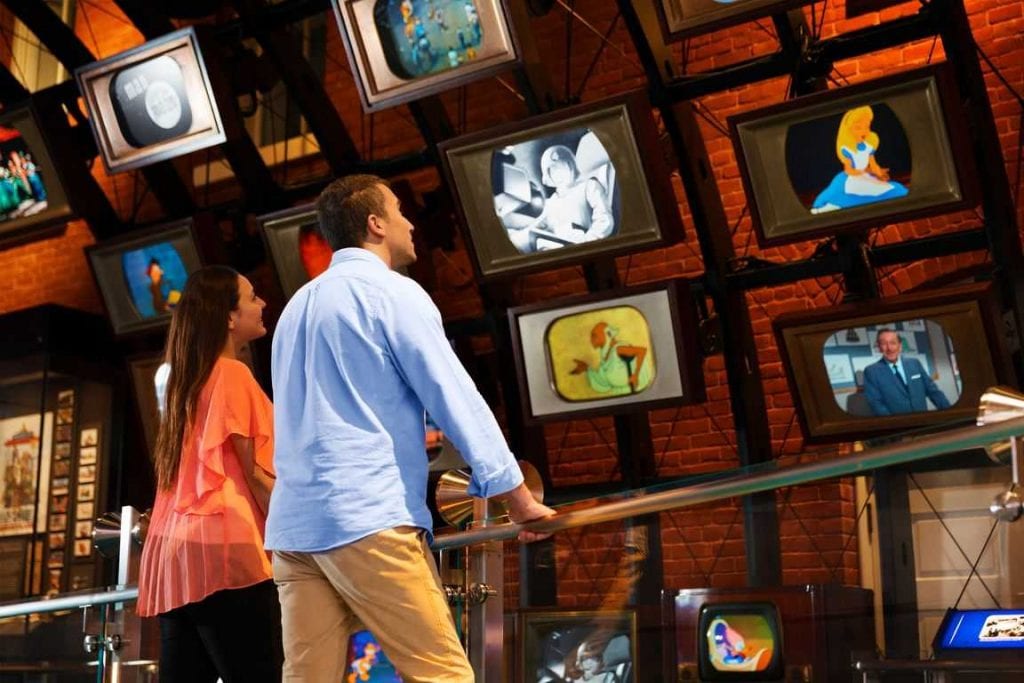 Something for everyone at the Walt Disney Family Museum
Instead, the museum, a treasure trove of creative memorabilia, appeals to all ages. "We have created additional programmes for the very little ones, understanding that museums can be overwhelming for them."
The museum is located in The Presidio of San Francisco, part of the Golden Gate National Recreation Area.
"We are in a beautiful area of San Francisco, a former military base. However a lot of people are still not aware that they are permitted to go onto the grounds.
It was designed, originally, to keep people out, with gates and winding roads. And sometimes, honestly, that is more of a challenge than reaching people, because people want to know all things Disney."
"Confined in this very beautiful space, we are looking for ways to extend beyond our four walls, and we do send teachers out into the community. We are also looking at virtual field trips so we can reach kids in rural areas or far away areas who wouldn't be able to come to the museum. We provide a vehicle so that people can experience the museum without having to travel here, especially if they don't have the means.
I think education is where the future is, for our museum."
All images courtesy The Walt Disney Family Museum.