Following years of successful tours, the Art Aquarium is set to become a permanent attraction with more than 30,000 goldfish in Tokyo in August 2020.
Art Aquarium is an interactive aquarium and museum that will display more than 30,000 Japanese goldfish, known as kingyo, in its permanent location in Tokyo.
The latest Instagrammable attraction boasts beautiful and ephemeral dancing goldfish and live performances of traditional Japanese dances.
The exhibits and F&B will be seasonal, and the permanent exhibit area is approximately three times the size of previous exhibits (via Sora News 24).
Instagrammable exhibits at Art Aquarium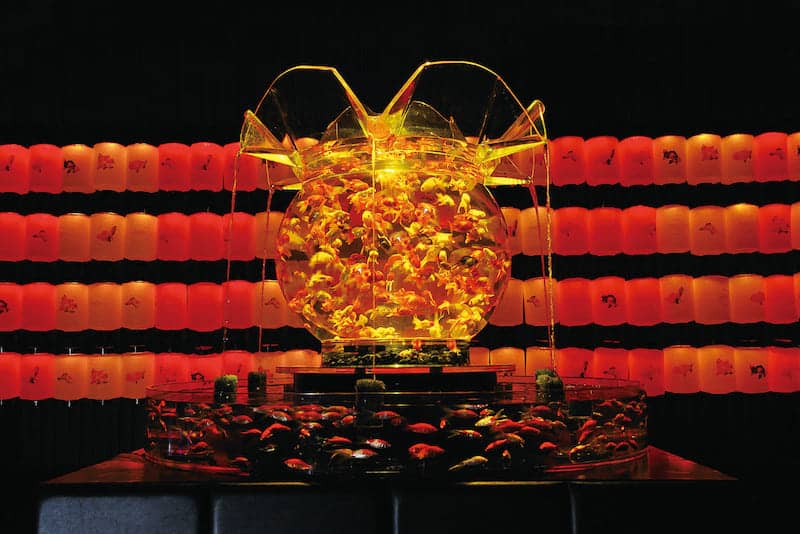 There will be a new area called 'Oiran Way', based on a red light district of the Edo period, as well as the 'Forest of Kingyo,' which features lines of pillars filled with goldfish.
Artworks include 'Super Oiran', an enormous fishbowl surrounded by 17 aquariums, 'Lotusrium', a giant lotus aquarium filled with goldfish, and 'Ooku', a series of huge fishbowls.
Additional artworks include 'Kimonorium', a large kimono with 3D projection mapping, and 'A Show of Kingyo', a shallow cylindrical tank.
Artworks include 'Super Oiran' and 'Lotusrium'
Art Aquarium has been running as a summer event for 14 years, but follows in the footsteps of teamLab in becoming permanent.
teamLab is an international art collective that includes artists, programmers, engineers, animators, mathematicians and architects.
MORI Building DIGITAL ART MUSEUM: teamLab Borderless opened in Tokyo in June 2018, while teamLab Borderless Shanghai debuted in Shanghai in November 2019.
Museum features seasonal exhibits and F&B
teamLab SuperNature Macao recently soft opened at the Venetian Macao, and teamLab: Continuity is soon launching at the Asian Art Museum.
Meanwhile, special effects company Edge Innovations has created a robotic dolphin to potentially replace live cetaceans in captivity in aquariums and theme parks across China.