Meow Wolf hosts the latest in a series of worldwide pop-ups of The Depressed Cake Shop that get people talking about mental health issues alongside raising funds for charity.
One in five people will be affected by mental health issues at some point in their lives. The Depressed Cake Shop is a platform designed to raise awareness of an issue that is often swept under the carpet through ignorance or embarrassment. "We provide a safe place for conversation and a unique toolkit that will enable interested bakers and organizers to raise funds for mental health charities through locally organized pop-ups," says the organisation's website.
Where there is cake, there is hope…and there is always cake.
The project was launched in 2013 by UK-based creative director and PR specialist Emma Thomas. The Depressed Cake Shop had a very specific brief – cakes were grey on the outside (with a pop of colour to symbolise hope). The concept caught on and pop-ups appeared all over the world – from San Francisco to Seattle, from Atlanta to Australia, from Kuala Lumpur to Glasgow.
Meow Wolf to host latest pop-up
Meow Wolf, the Santa Fe based arts and entertainment group will host a Depressed Cake Shop pop-up on June 16th at the David Loughridge Learning Center. "100 percent of profits will be donated to local mental health resources to increase the availability of free counselling services," says Meow Wolf. "Sad cupcakes, crying cookies and various grey-scaled confections will help bring people together, spark dialogue and raise funds for mental health resources."
Wolves, Meow Wolf's tech designer and developer (who also has bipolar depression) says the event epitomises out-of-the-box thinking for a social justice issue. Wolves has previously organised Depressed Cake Shop events in Sante Fe and California. "It will bring people together in a way that very few events around mental illness really do," says Wolves. "The creativity brought to the baked goods creates an invitation to a discussion. And so a lot of people end up discussing the event and the people in their lives who have expressed depression and mental illness of various kinds. It's really healing to have that opportunity to break down the stigma."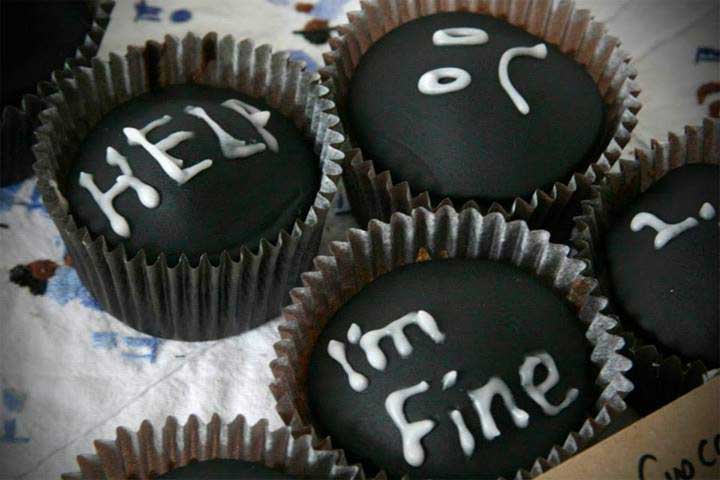 Meow Wolf's artists will decorate cupcakes for sale. There will also be blank cupcakes that visitors can decorate themselves.
The event will benefit Tierra Nueva, Southwestern College's counselling centre which provides counselling and art therapy on a sliding scale basis.
"I feel like there's some issues we just feel so discouraged from talking about because we don't want to be downers or whatever," says Wolves. "We don't want to get too close to something real that might affect someone. There's a lot of surface marketing into portraying yourself a certain way or portraying your organization a certain way. I feel very lucky that Meow Wolf doesn't do that."