The British Museum has announced a major archaeology project, which will be followed by the construction of the Edo Museum for West African Art (EMOWAA) in Benin City, Nigeria.
The British Museum is working on the innovative EMOWAA Archaeology Project with parters the Legacy Restoration Trust (Nigeria) and Adjaye Associates.
The project will investigate the archaeology of the Kingdom of Benin, including excavating the historical remains of the capital buried beneath the proposed site of EMOWAA.
It will be the most extensive archaeological excavation ever undertaken in Benin City, and is developed with the approval of the Benin Royal Court, Edo State Government and Nigerian National Commission for Museums and Monuments.
In partnership with the British Museum, the Legacy Restoration Trust has secured the equivalent of £3 million of funding to go towards the archaeological project.
The Edo Museum of West African Art is led by the Legacy Restoration Trust and designed by Adjaye Associates. It will house the most comprehensive display in the world of Benin Bronzes.
The British Museum has more than 900 bronzes, a significant proportion of which came to the museum immediately after the conquest of Benin City in 1897.
The project announcement comes after calls for the museum to return the artefacts to Benin City.
The Benin Dialogue Group, which includes the British Museum, is working on building the new museum. It is a consortium of European, UK and Nigerian museums, members of the Benin Royal Court and representatives of the Edo State Government.
EMOWAA will include West African art and artefacts and a permanent display of Benin works of art, including those currently in UK and European museums, as well as objects in Nigeria.
Benin Bronzes will be displayed at EMOWAA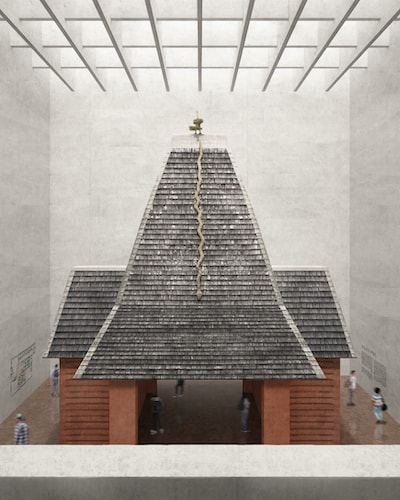 "I am humbled and deeply inspired to design the new EMOWAA, a project that will establish a new museum paradigm for Africa," said David Adjaye.
"Decoupling from the Western museum model, the EMOWAA will perform as a re-teaching tool – a place for recalling lost collective memories of the past to instill an understanding of the magnitude and importance of these civilisations and cultures."
Before the museum is constructed, the archaeological project will carry out essential works on the site, recording historical remains buried beneath.
Excavated objects will become part of the collections and displays at EMOWAA, and all objects will remain in Nigeria.
"The archaeology project also provides the groundwork for the EMOWAA which will surely become one of the most significant museum initiatives in the coming decades," said Hartwig Fischer, director of the British Museum.
Images: The British Museum