Event Network, a leading cultural attraction retailer, is proud to officially announce its partnership with the National Museum of the United States Army's Foundation, The Army Historical Foundation, as the retail operator of the Museum Store.
The Museum debuted on Veterans Day, November 11, 2020. Although its grand opening was originally planned for June 2020 and experienced COVID-related delays, it was worth the wait!  The National Museum of the United States Army is the first to tell the entire history of the nation's oldest military service.
Located in Northern Virginia at Fort Belvoir, the 185,000 sq. ft. newly constructed building immerses visitors in the story of the U.S. Army through compelling galleries, moving exhibits, a multisensory 300-degree theatre, tranquil rooftop garden, and hundreds of historic treasures rarely or never-before-seen by the public.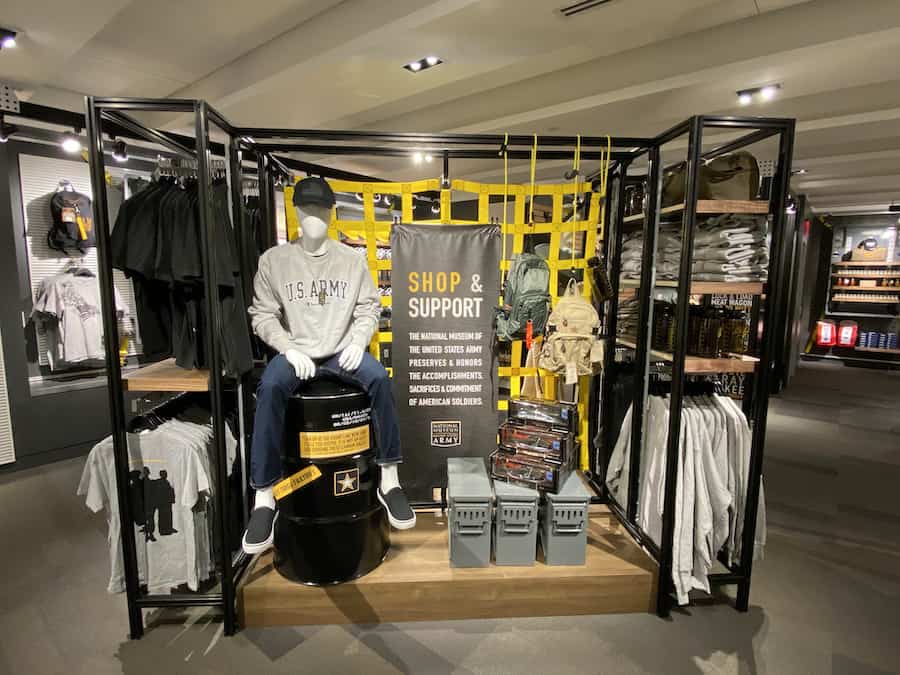 Celebrating over 245 years of Army history
The Museum is deeply committed to telling the stories of soldiers who served, educating guests about lesser-known Army topics, and celebrating over 245 years of Army history.  The Museum is a joint effort between the U.S. Army and The Army Historical Foundation, a non-profit organization.
Kerri Kline, Vice President of Operations, The Army Historical Foundation, said the decision to partner with Event Network was a clear choice for the organization and was made back in 2017 when construction began on the project.
She says: "Event Network's for-purpose and in-service philosophy aligns with the Army's and Foundation's definition of service – they have demonstrated the commitment of each team member to 'go a little further, endure a little longer, and look a little closer to see how he or she can add to the effort'."
The store's eco-friendly details, design and curated assortment of unique and custom product come together for an experience that seamlessly extends the museum visit.
Inside the store, visitors are greeted by the #ThankYouForYourService gratitude wall, inviting them to write a message to soldiers and post it on a large wall to create an evolving piece of public art. Periodically the museum will collect a percentage of the cards and deliver them to the USO to be presented to soldiers on active duty.
A modern interpretation
The store design is rooted in a modern interpretation of the Army, its people and its movements using a cohesive arrangement of elements and materials such as extruded aluminium, fibreglass reinforced crates, aeronautical bracing, and high strength polyamide webbing to convey high-tech tactical deployment.  While shopping, guests can explore a special selection of custom U.S. Army Museum and Army souvenirs, including military gear and personalized items.
"With Army families in mind, we created a shopping environment for guests to connect with the soldiers' stories and the nation's history, and tie those lessons back to unique offerings that reflect pride in our nation's Army, enhance understanding, and remind guests of their visit to this historic place," says Andrea Froehle, Vice President, Marketing & Communications, Event Network.
"It's a privilege to be trusted with this opportunity and to help honour and support our armed forces."
Event Network brings retail expertise, deep operational resources, and a turnkey retail solution that enables the Museum to focus its resources on running a world-class institution while benefiting from the revenue generated by the store. A portion of proceeds from purchases goes directly back to the Museum's programs and initiatives.
Event Network is the retail partner to multiple historic and military museums across the US, including Gettysburg National Military Park, Intrepid Sea, Air & Space Museum, Museum of the American Revolution, National Museum of the Marine Corps, Pearl Harbor Aviation Museum, and USS Midway Museum.
Earlier this year, Event Network announced that it had received a prestigious design award for its work on the Gift Shop at Lincoln Park Zoo.