Human 2.0 is pleased to announce that it has added a new product to its range of solutions, the AirSteril room steriliser, which will help attractions to provide a safe environment as they reopen to the public following the pandemic.
The company is on a mission to help businesses fight coronavirus, sourcing new products as well as existing technology that can be adapted and redesigned to combat COVID-19.
The AirSteril
The AirSteril was previously used as an odour destroyer in public bathrooms. However, with some adaptions, it now serves an effective room steriliser, able to rid a room of over 91% of airborne bacteria and viruses in less than five minutes.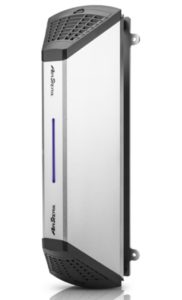 This means that it is a cost-effective solution for sterilising indoor public spaces, ride vehicles and transportation. It can also be left to run continuously without disturbing guests or disrupting operations. AirSteril will allow theme parks and other attractions to open safely and ensure that guest welfare is a priority.
"Air Steril is another good example of how we are solving real problems for real people," says a company spokesperson. "Our other sterilising product, the E-Spray, is proving to be a popular practical solution which complements the AirSteril and together with our certified face masks, they continue to provide an effective solution to protect against airborne bacteria and viruses.
"Our range of products continues to grow and daily we are adding extra layers of protection against Coronavirus for public venues and offering reassurance and peace of mind for guests. Better Together is our motto and we want the world back where it should be and we will be working with you, working together to get it there."
Human 2.0 also provides the E-Spray electrostatic room steriliser solution which quickly and efficiently coats surfaces with a disinfectant solution, as well as two types of quality high-filtration masks with 95% bacterial filtration efficiency.