At the MAPIC 2019 Asia Forum, Arnold van de Water, General Manager of the Van Gogh Museum's award-winning Meet Vincent van Gogh Experience, presented a session on experiential content and the importance of harnessing authentic cultural brands.
MAPIC is the leading international retail property event for key property players and cities. During 3 days, 8,500 retailers, brands, e-tailers, shopping destinations, cities, urban planners, leisure operators, people services providers and hotels come together to explore the best in lifestyle and shopping destinations. It takes place from 13 – 15 November.
Discussing the Museum brand at MAPIC
Earlier this year, the Meet Vincent van Gogh Experience had a successful tour stop in Seoul, Korea. Thanks to this, Van de Water was ideally placed to present a session best practices for experiential content when entering the Asian market.
"Looking back to the origins of the Museum, Vincent van Gogh himself drew inspiration from Asian art," says Van de Water. "Japanese printmaking was one of Vincent's main sources of inspiration, and he became an enthusiastic collector. The prints taught him a new way of looking at the world."
The Van Gogh Museum brand is popular in the Asian market, and Van Gogh has a 93% recognition rate across China, Japan, South Korea, US and UK markets. During his presentation, Van de Water spoke about the Museum's success in the region, in terms of licensing and merchandise. He also outlines how the museum is moving forward by converting its authentic content and brand into a collection of Van Gogh-inspired experiences.
Experiential content
"As the safe-guarders of Vincent van Gogh's legacy and authentic IP, the Van Gogh Museum has become the largest producer and licenser of Van Gogh merchandise and experiential content," says Van de Water. "We continue to increase our global outreach through co-creation with leading brands, promoters and venues."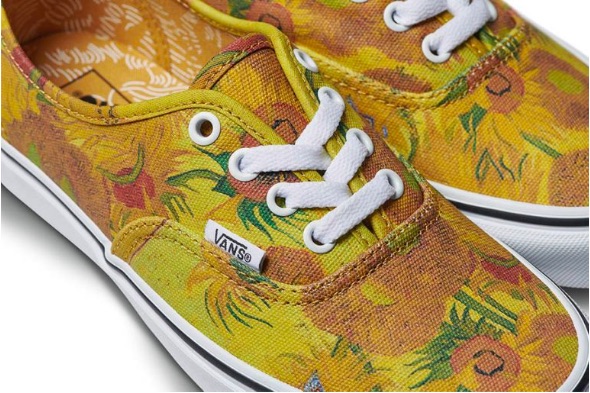 Previous successes include the sell-out partnership with Vans, as well as Jaeger LeCoultre and Samsonite, amongst others.
Van Gogh SENSES is an example of how the retail industry can capture the essence of authentic brands. It has locations all around China, including the K11 Art Malls in Guangzhou and Shanghai. Van Gogh SENSES includes a boutique flower store, café, bistro, fine dining restaurant and gift shop, all of which echo the creativity and spirit of the artist.
The Meet Vincent van Gogh experience was visited by over 80,000 people during its three-month stop in Seoul. This was an important brand activation opportunity too, and The Van Gogh Museum collaborated with the LOTTE Group and local technology leader LG Display on instore activations for LG Display OLED TVs and Meet Vincent tickets.
Authentic, original and high-quality IP
Finally, Van de Water spoke of the lessons he has learnt from introducing Van Gogh Museum experiential content into Asian markets. "Firstly, when creating cultural destinations in your retail environments, always opt-in for the original and high-quality IP," says Van de Water. "Authentic cultural IPs give you a seal of authority for your customers and competitors, as well as – in the case of Van Gogh, international PR value."
He also talked about the importance of clear communication, "We need to speak each other's language in order to achieve one another's objectives."
"Overall, in the spirit of MAPIC 2019, we need to rethink retail spaces and find a new way of looking at our worlds in tandem. You have the opportunity now to incorporate the strength of cultural brands, like the Van Gogh Museum, into your marketing and leasing strategies. By working together, we can convert our authentic cultural brand into a lucrative lifestyle and F&B concepts that give our customers the memorable experiences they want to invest in."
After a successful 2019 with tour stops in Seoul and Barcelona, the multi-award-winning Meet Vincent van Gogh experience is heading to leading cultural destinations around the world in 2020, including Lisbon and London.
Register here for a free copy of the Meet Vincent van Gogh promoter's book, which explores everything from technical production and design, to how the Van Gogh Museum's distinctive branding can maximize the Experience's impact in your city.