The Metropolitan Museum of Art has launched a new API (Application Programming Interface) for the collection that allows users to connect to 406,000 images without copyright or restriction.
The Met Collection API is part of the Met's Open Access program, which hopes to make the Museum's collection one of the most accessible, discoverable, and useful on the web.
The API allows any third-party to integrate The Met collection into their website on scale. The first to do this is Google. Now, the Google Arts & Culture (GA&C) is connected to all the artworks in the collection through The Met Collection API. GA&C users now have access to the 205,000 digitized, public-domain artworks in the collection.
New artworks will be automatically added to the API and the websites that use it, such as GA&C.
Knowledge Graph Integration
The Met Collection API will be connected to the Google Knowledge Graph: Google's unique tool that makes searching easier for users.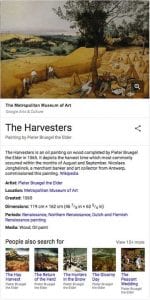 The Knolwedge Graph allows Google to answer questions such as "Who painted The Harvesters?" and display knowledge panels (such as the one pictured) on the search results page.
There are currently eight artworks integrated into the Knowledge Graph – he API will bring that up to all 205,000 that are on GA&C. The Met has noted that this new tool may result in a drop to their website traffic, but in a blog post say this is not their key metric for measuring success.
Record attendance
In July, The Met announced record attendance of more than 7.35 million visitors across its three locations—The Met Fifth Avenue, The Met Cloisters, and The Met Breuer.
The Met also received record attendance at its Heavenly Bodies exhibition.
The Met also benefited from over $250 million in philanthropic gifts, membership contributions and government support, the highest amount in recent years. A substantial element of this income came from a $80 million gift from Trustee Florence Irving and her late husband, Herbert Irving, which is the largest financial gift the Museum has received in recent history.
Open Access at the Met
The Met's website received 30.4 million visits over the year (32% international). The most popular pages were The Met's online collection (8.4 million) and the Heilbrunn Timeline of Art History (9.4 million).
The Met's Open Access policy, now in its second year, has made over 375,000 online collection images available for free and unrestricted use. The partnership with the Wikimedia community is enabling The Met's collection to reach over 10 million users a month via Wikipedia.