Here, we highlight five key VR experiences currently drawing the crowds, from virtual paragliding to an immersive Victorian Nightmare.
You couldn't turn a corner at the IAAPA show in Orlando, without seeing virtual reality in some form. It has descended upon the attractions industry no longer as just an overlay, but as an attraction in and of itself.
Many companies are investing heavily in Augmented Reality (AR), expecting the technology to soon boom. Apple CEO Tim Cook and Disney CEO Bob Iger have both declared their preference for AR. But devices are still bulky and have limited fields of view – and so AR isn't really viable for attractions at this time.
Innovations in VR came thick and fast in 2018 – here are 5 that stood out.
VR experiences 1: Mazes
Free-roam VR is all the rage, where users can move freely around a set, interacting with a physical location. It's much more immersive, but it also requires a lot of space.
VR Mazes pose a solution. Mazes take up a small footprint while still providing the immersion of a free range experience.
Triotech released a brand new VR experience called Assassin's Creed: The Temple of Anubis in September. Armed with a virtual bow & arrow, players take on the persona of the hero, Bayek, as they explore a temple and fight enemies.
Player's sense of immersion is heightened because walls and obstacles of the digital world can be touched in the real world. They dodge enemies' arrows, walk across shattered wooden planks, and ultimately experience the leap of faith that has become an icon of the blockbuster video game franchise.
Taking up just 120 square feet, this attraction could easily fit in a Family Entertainment Centre or mall.
VR experiences 2: Roam and Ride
A VR overlay onto a popular coaster is nothing new. The rollercoaster at Alton Towers formerly called Air, was transformed into Galactica after a Virtual Reality overlay was added.
And in June 2017, SeaWorld Orlando transformed its Kraken rollercoaster into Kraken Unleashed using Virtual Reality.
The guest response to this application of VR has been mixed. Reduced throughput, concerns surrounding hygiene and motion sickness are all issues that have to be overcome to make a successful experience. As the novelty of VR wears off, the bar has to be raised to persuade guests that donning a headset will result in a better experience than just riding the coaster IRL.
In September 2018, SeaWorld removed the VR from Kraken – and Alton Towers has began running the ride without VR at times, according to RideRater.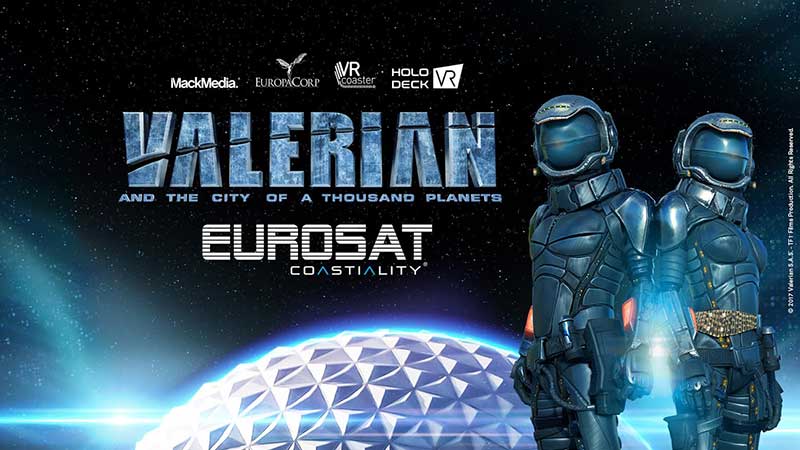 One innovation at Europa-Park in Germany promises to revolutionize the VR coaster. Eurosat Coastiality, in the France area of the park, uses a new Roam & Ride concept. Riders first put on their VR headsets during the pre-show, and then walk through a virtual world and board the coaster without removing the headset. Digital avatars represent riders and operators in the virtual world.
The ride was created using the Holodeck platform, and is available as both a VR version (Eurosat Coastiality) or non-VR (Eurosat Cancan). The VR experience is currently upcharged to manage capacity.
VR experiences 3: actors
"Derren Brown's Ghost Train" opened in 2016 at Thorpe Park in the UK. The attraction takes place predominantly in Virtual Reality. However, (spoiler alert!) there are a few startling moments where you are touched by actors in the ride.
It's very minimal, but that could be a growing trend. One location based VR experience in Los Angeles is combining the physical with the virtual in a chilling new experience.
Chained: A Victorian Nightmare blends film, gaming, theater, and immersive technology. It has been created by MWM Immersive (Formerly Reality One), the immersive division of MWM (Madison Wells Media).
Participants enter a fully detailed Victorian-era set one at a time. Once inside, they are then fitted with a VR headset by a professional actor. Individual audience members interact the entire time with live actors and tactile objects, allowing guests to look, feel, touch and create.
The spirits that guests interact with are not pre-recorded. Motion-capture is used so actors can really respond to the guest, or even physically interact.
VR experiences 4: risk-free extreme sports
VR has also found a new benefit in providing thrill-seekers with a risk-free extreme sport experience.
Billed as an immersive attraction like no other, ParadropVR simulates flying a paraglider, with up and down motion that incorporates sudden drops and smooth deceleration to create a realistic feeling of gliding through the skies.
UK-based Frontgrid developed the attraction. Dynamic simulation attractions specialist, Simworx produced it.
The interactive game element awards points to each individual rider as they glide 'back down to earth'. They do so via a series of targets through which they must fly to score maximum points. Riders physically move through a vertical distance of 1.8m during the experience.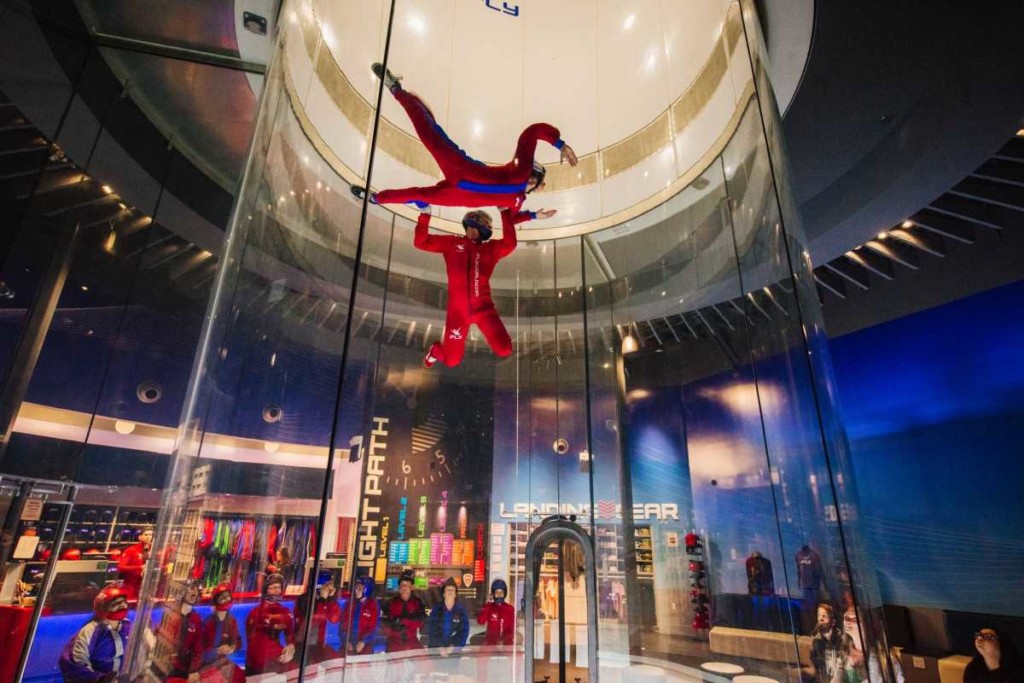 World leader in indoor skydiving tunnels, iFly, have also added a VR element to their experience. They offer the latest VR technology combined with patented wind tunnel technology. It's the closest thing to a real-world skydiving experience – without ever stepping on board a plane.
VR experiences 5: Arenas
While many VR innovations deliver immersion in a small footprint, some big experiences need big venues.
That's the thinking behind VR Arenas – large scale, free-roam VR experiences. In June, Zero Latency opened its 19th VR arena worldwide in Galaxy Macau Casino. With no physical walls, up to eight players can freely roam, walk and explore. They can also fight together through complex and varied virtual terrains.
Players see each other as full-motion avatars. They stay in constant communication. This means they can strategise, call for help, warn their teammates, or banter together.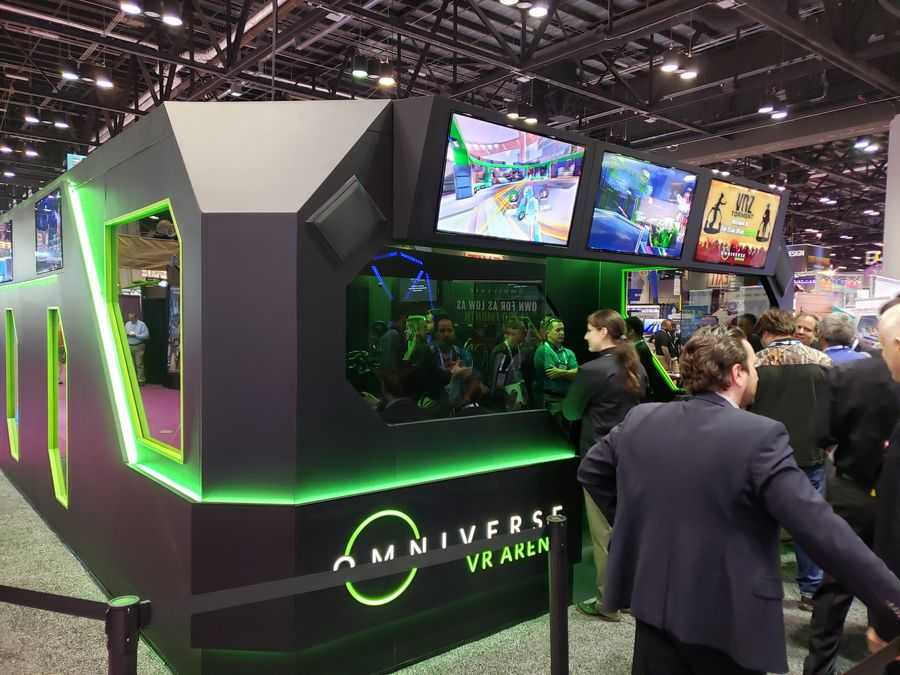 But if there isn't space for this, it doesn't mean a large-scale free roam experience isn't possible. Virtuix has pioneered a small space arena that still allows players to walk or run endlessly around a huge field of play. It's thanks to their unique treadmill, called the Omni, which allows players to walk and run naturally without any movement. It combines the immersion of free-roam, arena style VR with the benefits and small footprint of tethered VR.