Prince's Paisley Park executive director Alan Seiffert has spoken about future plans, transformation and the guest experience during an interview with Mycotoo chief development officer Fri Forjindam at the first ever blooloop V-Expo.
Mycotoo, a leading agency in entertainment strategy and experience design, also offered a sneak peak of what it has been up to at Prince's Paisley Park.
"Over the last year, we have been privileged to work with Paisley Park in really helping them transform their visitor experience," said Forjindam.
"It is an inspiration and an honour to be here."
On what he was drawn to at Paisley Park, Seiffert said: "One of the things about Paisley Park is it's not really a traditional museum space, it's not just about artefacts and making sure they don't get dusty."
"Prince wasn't one thing, it wasn't just about the music with him, it was about more than that," he added. "It's not just about the storytelling, it's also about the guest."
Paisley Park is "not really a traditional museum space"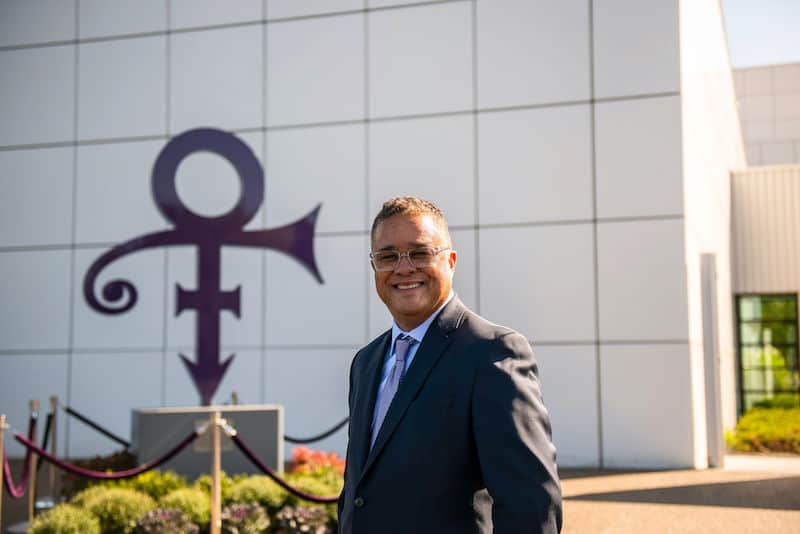 "It is about the narrative, but it's also about making the experience for the guest, bringing them in and engaging in that narrative in a way that we think is going to spread the gospel."
Seiffert said the guest experience at Paisley Park is "about sharing and exposing to the world what Prince was about".
"Prince was very much a host, he loved to host people," he added. "We really wanted to be a place that people felt welcome.
"The idea was to become open, to be a place that feels comfortable, and that we can truly share all that Prince was about with his music."
Seiffert also explained that putting the Prince symbol outside Paisley Park was an important move for the team, and as Forjindam said, it was a way to say "this is his house, this is his home".
Paisley Park's aims "to become authentically Prince"
Paisley Park's mission "is to become authentically Prince" and to become a "dynamic, living, breathing space". It's all about keeping it fresh while preserving Paisley Park.
"We are authentic in the sense that, yes, we have these great artefacts and we change them up and we make them special and there's so much there to see and to share and I know he wanted to do that," explained Seiffert.
The team is focused on how to bring more creative life to Paisley Park, and has started to "bring the building alive" with live music and events.
"Our longer term goal is we really are that creative hub and we want to be that hub," said Seiffert.
On adapting during the COVID-19 crisis, Seiffert said the priority is to protect staff and guests. However, the pandemic has accelerated the attraction's online engagement.
"One thing that we've started to do a lot more of is engagement online, through our Facebook livestreams, we've done livestream concerts."
Forjindam spoke about Paisley Park from an industry perspective, explaining: "You're not a museum. This is not a traditional venue space.
"It's a community centre, it's an events space, it's an exhibitory, it's a working facility, a recording studio, it's a production facility at its core.
"It just so happens to be also someone's home, someone who was very well known and very beloved – and so there's also a history and a sentiment there."
"You'll be seeing more of Paisley Park," said Seiffert
https://www.instagram.com/p/CGIbizKp8SL/
Forjindam continued: "The first mistake the industry would be making if they wanted to label Paisley Park would be to put a label on it, because there is no label, and the minute you put that label on it then it comes with false expectations.
"You just gotta come check it out."
Finally, Seiffert teased that Paisley Park has expansion plans. "The other goal for us in the next few years is to also expand beyond Paisley Park.
"You'll be seeing more of Paisley Park."
Watch the full session at the blooloop V-Expo, running from October 13 to 15. The full session will be on demand from October 14, and is available until midnight tonight (October 15).