OMA/Shohei Shigematsu is designing a new underwater sculpture park, snorkel trail and artificial reef for Miami Beach, scheduled to open in December 2021.
OMA partner Shohei Shigematsu is leading the masterplan, collaborating with a team that includes marine biologists, researchers, architects and coastal engineers.
"We are excited to collaborate again with Ximena on a project that brings together culture and community," said Shigematsu.
"The ReefLine is a unique project that brings attention to and mitigates the dangers of climate change in Miami Beach, while simultaneously enriching the city's vivid art scene.
"We look forward to collaborating with a diverse group of experts and professionals on our first underwater cultural masterplan and sculpture."
ReefLine was conceived by curator Ximena Caminos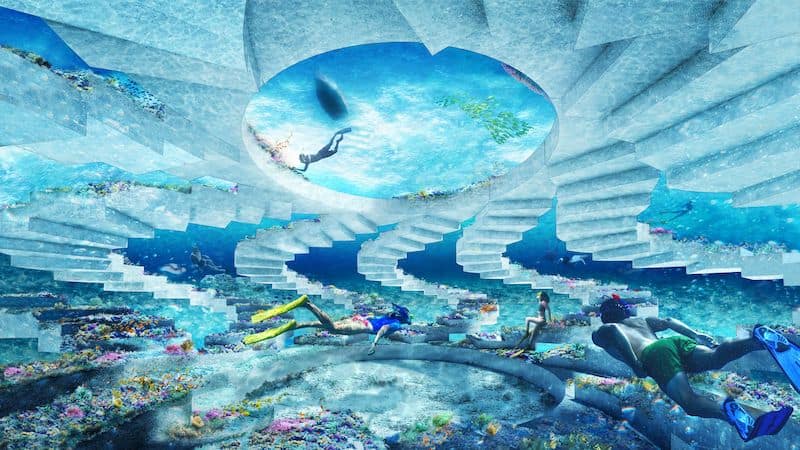 The seven-mile art project was conceived by Argentinian curator Ximena Caminos, who will serve as artistic director of The ReefLine.
The ReefLine will provide a habitat for endangered reef organisms. It will promote biodiversity and enhance coastal resilience, and will be completed in phases.
The first phase opens with permanent installations by Leandro Erlich and Shohei Shigematsu/OMA. Later commissions will come from Ernesto Neto and Agustina Woodgate.
Erlich will create an underwater version of his sand-sculpted 'traffic jam', titled Concrete Coral, while OMA/Shigematsu's sculpture is a stair-like, 3D structure that will provide layered zones for coral reef growth. It explores the nature of underwater weightlessness.
Permanent installations heading to Miami Beach
Earlier this year, the Museum of Underwater Art (MOUA) announced that it was ready to welcome divers. MOUA is the only underwater art museum in the Southern Hemisphere.
Underwater attractions are becoming more popular across the world. In December 2019, the 'Living Museum in the Sea' opened in the Dominican Republic.
"This series of artist-designed and scientist-informed artificial reefs will demonstrate to the world how tourism, artistic expression, and the creation of critical habitat can be aligned," Caminos told Dezeen.
"The ReefLine is a singular investment in civic infrastructure, public art and environmental protection that will pay dividends over the coming decades and attract ecologically-minded tourists and art lovers to Miami Beach."
Images: The ReefLine