Visitors to the Science Museum of Minnesota can now buy an authentic limited edition of the Stranger Things dinosaur hoodie that appeared on the popular Netflix show.
It was a social media follower who told the Science Museum that their sweatshirt had become famous.  The vintage sweatshirt first appeared in the St Paul museum's Explore Store in the early 1980s.  However, it made its first TV appearance on Friday October 27th 2017.  Character Dustin Henderson wore the hoodie in the first episode of the second series of the hugely popular TV show Stranger Things.
The museum has since been flooded with phone calls, emails, and social media posts from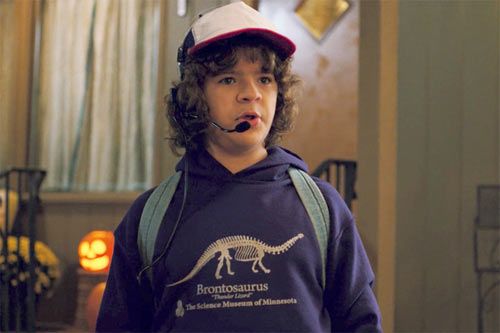 fans.  They are all desperate to get their hands on the distinctive purple hoodie that has Brontosaurus, "Thunder Lizard" blazoned across its front.
Unauthorised duplications of the sweatshirt have been offered for sale on various websites since its appearance on Stranger Things.
However, the museum has now created its own authentic merchandise. The Stranger Things dinosaur hoodie is now being sold in both adult and children's sizes.  There will also be a range of crewnecks and t-shirts.  Prices range from $15-$40, depending on size and style.
Fans can buy the merchandise online or at the Science Museum's Explore Store.
Sales will support The Science Museum of Minnesota education programme which reaches students across the state.  They will also help its research programmes which span the globe.