Leading experience delivery company, Sysco Productions, has provided its AV expertise to three major new exhibitions at the British Museum, the V&A and Silverstone.
Sysco provided audiovisual design consultancy for the recently opened I object: Ian Hislop's search for dissent at the British Museum. This project sees the journalist, historian and broadcaster demonstrate how people throughout history have questioned the official version of events.
Hislop has scoured the museum's collections, which span three thousand years, to showcase 100 key objects that prove his point.
"This is a fresh look at the collection that turns up a treasure trove of dissent in the midst of the conformity," he explains.
The objects are brought to life through archive media, projection, audio exhibits and touchscreen interactives.
Over at the V&A, Videogames: Design/Play/Disrupt, which opened on Saturday, is billed as the first exhibition of its kind to celebrate the innovative and rapidly changing design field of videogames.
The exhibition looks at the fast-evolving world of videogaming and features everything from concept art and prototypes to large-scale immersive installations and interactives.
Sysco actively looking to expand its team
Syco worked directly with exhibition designer, Pernilla Ohrstedt Studio, on the project, providing concept, technical and developed AV hardware design of the immersive audiovisual displays.
Meanwhile, at the home of British motor racing, Sysco are part of the project team responsible for hotly-anticipated interactive visitor attraction, The Silverstone Experience. Slated to open in spring 2019, the technology-driven attraction powers visitors through the colourful history of both Silverstone and British motor racing.
The immersive visitor journey promises 'fascinating stories of human endeavour, sporting rivalries in addition to engineering and technology that changed the world'.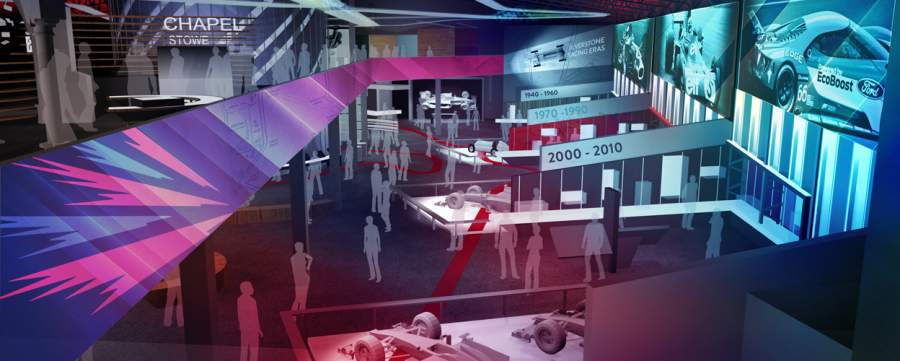 Sysco and project partners, Mather & Co, Elmwood Projects and Ay-Pe, are behind the wheel when it comes to the state-of-the-art audiovisual displays which bring the history of the site to life.
With many more projects in the pipeline, the fast-growing UK company is looking to expand its team. Check out the list of opportunities, here.