Thinkwell Group, the global experience design and production company, has designed and produced a new guest experience at Niagara Parks Power Station, called Currents: Niagara's Power Transformed. This is an immersive nighttime show located in the century-old hydroelectric plant which tells the story of how water is transformed into electricity.
Currents is a unique multisensory experience that takes place amid the power plant's huge decommissioned generators. The building itself was the first major power plant on the Canadian side of the Niagara River and is 115 years old.
The show, which spans a space of 61,000 square feet, was created by Thinkwell Studio Montréal in close collaboration with the Niagara Parks Commission.
New nighttime spectacular shows journey from water to electricity
The team created more than 40 minutes of projection-mapped content and lighting design for the nighttime show. Instead of using off-the-shelf solutions, the company created fully custom tools for Currents, with a network of 23 projectors and 35 speakers as well as projector autocalibration and interactive tracking systems, to bring the power plant to life.
At the start of the project, Thinkwell's creative team soon decided to opt for an immersive, interactive experience instead of a more traditional seated show. The light and sound show surrounds audiences, filling the room. The plant has not been in active service since 2005, and the building now serves as a historic visitor experience, enhanced by Thinkwell's custom light and sound show, complete with projection mapping, original score and reactive technologies.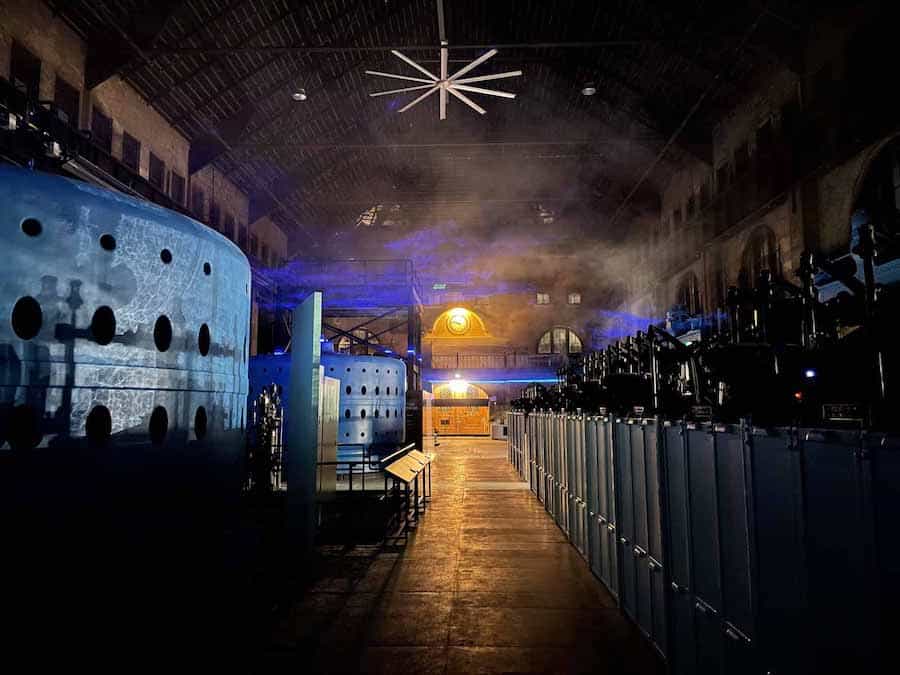 The experience shows the journey of water, from one drop in Horseshoe Falls, through the turbines and into a spark of electricity.
"It's not a show just for adults. It's inspired by children and their wonderlust. Their desire to explore these really unique places and to look under and all around. We introduce children as characters very early on in the show, so that hopefully they inspire people to stay connected to that playfulness and this desire to explore" says Émilie F. Grenier, Thinkwell Studio Montréal Creative Director.
Currents: Niagara's Power Transformed will run four shows per night throughout the next year, opening on September 3, 2021.
Last month, Thinkwell Group announced that it has designed and produced the all-new Welcome Center experiences at Warner Bros. Studio Tour Hollywood, which is now open to the public once more.