By Maxwell Blowfield
A sign of the growing ranks of museums on the platform came last week. TikTok hosted its first ever #MuseumMoment. This brought together some of the world's biggest and best institutions in an all-day live-streamed global 'event'.
There were 23 museums taking part from across 12 different countries, including those from Israel, France, Italy, the Netherlands and the UK. It was the Eurovision of museums.
Ahead of the event, TikTok had said they'd seen a huge rise in people consuming art and culture on the platform over the past 12 months. they added that content within the most popular culture hashtags – including #FineArt, #ArtHistory and #ArtOnTikTok – had garnered over 2 billion monthly views to date, an increase of 3000% in the past year.
#MuseumMoment
They also revealed that "some of the world's most famous cultural institutions" have recently signed up. The #MuseumMoment certainly did feature a strong line-up of A-list names. These included the Rijksmuseum, the Metropolitan Museum of Art and the V&A, the latter of which only started posting videos last month.
But despite these newbies, there are still surprisingly few museums on TikTok. There's seemingly no active account from the Musée du Louvre, the world's most visited museum. Nothing official appears if you search for many big names such as the Guggenheim, the Vatican Museums or the Tate Modern.
The National Gallery in London has announced its intention to join but has yet to do so. And while some smaller museums have been early adopters, huge numbers are clearly not on the app and are likely not thinking about changing that.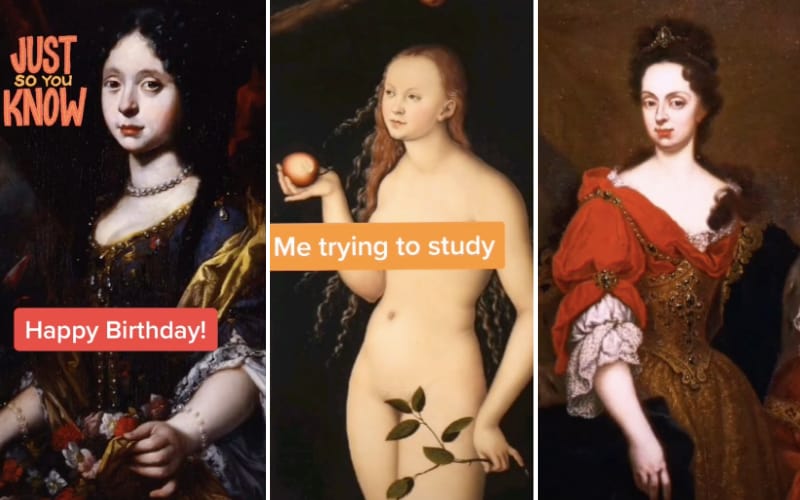 This would be a mistake. Museums should be signing up now. Any further delay risks restricting the size of a potential audience by missing out on one of the platform's most valuable offers: virality.
Going viral
The ability to go viral is what first attracted Gen Z-ers to TikTok. It's razor sharp algorithm serves videos to users who are very likely to enjoy them, whether they follow an account or not. This means that even if you have a tiny following you can still have your content seen by thousands – or millions – of people. Every user of the app is a potential viewer.
Compare that to Instagram or Facebook, where your reach is heavily dependent on the size of your following. On TikTok, once you start to see a few videos go viral, followers soon, er, follow.
Some museums which joined the platform early have already benefited from this virality, and have rapidly amassed an audience. In December, the Black Country Living Museum near Birmingham was revealed to have gained more followers than any other museum on the platform. It hit the top spot with 350,000 fans just four months after their first post (that's now risen to nearly 900,000).
It has an astonishing 1.3 million fans which is double the population of its home city. While it signed up to TikTok earlier than many, half-a-million of these followers came in just the past two months. This level of growth would take years on other platforms, especially for a museum of this size.
Shortly after, they lost their crown to an equally little-known venue. The Sacramento History Museum is a modest venue telling the story of the Californian capital and the 19th century Gold Rush. It is now the most-followed on the platform.
Don't miss the #museummoment
Of course not every museum is going to reach these giddy heights or become TikTok-famous. But every museum has the potential to go viral and to use that to build sizeable audiences (and fast). Be warned though: it's unlikely this potential will last forever.
Just like Facebook and Instagram before it, organic reach will no doubt begin to be throttled as algorithms are tweaked to favour brands and their advertising dollars. Organic reach is already all but dead on Facebook, where putting cash behind posts is the only way to get content in front of new eyeballs.
The same could well happen with TikTok. Its meteoric rise has placed it firmly in the sights of marketers and their big budgets. Advertisers running campaigns in the U.S. have already increased 500% in the past year.
Museums and galleries should seize the TikTok opportunity right now. The growing popularity of the app and the expanding appetite for cultural content means this is the time to try it out. Coming late to the party risks missing out on organic reach, which doesn't cost a penny, and massively restricting the size of a following.
My advice: don't miss the #MuseumMoment.