Ahead of the opening of Avengers Campus on June 4, Disneyland has unveiled the guide map for the Marvel-themed land at Disney California Adventure.
The guide map reveals the three entrances to Avengers Campus, which is spread across 6 acres, as well as WEB Slingers: A Spider-Man Adventure – Disney's first ride-through attraction to feature Spider-Man.
Also unveiled in the map are a Quinjet sitting on the roof of the Avengers Headquarters and the animatronic Spider-Man flying above the Worldwide Engineering Brigade (WEB).
Pym Technologies, which houses the Pym Test Kitchen, is also visible on the guide map, as is the existing Guardians of the Galaxy – Mission: Breakout! 
Avengers Campus guide map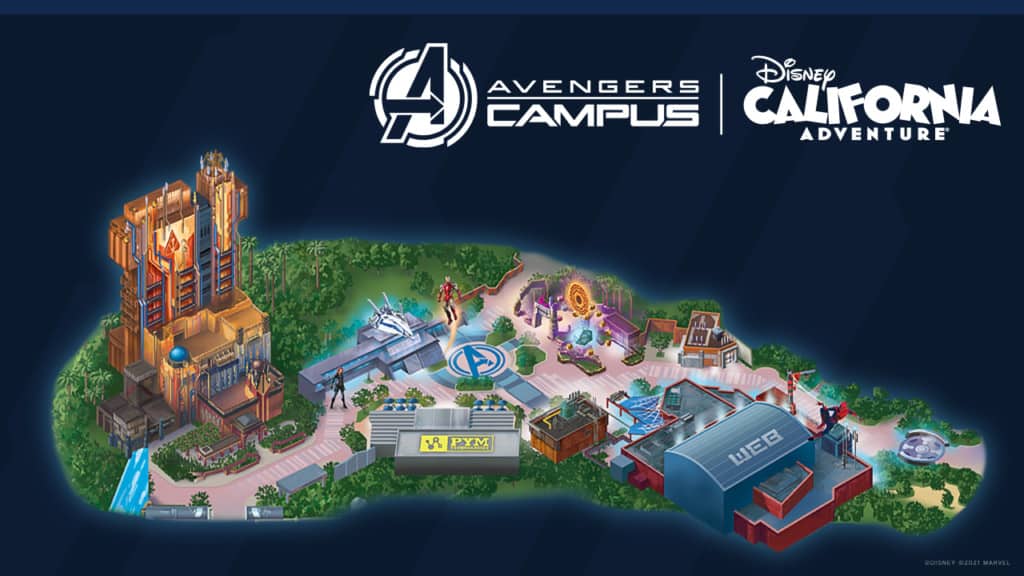 Avengers Campus visitors can plan their visit on the Disneyland website and mobile app. Disney has also released the official Recruit's Guide, which provides a look at the land's offerings.
In addition, Disney has confirmed that a virtual queue system will be used for Web Slingers: A Spider-Man Adventure, only accessible on the Disneyland mobile app.
Similar to Star Wars: Rise of the Resistance, which opened at Galaxy's Edge last year, virtual queue enrolment times will take place twice daily at 7am and 12pm.
Disneyland recently unveiled the innovative merchandise and technology heading to Avengers Campus, including a wearable gadget that customises the Web Slingers ride.
Disney's Marvel land opening soon
All riders will be able to sling webs from their wrists on Web Slingers, but the Web Power Band gadget features an attraction mode that enhances the ride by unlocking multi-fire webs.
"We are so excited to soon welcome our guests to Avengers Campus, our first land dedicated to Super Heroes," said Ken Potrock, president of Disneyland Resort.
"Avengers Campus will be a place where fans and guests can finally step into the universe they love, and stand alongside some of their favorite heroes," said Dave Bushore, vice president of franchise creative and marketing for Marvel Studios.
Meanwhile at Disneyland Paris, Disney's Hotel New York – The Art of Marvel is opening on June 21. It is the first hotel in the world dedicated to Marvel art.
Images: Disney