Disney Imagineers have created an animatronic Spider-Man, who will soon be swinging above the rooftops of Avengers Campus at Disney California Adventure.
According to the Disney Parks Blog, visitors can see Spider-Man daily in Hollywood Land, in between his visits to Avengers Campus, before it opens in summer 2020.
The Spider-Man figure is the animatronic acrobat robot that Disney Research has been busy developing for the past two years.
Last year, Disney filed a patent application hinting at a breakthrough in the 'stuntronics' programme, which involves robots performing acrobatic stunts.
Animatronic acrobat robot at Avengers Campus
In the video, which you can watch above, Spider-Man can be seen practicing some of his acrobatic feats at a 'top secret location'.
Spider-Man will also fly through the air in his new suit, exclusively designed by Ryan Meinerding, head of visual development at Marvel Studios.
Avengers Campus will house various new experiences, including an attraction at the Worldwide Engineering Brigade (WEB) where guests can sling webs alongside Spider-Man.
It will also feature Pym Test Kitchen, a new restaurant where Pym Technologies Researchers are using Ant-Man and the Wasp's technology to grow and shrink food.
Spider-Man ride at Worldwide Engineering Brigade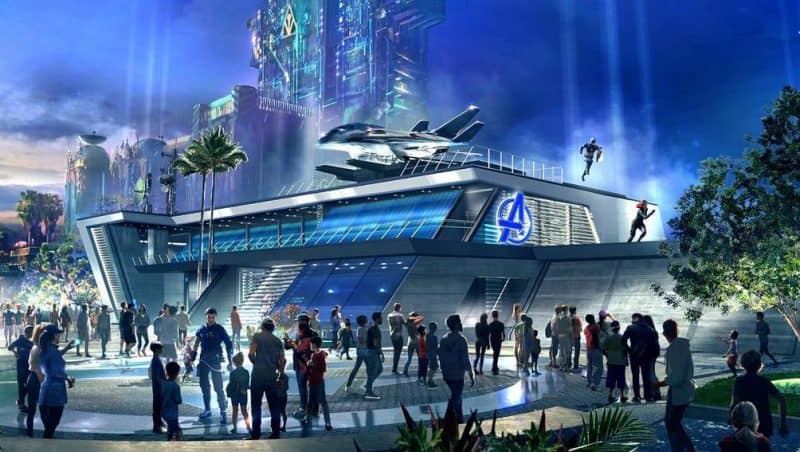 In addition, guests can have heroic encounters with the likes of Black Widow, Doctor Strange, the Guardians of the Galaxy, Black Panther, Thor, Loki, Iron Man and for the first time, Ant-Man and the Wasp.
Opening in the second phase, Avengers Campus is getting an iconic Avengers Headquarters building, which will become the entrance to a new E-Ticket attraction. Guests will ride a Quinjet and fly with the Avengers to Wakanda.
Avengers Campus is also opening later at Disneyland Paris, where Disney's Hotel New York – The Art of Marvel debuts in summer 2021. Celebrating 80 years of Marvel art and artists, the hotel will boast more than 300 artworks.