Gateway Ticketing Systems recently held the eleventh instalment of its Webinar Wednesdays series, looking at attractions that have already reopened and what lessons the operators have learned so far.
By Greg Banecker, Gateway Ticketing Systems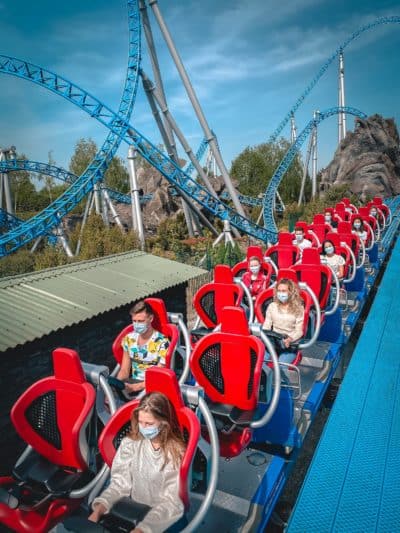 When we started this series over two months ago, myself and the co-hosts of the series, Randy Josselyn and Matthew Hoenstine, knew we would eventually cover this topic – we just didn't know when! But finally, the time had come. Attractions have reopened. With limited capacity and with new cleanliness, safety and social distancing procedures, but they've reopened.
It's time to celebrate. But it's also a time to learn from those who have gone before us. Throughout the series, we have been overemphasizing the need to get your reopening right the first time. You only get one chance to make a second impression. And if guests don't feel that their health, safety and social distance is your #1 priority, they won't come back, and they won't tell their friends to come back either.
On the panel for this episode and sharing their reopening stories were the following attraction professionals:
Alan Mahony – Vice President, Marine and Waterpark Operations at Atlantis Sanya
Becky Mackie –  Sr. Vice President of Operations & COO at The National WWII Museum
Angelina Davanzo – Director of Visitor Services at The National WWII Museum
Heather Doggett – Chief Operating Officer at Loveland Living Planet Aquarium
Tips for reopening attractions: work with the government
Mahony, from Atlantis Sanya, a resort on Hainan Island in China, could not emphasize enough how important it was to work with the government when reopening.
The aquarium and waterpark followed the government's cleanliness and sterilisation recommendations and close every day between one and two to do a full venue cleanse based on recommended cleansing standards.
The resort limited the number of shows they performed when the attractions first reopened. It has since increased the number, under the supervision of the local government to ensure guest safety is the top priority.
Mackie and Davanzo from The National WWII Museum had to work with the government in New Orleans, Louisiana to get permission to open early. Cultural attractions were originally slated for a phase two or three reopening, much later than phase one.
Being proactive
But they were proactive. They developed a plan and got it in front of the city and state. The Museum had to convince the government that they could reopen the right way, and be an example for other businesses to follow.
They also made the argument that serving the local people with a cultural attraction was very important as quarantine lets up. And it worked. The Museum was allowed to open in phase one, on Memorial Day weekend.
Doggett, at the Loveland Living Planet Aquarium in Utah, also made sure the reopening plan matched the government's plan for a phased reopening. As well as OSHA, CDC and WHO requirements.
The point here: your best shot at a successful reopening is the full blessing of your local or state government. Whether that be an explicit blessing, or just by strictly following the guidelines and regulations it issues.
"If you are planning to reopen – two, three, four weeks ago you should have been speaking with your municipality to make sure your plans work for them," said Josselyn.
Fully understand your operations and your profit centres
Atlantis Sanya opened the waterpark to hotel guests only. This is a subtle, but financially smart policy. Most of us now have capacity restrictions – say, 30% of our standard capacity. To maximize profit, it's smart to ensure the 30% of guests who are entering your park, are also paying for a hotel room and purchasing the extra amenities that come along with the stay.
Many parks opened in China, and then closed a week later, because they weren't making any money. Atlantis Sanya was determined to avoid that.
The resort looked at every attraction and profit centre within the waterpark and broke it down into an hour by hour operating expense. When it reopened, it only opened part of the park each day, but never the whole park at once. And it only opened the attractions that operators knew they could operate profitably.
Opening certain sections
Additionally, Atlantis Sanya didn't open one physical half of the park, since guests can go through half the park fairly quickly. Instead, it opened different sections and rotated the sections that were open on different days. It takes guests longer to experience the whole park and incentivises them to return.
Atlantis Sanya also focused on who its target markets would be upon reopening. Because it was the school year in China, it knew there wouldn't be as many families. It also knew that due to travel restrictions, high spending childless couples and wealthy Chinese ex-pats who would vacation that time of year weren't leaving the country.
So it did specific promotions to bring these segments to the resort. This is a very specific example, but one that illustrates the point well. This could be an opportunity for Sanya, or any waterpark, to keep the family raft ride closed and dedicate the labour to a different attraction. Couples are more likely to skip that ride anyway.
With thinking like this, Atlantis Sanya has been able to operate profitably, even at significantly reduced capacity.
Limiting times and spaces when reopening attractions
The National WWII Museum is selling timed tickets at limited capacity. It debated whether to do quarter-hour entry times, but ultimately it has helped. Since The Museum has a pre-determined path, timed entries have helped reduce bunching and maintain social distancing at earlier galleries.
The Museum has also pushed online purchases of tickets. It knows that when guests come to the ticket counter, there are decisions to be made. Do they want to purchase the Theater or another upsell experience with their general admission? This causes bunching at the entrance and puts a strain on social distancing and timed entries.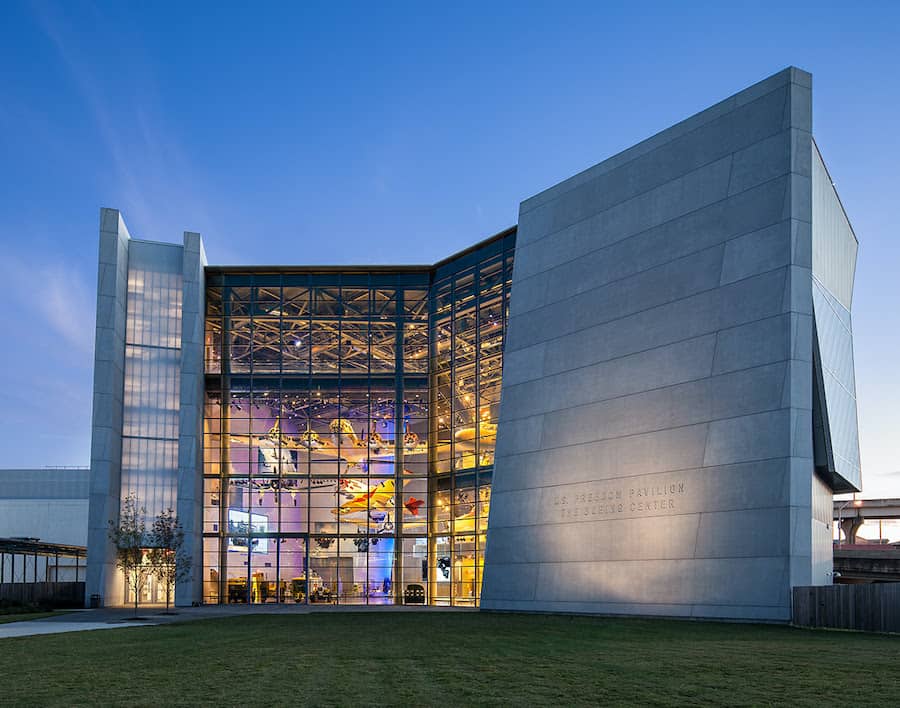 Doggett spoke about how the Loveland Living Planet Aquarium determined that the average family takes up 250 sq. ft. of floor space.
It looked at the average number of guests in a family that visits the Aquarium. Then it added a conservative ten-foot radius around the family and used crowd science to determine the amount of space the family occupies, and the number of guests each of these spaces could hold and still maintain appropriate social distance.
The Aquarium also made all of its animal encounters custom, personalised VIP experiences. The price point is higher, the experience is completely tailored to the guest and completely exclusive. This is a great example of another attraction turning COVID-19 requirements into a positive, high-revenue experience.
To touch on touchpoints
The National WWII Museum is very virtual heavy. Much of its content is delivered through virtual, interactive stations that you touch. Guests receive a dog tag at the entrance that activates a story of a real person who experienced the war that they follow throughout the galleries.
The Museum was scrambling to figure out a way to deliver this experience in a contactless world. In fact, at one point it thought that it would have to invest tens of thousands of dollars to develop an app that guests could download to initiate the experience.
But then it realised a nine-cent stylus solves the problem. Guests are handed the stylus when they arrive at The Museum, and they can use it on the interactive touchscreen. The Museum also found that guests were using it to hit elevator buttons, to pay with credit cards, etc.
Doggett and the Aquarium are managing touching with interesting wording on its signage. Instead of posting a sign that says 'Please do not touch' or something of the sort, it is posting signs that say 'High touchpoint'. The Aquarium is finding language like this discourages touching even more. It also has six staff dedicated to disinfecting surfaces every hour.
The Aquarium isn't doing touch pools yet. These experiences draw crowds and the railings and rocks are difficult to consistently disinfect. Also, for some of its mammals that may actually be susceptible to contracting and carrying COVID-19, it has put sneeze guards in front of the enclosures.
Reopening attractions – to face mask, or not face mask?
The Loveland Living Planet Aquarium did a member survey, and the most polarizing question asked members if they would feel comfortable returning if masks were required: a 50/50 split.
In Utah, guests are not required to wear masks. The Aquarium has asked all staff to wear masks (their own, or a provided one), and also has signage highly encouraging guests to wear masks. On opening weekend, it found that 70% of guests wore masks. A couple of weekends later, only 30%. If you're not requiring masks, you can likely expect something similar.
Masks are required in New Orleans, so at The WWII Museum, all guests wear them. But the Museum is being cautious not to police every single infraction, as it wants to balance the guest experience with the laws of the land.
For example, if a guest wants to take a quick pic without the mask, staff let it slide as long as other guests aren't bothered. The Museum has found that for the most part guests are being really understanding of the policies and are not putting any of the staff in the uncomfortable positions of having to strictly enforce the rules.
When the staff returned for training before reopening, The Museum took pictures of each staff member smiling. Staff clip the picture near their name badge, just so guests can see who they're speaking to, even with half their face covered.
Josselyn also pointed out how masks are now becoming trendy: "They're the new magic band. It's a bling factor. Our industry will figure this out."
Making staff the first priority
Mahony pointed out that policy and procedural changes shouldn't just be made at the senior level. You need buy-in from staff on every level. On-the-line staff can help get people excited, even with a different guest experience, and even when some rides and exhibits are closed.
One very important lesson The National WWII Museum learned: make sure you have the right staff at the front door. These face mask-clad staff members are your guests' first touchpoint upon returning to your venue. So, they can really set the tone for the rest of the new guest experience.
Make sure you have the right staff at the front door
The Museum has a phenomenal security officer who would hand masks to guests who weren't wearing one in a friendly and non-confrontational way. The interaction was so disarming and successful, that they've scripted it for other front-door staff.
The Loveland Aquarium brought some staff back a week before opening to the public to role play, rehearse, get the nerves out, and look spiffy again. Going back to its 250 sq. ft. per family calculation, staff members were trained to recognize when a space was getting too crowded.
But they were also trained to be pleasant, welcoming and helpful, not to police. So they are now stopping people from entering a crowded space and encouraging them to visit other exhibits while that one clears out, but they're not prohibiting entering. The staff also underwent body language training, including how to use their eyebrows!
On-mission and informative signage
As a marketer myself, I'd like to give a huge shout-out to the marketing team at The National WWII Museum who found the perfect balance between effectively communicating safety messages and blending it with the language of their mission and their overall brand. Pictures speak louder than words on this one: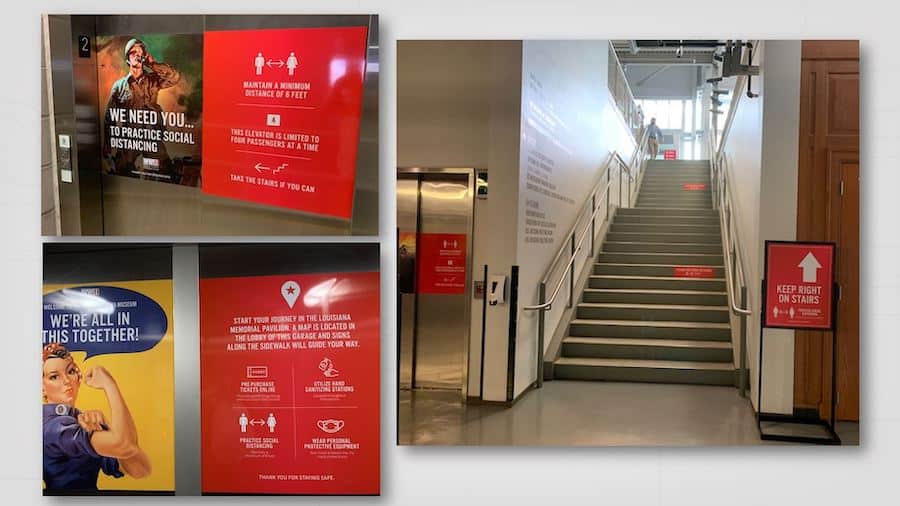 What is one mistake you made and learned from?
We ended this episode with the above question. And we truly appreciated the panel opening up on the subject. So, what were the key takeaways from those already reopening attractions?
First, make sure you tell and show your employees what you are doing to keep them safe. While staff safety is a #1 priority and you are working diligently to make the workplace safe, much of the external communication about updated safety and health procedures often tends to be directed to customers.
This is 100% completely understandable. But it's important to also make sure you are consistently communicating with your staff how you are keeping them safe. You also need to ensure all staff are trained on updated policies and procedures, even if the change seems minute. This is a surefire way to derail a successful reopening.
Finally, focus on your signage. This can not be understated. Creative and on-brand signage that effectively communicates new rules and best practices can keep guests following the rules while simultaneously enhancing the guest experience.
Other Webinar Wednesdays Wonderings on reopening attractions
Atlantis Sanya is a 365-days a year waterpark. Its COVID shut down offered a much-needed opportunity to work on projects leveraging current staff and not outside resources. How have you taken advantage of the downtime?
Doggett said that reopening the Aquarium felt more like a Grand Opening. There was a lot of nervousness and the staff and guests felt like they were returning home. Now that's something to look forward to for the rest of us.
Service System Associates is communicating its new cleaning and sanitizing procedures and tips on reopening safely via Tik Tok. The Loveland Aquarium made and distributed a video. You need to show guests what you're doing to make them feel comfortable to return. It also preps them for how they need to act once they do return. What format are you using to target your guests with this message?
Reopening attractions and taking names. You may want to consider taking a name and phone number for guests who purchase a ticket at your gate. This could end up being very useful for contact tracing in case someone in your venue ultimately contracts coronavirus. Some municipalities may even require this.
The full recording of this webinar on reopening attractions is available here and the Webinar Wednesdays series is now continuing every other Wednesday. Details of upcoming topics and recordings of past webinars are also available here.