Last week, the attractions community came together for another instalment in Gateway Ticketing Systems' Webinar Wednesdays series. This session looked at what guests need to feel comfortable returning, including social proof and good communication.
By Greg Banecker, Gateway Ticketing Systems
For this session, the panel took an inside look at several recent industry consumer surveys. One of the most useful trends in this data was the idea that communication and social proof are the true keys to a successful reopening.
Yes, attractions do need to change your sanitization and safety procedures. They do need to install hand sanitizing stations and have guests wear masks (if required in that area). And they do need to update your guest experience to accommodate for social distancing.
But if operators do not communicate these measures via a wide variety of channels before people arrive, then guests won't return. And if once guests arrive, they don't witness the attractions commitment to these policies and procedures first hand, and witness staff enforcing the new rules, they will not plan to return. In addition to this, they won't tell their friends to come back either.
Industry update – reopenings and social proof
Shanghai Disney reopened on 11 May 2020. One key part of the reopening plan was that it invited the media to come and experience, record, and write about all the updated policies and procedures for sanitization, safety and social distancing.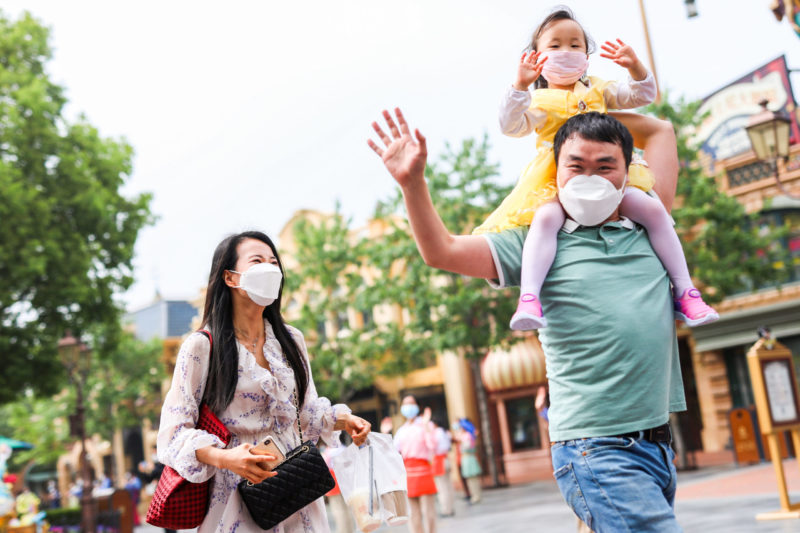 This accomplished two goals. First, this social proof reestablished trust with guests. Guests feel secure in returning knowing that Shanghai Disney is working diligently to keep them safe. Secondly, it is pre-training for how guests should act once they do enter the park.
The guest experience is within the control of attractions. The wild card is the visitors. One guest not following the new protocols, unknowingly or otherwise, could ruin the experience for fifty others. And this is a surefire way to discourage repeat visits and hinder positive word of mouth.
Survey data
Six Flags surveyed its passholders and found that 80% said they would visit in 2020 if the theme parks implemented appropriate health and safety measures.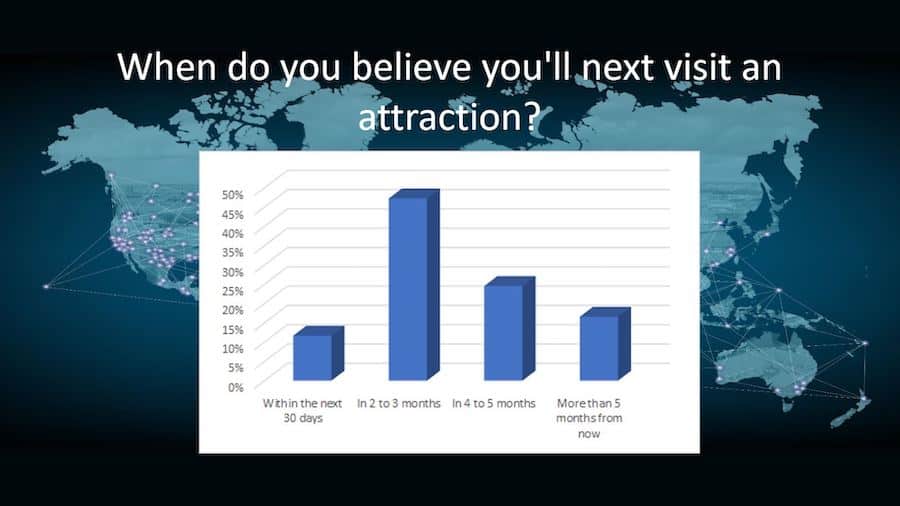 John Young, Director, and Matt Petrie, Managing Director, from BVA-BDRC, a consumer insight consultancy, were on the panel for this episode of Gateway's webinar series. They found that four of the most important factors that will give guests the confidence to return to visitor attractions in the US and the UK are:
The presence of sanitizing hand gel
Enhanced cleaning of public areas
Reduced maximum visitor capacity and controlling the number of guests in a given area
Enforced social distancing
Josh Liebman of Amusement Advantage and the AttractionsPros Podcast returned to the panel for this episode. Amusement Advantage ran a similar survey and found that the most important thing needed to make guests feel comfortable in the US will be sanitizers and masks.
The company also asked guests how likely they are to visit an attraction in the next three months. Among those who were least likely, they cited discomfort with sanitation procedures, and discomfort with being in public in general as the two driving factors behind not returning.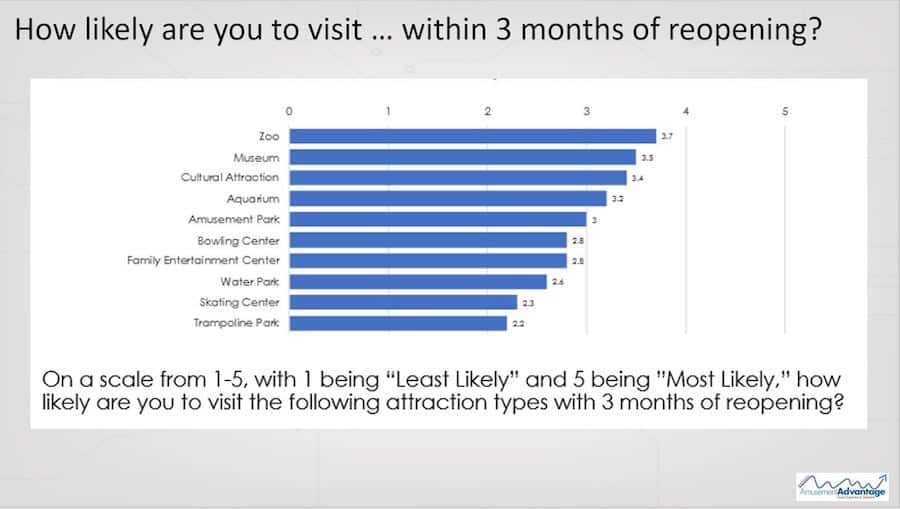 Steve Mills is the Director at Decision House, which is running the Recovery Tracker for the  Association of Leading Visitor Attractions (ALVA) in the UK. According to his research, about 20% of the market will be happy to return to attractions as soon as the opportunity arises.
Another 50% or so would like to wait and see what happens. And the remainder are nervous and unlikely to return for quite some time.
Back to BVA-BDRC: They're seeing that more than half of respondents are not planning on booking a US vacation or a hotel until 6+ months from now.
Reading between the lines 
So what do all these survey results mean? Most guests need to be convinced that it's safe to return. They need to understand the full extent to which attractions have health and safety as a top priority.
Communicating often and repeatedly to guests will be key. For instance, operators need to make it clear what they are doing about hand sanitizer, face masks, proficient and frequent cleaning, reducing capacity and enforcing social distancing.
Shanghai Disney brought in the media to show the world what they were doing. Operators can consider if they have this opportunity with their local media? For social proof, attractions can use social media too. For example, sharing the preparations they are making with videos and posts via their channels. And leveraging email lists.
Operators should keep consistent contact with members or passholders to ensure they know the attraction is fully prepared with appropriate sanitization, safety and social distancing procedures when they return. Previous webinar episodes have covered the fact that members and passholders will absolutely be the first to return.
Social proof
Additionally, most guests will be staying local. When they do return to attractions, it will be overwhelmingly to a venue that is close to home. This means word of the success (or failure) of an attraction to meet the needs of its visitors will spread quickly via word of mouth, social media and reviews sites.
Matt Heller gave a great quote on a previous webinar: "We used to want that fantasy where people just walk into our attraction and things are sparkling clean. Now we're saying, let's do this right in front of our guests."
When guests are in a park, operators need to make sure they are showing them what they are doing to keep them healthy and safe.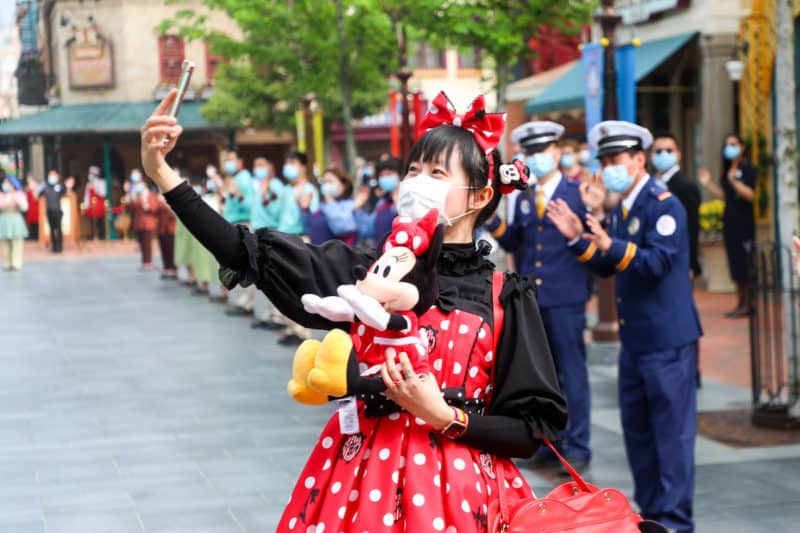 Mills also had a few other excellent points. Guests trust the staff, however, they don't trust the other guests. There will be rude guests who either unwillingly or unknowingly break the new protocols. Attractions need to ensure their staff feel empowered enough to correct the behaviour immediately. For every one misbehaving guest, there will be twenty watching and appreciating that you're addressing the issue
The first three weeks of any reopening will be super important. Once people see that an attraction is getting it right, and the virus doesn't spike again, people will gain confidence in returning.
Other Webinar Wednesdays wonderings
If social distancing and cleanliness are overplayed, attractions can become sterile and lose the magical experience that people are coming for. How do operators find the right balance? There may be more creative ways to keep guests six feet apart and to get them to wash their hands.
Visitor facing staff have a hugely important role here and a more challenging one as well. They are used to welcoming guests who are prepared for a relaxing day out. Now their first responsibility will be putting people at ease. How will attractions train them to accomplish this?
In most surveys, finances is a notably lower factor contributing to discomfort returning vs. the safety and cleanliness issues. Discounting should not be the number one concern, and won't even work if attractions haven't addressed their guests' priorities first.
Watch the whole webinar
Gateway Ticketing Systems recorded the entire webinar, which includes more information about the results of these industry surveys and some suggested actions.
The next webinar is on Wednesday 20 May at 2 pm EST: Creative & Out-of-the-Box Ideas to Generate Revenue Now and When You Reopen. Registration is available here.