With over

2 billion smartphone owners on the planet

and

most Americans spending at least 40%

of their day using devices for things like grocery shopping, running errands, and even getting their dog walked, tech is here to stay. It's everywhere -including museums and cultural institutions. And it is changing the way people engage while visiting.
By Lexie Sharabianlou, Guru
Museums, zoos, aquariums, and cultural sites all over the world see technology's ubiquity as an opportunity. Jane Alexander, Chief Information Officer at Cleveland Museum says, "The best use of digital is to not make you aware of the technology, but to make you aware of the art." In wise hands, technology is a tool for museums to further immerse their visitors in a new way.
From changing the lighting on an artwork to making art interpretation an interactive game, tech-forward museums are engaging the digital generation of visitors. Let's take a look at how a few of them do it.
Cleveland Museum of Art's ArtLens Gallery
The ArtLens Gallery at the Cleveland Museum of Art is an interactive digital space for arts education. One wall of this gallery is equipped with 150 Microtiles (or smart screens), motion detection capabilities, eye tracking (or "gaze" tracking), and a camera. The result is a 5 by 40-foot screen with the display power of more than twenty-three HDTVs.
Visitors initiate the experience through the ArtLens App.
By placing their iPhone or Android devices in one of the wall's docking stations, visitors can access high-resolution photos of the museum's collection. They can also access over a dozen interactive art games. Multiple visitors at a time can choose from fourteen different interactive games. These games focus on gesture and emotion, art purpose, symbolism, artistic composition, and the gaze of the visitor. Here are a few highlights:
Symbol Decoder: From finding the missing symbol to uncovering an object's symbolism in a work of art, visitors can learn how abstract concepts embody concrete objects and how those objects can drive a meaning, theme, or purpose in an artwork.
Gaze Tracking: A visitor is given fifteen seconds to look at an artwork or sculpture. While they do this, the ArtLens eye-tracker records their gaze pattern over the item. Visitors can then watch the path their eye took, see how others saw the work, and understand how artists use different techniques to draw gazes to certain aspects of a work of art.
Expression and Gesture: Visitors use the Mashup game to alter facial expressions in artworks and learn how subtle expressions and gestures can alter an entire piece. By playing the "Make a Face" game, visitors can have their facial expression recorded. Furthermore, they can have the ArtLens program search for a match in the museum's own collection.
Teaching through participation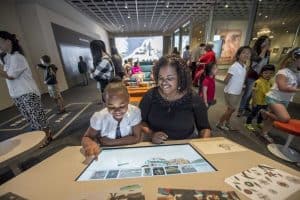 These games do an amazing job of teaching visitors about art interpretation through participation. And while visitors are learning about art, the museum learns about its visitors. The installation collects engagement data from every visitor who uses the ArtLens. Already, there are some promising results according to Alexander. "The average time people looked at our artwork was two to three seconds… People are now looking at it for 15 seconds. And I'm really excited to see when they go into the gallery, how long they look at the physical [counterpart to the digital representation they just saw]," she says.
Nelson-Atkins Museum Bloch Gallery
Made possible by the Marion and Henry Bloch Foundation, Nelson-Atkins' innovative Bloch Gallery uses a combination of hardware and software to educate visitors on the gallery's exquisite collection. The gallery exhibits 29 works by Impressionists and Post-Impressionists, including Cézanne, van Gogh, Monet, Degas, and Renoir. The Bloch Gallery is equipped with "smart benches" which have charging ports for phones. They also have anchored tablets loaded with interactive educational experiences centered around the art in the gallery.
Light Play: With the advanced lighting systems of the Bloch Gallery, curators can control the lighting of an artwork down to the wavelength. The effect? Art is transformed into what it would have looked like as the painter was painting it, (kind of like using a photo filter in real life). The result is a striking shift in color and light play. Curators can also control spotlights on each of the artworks for special exhibition events highlighting themes or artists.
Soundscapes: Advanced sound equipment built into the walls of the Bloch Gallery gives the museum an incredible opportunity to complement the visual experience of an artwork with audio. Curators have added nature sounds, music of the artistic age, even readings of poems inspired by the art. These all further immerse visitors in the exhibition.
Interactive Learning Stations: The Bloch Gallery smart benches are equipped with charging ports as well as anchored tablets with a dizzying array of educational and interactive tools. Visitors can zoom into a painting and examine the intricacies of a single brushstroke. In addition, they can also explore artistic processes, compose an animated musical soundscape, and more
By utilising light and sound as well as educational games and tools, the Bloch Gallery is paving the way for future museum experiences.
Steal from their Playbooks
Most museums may not have an entire "smart" wall or an advanced sound and light system, but there are still ways to inspire interactive experiences for your visitors.
Augmented Reality Experiences: You can tap into smart devices to create digital immersive experiences for your visitors. Augmented reality technology can mimic the ArtLens effect in handheld devices. By raising a tablet or phone's camera to an artwork, certain programs can automatically recognise the piece. They can then superimpose clues, icons, animations, and more to educate visitors.

There's An App For That: Borrow from existing programs like Google's Art and Culture App to inspire visitors to make deeper connections with art. Or build your own through a third-party. Companies like Guru can create mobile tours, AR experiences, audio tours, videos, and more specifically for cultural institutions, all within a custom-branded app.

Lighting and Sound Effects: Installing temporary light fixtures as well as adding a musical element to an exhibit can be an incredible opportunity. Highlight artistic themes, movements, or artists themselves with music, sound effects, and lighting (without spending a fortune on high tech equipment).
While technology is certainly growing in cultural institutions, it is not a cure-all solution. The best resources when it comes to utilising technology in the cultural space are museum curators themselves. Which is why Nelson-Atkins and Cleveland Museum of Art's efforts were so successful. These institutions relied on the power of their own expertise to educate and inspire with technology as a helpful tool. So if you're considering adding a smart wall or a sound system to your galleries or exhibits, always approach technology mindful of what you're already doing so well.