Family owned and operated since 1969, the three amusement piers and two beachfront waterparks are run by the second generation Morey brothers; Will and Jack, who spoke with Blooloop, looking back at the growth and evolution of Morey's Piers from its beginnings.
Amusement piers evolved from the pleasure gardens that appeared across Europe from the 16th century, offering family entertainment in the form of dancing, fireworks, spectacle and the forerunners of today's fairground rides.
When a similar need for entertainment emerged two centuries later in the US as a result of immigration from Europe, the shore was a respite from the hot, overcrowded cities.
One effective sand trap and magnet for retail and entertainment
The boardwalk was invented in Atlantic City by a hotel owner and train conductor who was tired of visitors walking sand into his properties and carriages. Apart from being an effective sand trap, the wooden walkway that ran parallel to the beach was also a magnet for the stores and entertainment facilities that began to open along its length.
In 1890, Wildwood constructed its own boardwalk. And, inspired by Atlantic City and Coney Island, rides and attractions followed.
During the 1920s, more than a thousand amusement parks opened in the US.
The Great Depression and the second world war brought this golden age to an end.
Morey's Piers was begun in 1969 by two resourceful brothers. Jack Morey tells Blooloop:
"Will and Bill Morey had no plans to be in the amusement business. They were both builders and carpenters in the town of Wildwood."
He adds: "My father was a builder. He never went to college; flunked out of school twice, and, other than about two weeks in his life, he was always self-employed."
Nevertheless: "He was certainly in the right place at the right time. But he also had a whole heck of a lot of gumption, and the ability to build interesting motels. They call them doo-wop motels now. They were really interesting hotels, and he was sort of a relationship guy for the people he built for."
Doo-Wopping into the hotel business
Wildwood is now celebrated for its 'Doo-Wop Motel District', with its concentration of mid-century motels, characterised by vivid colours, fantasy themes and kitsch ornamentation.
Morey says: "In 1957, he and my mother borrowed $15,000 from a local friend who was a car dealer, and went into the hotel business for themselves. They would build a hotel, operate it for a year, sell it, buy another piece of property, closer to the beach, and repeat the process. And then, in 1964 they built the Pan-American hotel."
The Pan-American Hotel is on the beachfront, and has a penthouse.
Jack Morey says: "The penthouse is where my brother and I grew up. That hotel gave my parents, for the first time in their lives, the financial stability to think about other things than simply survival."
The family moved to Florida: "One weekend in 1968, my father's brother Bill came down to visit him. They went to a shopping centre, and they saw an old-fashioned giant slide. They looked at each other, and said, 'I think that would work on the Wildwood boardwalk.' From that point on, Morey's Piers was born."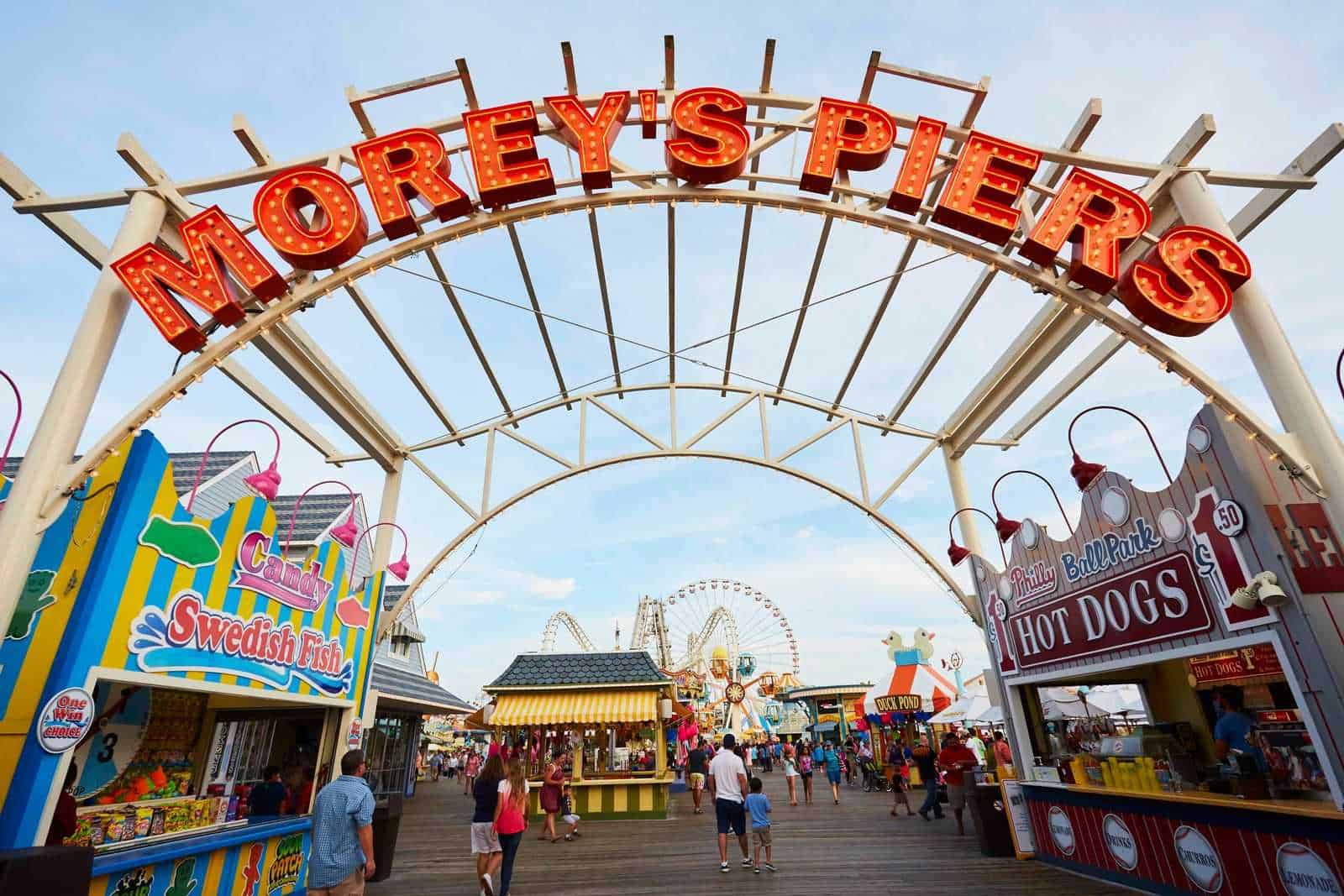 Falling in love with Morey's Piers
"A couple of months later they found the piece of property, and they started their own amusement pier in 1969 with no experience, and no plans."
Despite their lack of experience, the brothers had tenacity. They kept going, and began to fall in love with the business. Morey says:
"Every year since 1969, they put in a new attraction, or bought another piece of property."
For the first decade, the rides they added were custom-made; designed and built by the brothers.
https://www.youtube.com/watch?v=5mhIWcas9Sk
The 1970s was the decade of the blockbuster monster movie and the Moreys were quick to capitalise. They opened the iconic Kong ride; The Exorcist, which was later configured as The Poseidon Adventure; and then JAWS, and The Planet of the Apes, which later became Star Wars.
Morey says: "They were doing movie rides before Universal Studios was doing movie rides."
He says: "Whether that was legal, I'm not sure. But they were really very progressive, and well ahead of the curve."
Not just another circus operation
The Morey brothers found the owners of other piers to be less than encouraging.
Jack Morey says: "There were competitors in town. The next pier, Hunt's Pier, was very sophisticated and beautiful, run by the Hunt family. It was sort of the Disneyland of piers."
Will Morey says: "As I recall, the idea was that they might do some joint marketing together. I think the words the Hunts used were along the lines of 'We don't want to be part of that circus operation!' – something like that. So that made them mad."
Jack Morey says: "That was a powerful incentive. So they continued, and began to make friends and connections outside the area but inside the industry."
Two piers, one remarkable growth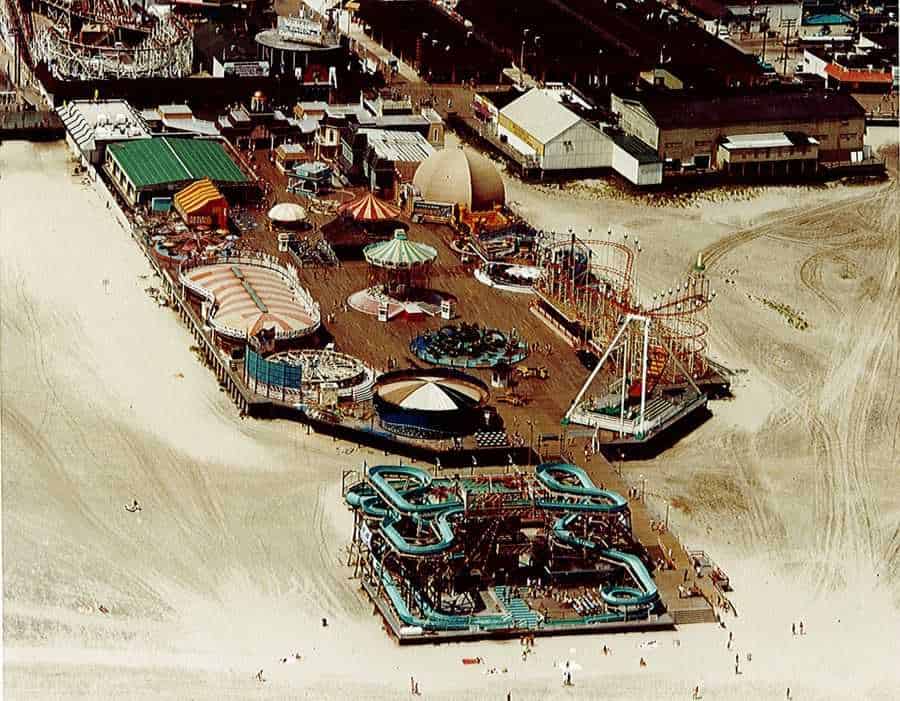 The 1976 addition of a second pier allowed them to move into a period of unprecedented growth.
In 1979, the company established one of the first waterslide complexes in the United States; which would later evolve into two world-class water parks.
Morey adds: "When they went to Oktoberfest in Munich, Germany for the first time, my dad really fell in love with it.
"That was the beginning of the next phase of the history and evolution of Morey's Piers, through the 1980s. We call that phase the Euro Invasion."
For the first time, Europe's carnival attractions, very different from their American equivalents; were imported to the States, where they proved phenomenally popular.
All set for the Euro Invasion
https://www.youtube.com/watch?v=2yYw8iphK7w
Several business trips across the Atlantic resulted in the arrival of rides such as the Dante's Inferno dark ride, the Flitzer roller coaster, Zoom Phloom, Schlittenfahrt, Katapult, and Fun House.
In the mid-80s, Morey's Piers was enhanced by the arrival of the Serpent coaster from Dutch ride manufacturer Vekoma, followed by the arrival of the iconic giant Ferris wheel.
1986 saw the acquisition of Fun Pier, and the Circus on Fun Pier.
The 90s saw the beginning of the age of the roller coaster.
Again, the Moreys, vigilant for new trends, contrived to stay ahead of the curve. They looked to Vekoma again for a new design of coaster: a high-impact thrill ride on a small footprint. The result, the Great Nor'Easter, was so successful Vekoma took the blueprint and mass-produced it for global consumption.
The next generation of Moreys to continue their legacy
Will Morey senior and his wife Jackie died within six months of each other; Will would later be inducted into the IAAPA Hall of Fame.
The new generation, Will and Jack, took over the business.
In 2009, Morey's celebrated their 40th anniversary; in 2019, more successful than ever, they celebrate their 50th.
Describing the vision and priorities that characterise the business today, Will Morey Jr says:
"A big focus for us is authenticity. We are not a theme park, we are a seaside amusement park. And I think we learned some time ago just how important it was to be what we are, and to work to be excellent at that."
A seaside amusement park and a compelling social environment
As part of a seaside complex, the brothers see adding value and making a visit to Morey' Piers and the boardwalk seaside strand a compelling, must return experience as key. Morey says:
"Part of that means the focus has to be on more than the rides; more than on the young families. We have spent the last years evolving it into a social environment for the whole family.
"That means that we have invested in high-quality sit-down restaurants; for the most part open air or open visibility, with views of the piers and the ocean. There is a lot of focus on food services that are quality and worth a visit in themselves."
He adds: "Maybe the Europeans had it figured out all along. Because we have found, perhaps surprisingly; that to integrate alcoholic beverages into a social setting results in having the whole family come, relax, and stay for longer. Parents are able to sit and relax while the kids come and go, then they all go off together. Instead of being a place you come, buy tickets, ride a certain number of rides and go home, we have created an urban environment by the seashore. The rides are important, because they create a lot of energy. But the other experiences, we find, are really critical; and if we get it right, both will lend to the magnetism of the area."
Unique offerings and many businesses under one roof
Reflecting on the business model, he says:
"We are in an environment where many families are on vacation, so they are a little more naturally inclined to be together. But what we have learned is that we have to create environments for them to want to be together; where folks can really relax and be glad to be in that environment, and not just there for their kids.
"We have really connected more to the beach than ever before; interacting more with that whole environment. We think that has been really positive, as well."
He adds: "It's really many businesses under one roof. There is the ride operation, certainly, and then the restaurant and food and beverage business.
"I am trying to underscore that we are really focused on unique offerings, unique locations that are worth the visit in and of themselves; not just because you are at a park. We think that lends to the whole visitor experience and will drive more traffic, for more reasons."
Keeping things fresh for generations to come
Typically, people visit the location on a generational basis; coming to the region because their parents and grandparents visited in the past.
Morey says: "It's interesting, because there are many towns along the shore, and people typically stay with the one that their family has visited. So there are a lot of repeat visits, and that is very positive in some ways.
"In other ways, it means that we have to make sure things are fresh, because folks are coming back again and they would like to see new things; not the same old, same old. That can be regarding games, food; it doesn't have to be rides, but definitely over time we have to show that there is attention going into the property."
"Morey's Piers is part of their community."
Additionally: "There is a real equity on the part of our guests. They really feel like they are coming to their home town, to their boardwalk. Essentially, Morey's Piers is part of their community."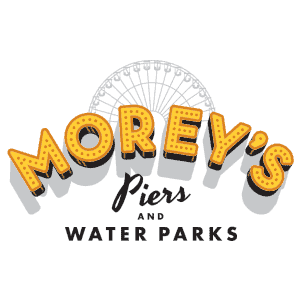 He expands on the concept: "Years ago, we explored the notion of putting gates on the piers. It was really interesting. When we shared that with the community at large, we got a lot of feedback about how that would be illegal, we couldn't do it. The bottom line is, people didn't know we owned the pier. They thought the pier was just a part of the public domain."
Learning from the community
Rather than reacting confrontationally, the brothers chose to learn from this.
"We thought, this is pretty great: these people all have equity in this thing. This is a part of their youth, their family experience, they have a level of dedication, so to speak, to the area. So we thought that was really positive, and tried to focus on how we might utilise that to enhance the experience."
This clarity epitomises the Morey's Pier ethos, and underpins the attraction's lasting success.
Morey says: "Jack has done a great job of studying public spaces throughout the world. Being a part of the public urban seaside recreational environment is where we feel our strength is; not in compartmentalising the amusement experience away from the whole cultural boardwalk experience."
What the guest wants vs. what they need
In terms of the future, he adds: "My brother has a great line that I used to think was crazy. He says: 'We can only plan the beginning.'
"We see waterpark enhancements; we see another rollercoaster, coming our way, around a sort of broad family experience. What is really interesting to me is the balance between paying attention to what the guest wants, and focusing on the unperceived needs."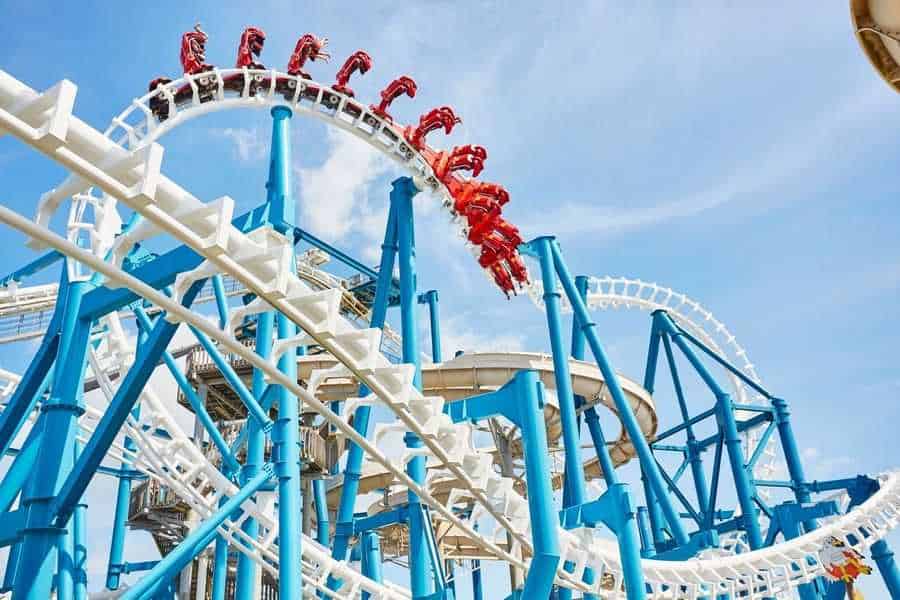 He says: "If there was ever an example of that, it is Disney. He went years and years ago and shared his plans with experts; and the experts told him he was crazy. And if I had done a survey of all the park goers to say; hey, tell me what you'd like and how do I build a nice park, I don't think any one of them would have said 'Build Disneyland.'
"So we try to be mindful that while we want to pay attention to what guests are interested in, and what would serve them better, culturally it is important to look beyond the US borders – what is going on out there, and what is the direction, and are there any indicators for us as to areas that might be interesting?
"I think that is equally important to having a long-term plan."
The story of Morey's Piers is a success story rooted in vision, planning, a work ethic and a willingness to change with the times.
Now comprising four amusement parks strung along Wildwood's five-mile beach and two-mile boardwalk, Morey's Piers, featuring over 70 rides, two water parks and a compelling dining offering; seems set to thrive for another half-century.