Willows Activity Farm in St Albans, Hertfordshire upped its game last year with the addition of a £1million Peter Rabbit™ play area designed and installed by Lappset, Europe's leading designer of playpark and fitness park equipment.
Andrew Wolfe, CEO of Willows, spoke to Blooloop about the business, its set-up, running and growth, and about the decision to add a play area themed around a recognised quality brand.
Wolfe (left) was recently honoured with the prestigious Lifetime Achievement Award at the 2017 National Farm Attractions Network (NFAN) annual conference and awards ceremony.
"Willows Activity Farm started off as a mixed working farm, with a dairy herd and arable crops," says Wolfe. "We're farmers." Like many farms they decided to diversify. The first step was a farm shop and in 2002 they opened a small attraction. It took off and the decision was made to focus on developing this side of their business. From the very start, Wolfe had a clear idea of Willows' focus – a quality attraction aimed at young children.
Focusing on a Younger Market
In the early days the Activity Farm catered for children up to the age of ten. However Wolfe swiftly realised that their core market was much younger. "Now we say up to the age of eight, but most of our visitors are six and below. It's our unique selling point."
This makes for a safe environment. Toddlers won't be knocked over by boisterous twelve-year olds and the shows can be precisely tailored for young children. All the play equipment is designed for that age group, and the policy is purposely not to attract older children.
From the start, numbers grew steadily. In the first year, between May and October, Willows had 80,000 visitors, a figure which increased steadily to reach close to 300,000 in 2006.
Year-round Entertainment and Events
Originally the farm would close after October half term, and open again before Easter. Then, in 2007, Willows added an indoor play area. This allowed them to stay open throughout the winter, making Willows a year-round attraction. However, it's not just about seeing the animals and enjoying play equipment.
"We have a series of events throughout the year," says Wolfe. The farming year starts in February with a lambing event. "Pretty well everybody who visits in February half term will see a lamb born." Easter explodes with bunnies, chicks and chocolates and then it's into the Spring Special, held during Whitsun half term. "We concentrate on sheep shearing and various other shows." The summer holidays are heavily themed with various activities including a Maize Maze and a Carrot Carnival, where children can harvest their own carrots.
Throughout September, young visitors can dig up their own potatoes. October is the biggest event of the year.  Everyone is given a pumpkin – but carving is strictly optional. "We only do pumpkins; we don't do Halloween, so there's nothing scary," says Wolfe. "That's why we're so popular with younger children."
Wolfe is proud of the quality and quantity of their shows. "We are quite unique in the fact that we're very heavy in show content. When we are in event mode there will be eight or 10 different demonstration shows a day."
Christmas Generates the most Cash
Santa's Grotto opens in mid-November. The Santa offer at Willows Farm is particularly well developed, with a visit lasting between four and five hours. It includes 'Elf School' and a 3-D film watched from a sleigh. There is a spectacular grotto and plenty of entertainers. Young visitors can pick their own toy as they say goodbye to Santa.
"Christmas is now the biggest cash generating event," says Wolfe. Although that is partly because of its length (running for four weeks, whereas October is nine days and Easter is two weeks) it's also hugely popular. "The Willows Farm Santa offering is one of the best Santa and grotto experiences in the country," says Wolfe. "It was rated in the top ten in two national polls last year."
Extra specialist staff are employed to manage numbers. "We were absolutely at capacity last year at about £27 per head."
Passes Create Commitment
Another factor that makes Willows unique is its annual pass scheme. Recognising that parents with young children will often visit a local attraction multiple times a year, Willows encourages them with member offers. Just under 18,000 members pay an annual fee (from £112 per year) for unlimited access to the farm – unusual for the sector. In 2006, between 30 percent and 35 percent of both footfall and turnover came from the sale of annual passes.
Members not only visit as often as they wish, they receive a beguiling package of additional benefits. There are two categories – Any Time (unlimited access) and Term Time Weekday passes, which are aimed at pre-schoolers. Annual prices are fixed at the year of entry, so the deal gets better each year.
Customers comment on the cleanliness and safety of the offering, and highlight the fact Willows is constantly investing in doing something different, which is, Wolfe points out, important when members are coming back 10 or 12 times a year, and staying as members for several years.
Peter Rabbit™ Innovation
The major new themed Peter Rabbit™ Adventure Playground is certainly something different. It opened in April 2016 and is a partnership between Silvergate Media, co-producers and global licensing agent of the animated TV series 'Peter Rabbit', and Lappset Creative, leading manufacturer of themed activity attractions.
Wolfe was delighted when Silvergate approached him about the project. "It's a phenomenal brand," says Wolfe. "It wasn't on our agenda; they came to us, but you couldn't have invented a better fit.
Willows is all about really good quality, and the way we do things is very tasteful. Clearly, they researched before they came to us. They recognised us as someone they would want to partner with."
It's the first Peter Rabbit adventure playground in the world, opened in the 150th anniversary of the birth of Beatrix Potter.
The Peter Rabbit brand is all about a simpler vision of childhood. With its focus on outdoor play and safe adventure, it appeals to parents and teachers as much as young children. Exploration, curiosity, imagination, camaraderie and discovery are the key words. Children explore a variety of themed areas: Cottontail Village, the Burrows Café, the Lily Bobtail Nature Discovery area, the Peter Rabbit Secret Treehouse. The theatre was rebranded as the Peter Rabbit Theatre.
"'Peter' is at Willows every day, as is 'Lily Bobtail', and 'Benjamin Bunny'," says Wolfe. "The kids do meet-and-greets with the characters, who are also part of our shows. This runs alongside our other shows."
Lap

pset Brings Market Quality and Understan

ding
Wolfe is justifiably proud of the new offering. "We have a license agreement with the owners of the Peter Rabbit licence, and Lappset built a very high quality, brilliantly themed, large Peter Rabbit adventure playground."
Lappset Creative, who are based in Rovaniemi in Finland, build play equipment and playgrounds and install them all over the world. "One of their specialisms is branded play areas, so they work with a number of license providers. We were introduced to them by the brand owners of Peter Rabbit," says Wolfe.
"They have been absolutely brilliant. They have come up with something that is very much in keeping with the digital content of Peter Rabbit on TV. It was built on site so it looks just like you would see it on TV." Working with Lappset was such a positive experience that he hopes they will work together on future projects.
Regional Rather than Local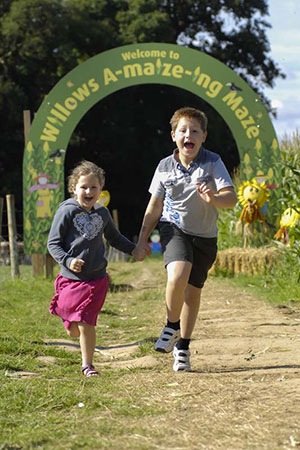 The decision to invest in such an upmarket branded play area was based on extending the geographical reach of the park.
Farm parks tend to be predominantly local attractions, drawing visitors from around half to three quarters of an hour away. Zoos, by contrast, pull people from two hours away, or more. Wolfe wanted to break out of this pattern and attract visitors from further afield. "We haven't gone completely over to Peter Rabbit," he says. "We've still got the very popular farming activities, and just as many animals as we ever had. But we are now attracting visitors from further afield, rather than just the local region."
It's not just about increasing numbers overall but about evening out visitor numbers throughout the week. "It's very much a preschool offer. We've got fantastic capacity Monday to Friday, in term time, and we're very busy at weekends and holidays. We want to try to smooth out our visitor numbers by having all the pre-schoolers come in the week."
Customer Satisfaction is Key
Investing in the Peter Rabbit play area has enabled Willows to change their pricing model and increase entry prices by almost 25 per cent.  Wolfe says, "We have moved away from the two-for-one Merlin type approach, and now we only offer discounts online. It allows us to be more in control, as well as increasing our price." He hopes that 2017 will see Willows able to maintain the quality of their offering, while also slowly increasing visitor numbers.
"We very much launched with a slow burn," he says. "We didn't want to overstretch our ability to deliver a fantastic product, especially when we were launching with a licensed partner. So we purposely did not push hard at the beginning of the season. We're letting it grow organically."  The target is a 10 per cent increase in visitor numbers in 2017.
Wolfe is proud that customer satisfaction remains high, even given the significantly higher price they report 80 per cent of visitors rating as good/excellent value for money.  "We have value for money ratings that are equivalent to John Lewis. Our customer satisfaction rates would be some of the best in the sector. We always focus on giving everyone a great time."
The Dream Team: Education and Play
Further growth is on the horizon. Education has always been part of the Willows package, with curriculum-based activities aimed at Early Learning and Key Stages 1, and good teacher resources. Local children, however, can enjoy these every day as Willows has a Day Nursery and Pre-School next to the farm. "We have a 195 place children's nursery here. It's a phenomenal business to sit next to a rural attraction, probably one of the best things I've ever done," says Wolfe.
Payback was less than two years, on a "fairly significant capex". "It is a great business to sit next to our type of attraction, with access to play, to animals and to crops. We've got everything a town centre nursery would want, here on the doorstep. It is not costing the nursery anything to provide it, because it's all here already for the general visitors."
Wolfe is now keen to include a children's swim school on the site. "We will be looking to go to planning for that fairly shortly."
From Farm Animals to Petcare
Willows all started with animals and is now turning full circle. Wolfe also has plans for a top end pet hotel. "A pet can be like a child for people whose children have grown up, or who don't have children," he says.
He believes that Willows have established their credentials as a safe environment with staff who care. "People trust us with their children in our nursery, from babies of six weeks old onwards. They trust us to entertain their children. They will trust us to teach their kids to swim. So I think we will be trusted to look after their pets."
Wolfe already has a potential partner lined up. "We'll talk when we get to that point in our planning cycle."
The Rise and Rise of the Farm Park
Farm parks are definitely a growing sector of the attractions industry. The National Farm Attractions Network has around 200 operating members, and more and more are attracting significant visitor numbers, according to Wolfe.
Willows is keen to keep itself ahead of the herd, investing in high quality IP with Peter Rabbit, rather than merely making up their own characters and themes. In return they are being rewarded by much higher revenues.
"Without a doubt, farm parks are moving on," says Wolfe. "They used to be bolt-on businesses on the side of farm businesses, or shops. But now there are an increasing number that are operating as serious visitor attractions, and the farm side is secondary."