Creative Works, the theming company and attractions provider, has installed its new open-air laser tag concept at Urban Air Adventure Park in Knoxville, Tennessee.
Creative Works is pleased to announce the continuation of its partnership with Urban Air and has now installed its new open-air laser tag concept at a branch of the trampoline park franchise in Knoxville.
This new design is a departure from the traditional 'closed box' arena, bringing with it new benefits. An open layout is created by the inclusion of half walls at the entrance of the arena, drawing attention to the attraction and allowing other visitors to the venue to watch the action from outside.
An engaging layout
This open design means that the attraction is on show and able to attract a new audience, encouraging others who may not have played to join in.
"It's nice when there's a game going on customers can see the fun [and] therefore want to participate," says Bryan Harrison, owner of Urban Air Knoxville. "Definitely, there are more [people] checking it out. [It] makes it easier to schedule games because it looks fun in there."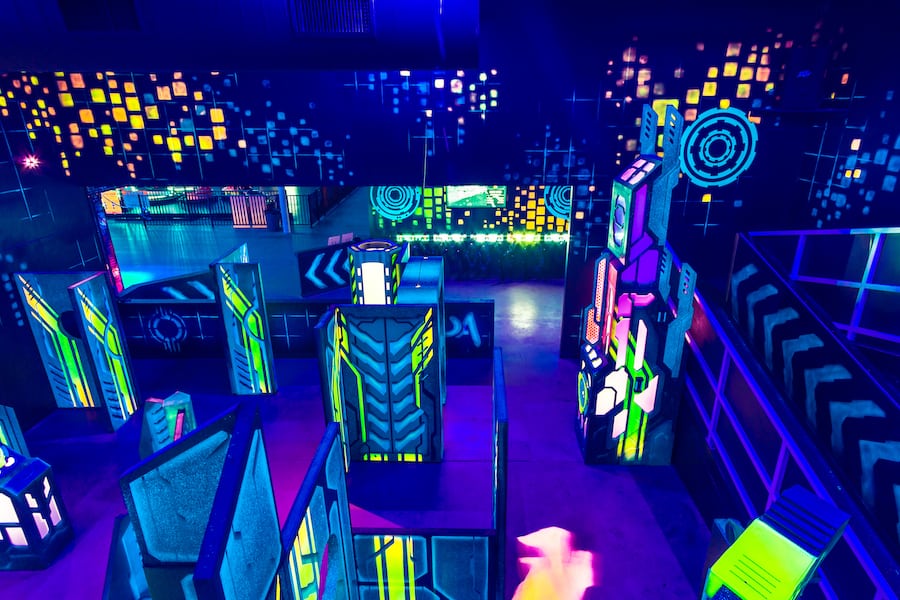 Unlike other closed laster tag arenas, here family and friends can watch the gameplay even if they are not involved themselves. For example, parents can keep an eye on their children.
This new attraction at Urban Air Knoxville has been open to the public since November 2019. Visitors to the facility can also enjoy trampolining, wipeout, a warrior course, battle beams, a ropes course and more. There is also a tubes course for younger guests.
A successful partnership
The two companies have worked together on several successful projects over the years. During the last year, Creative Works has built and installed four other laser tag facilities for Urban Air.
As well as laser tag, Urban Air has also installed the award-winning Hologate Arena VR system at six locations. This four-player attraction is proving popular with guests and operators alike, thanks to its quick ROI and small footprint.
"It's been a phenomenal partnership working with Urban Air – both the Corporate Office and the Franchisees. The end results of our projects directly stem from the fact that we are all so in-sync about creating a stellar guest experience, and focusing on differentiation," says Creative Works' VP of Sales, Russ Van Natta.
Harrison is pleased with the new attraction, and its ability to provide a great experience for guests. He says that the best part of working for Urban Air is, "seeing families with smiles, whether they are members that you get to know or just visitors for a single day. When customers leave happy it makes all of us feel great about what we're doing."
Last year, Creative Works worked with Langer's Entertainment to bring a unique sawmill-themed laser tag attraction to a new FEC in Sherwood, Oregon.