Eden Project Foyle, a riverside cultural and environmental tourist attraction, is launching in Derry, Northern Ireland in 2023. The project will feature futuristic roof gardens, as well as sunken labyrinths and nature-based play.
The project, developed by the Foyle River Gardens charity, is an ambitious development of the banks of the River Foyle. It will also transform Boom Hall and Brook Hall into a new visitor destination.
New artist impressions depict the project's centrepiece, a building inspired by Neolithic architecture and the forest, and connected via a network of walkways.
The building itself will house a performance area and large indoor play space inspired by nature, called The Acorn.
Eden Project Foyle play space called The Acorn
Visitors will get the chance to walk on the roof and take zip wires down to walkways. The structure will be located within the trees.
As part of the development, the site from the Foyle Bridge to Culmore Point will be rejuvenated and will include walled gardens, treetop walkways, a water activity centre and play areas.
The 100-hectare site's spaces will offer various sanctuaries and enclosures to explore, joined by weaving pathways, floating boardwalks, rope bridges, slides and zip wires.
Eden Project International and Foyle River Gardens estimate that the project will cost £67 million and will debut in summer 2023, with construction beginning in the next 18 months.
Nature-based play and treetop walkways at River Foyle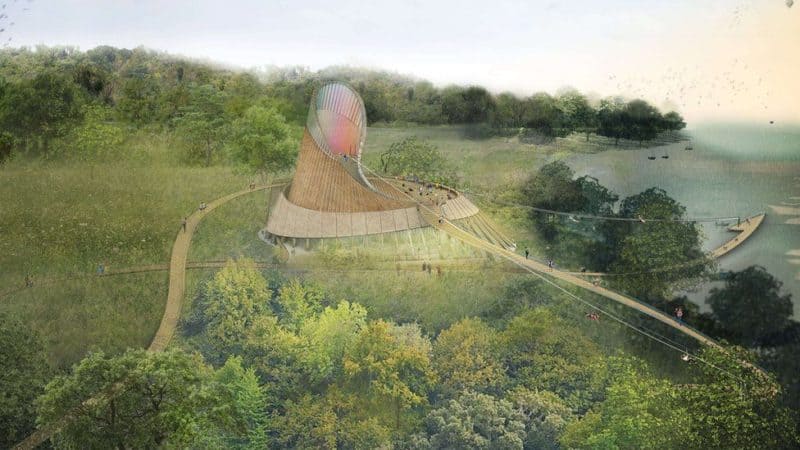 Eden Project Foyle will create more than 170 jobs on-site. In addition, it will inject £62 million into the regional economy annually.
Sir Tim Smit, co-founder of the Eden Project, said: "We are hugely excited to be working with the Foyle River Gardens in the creation of Eden Project Foyle and believe completely in its transformative capacity to draw visitors to the north west and become a global must-see destination.
"Having our project named by the Irish and UK Governments in their New Decade, New Approach document is a huge vote of confidence for the team and we are looking forward to working with our partners in Derry and Donegal to bring this project forward."
https://www.instagram.com/p/B8bCg17Bbrh/
Meanwhile, more information was released about Eden Project North, an immersive attraction in Morecambe, which is set to open in spring 2023.
Elsewhere, the Eden Project and Alcoa are planning an AU$150 million (£81.5 million) eco-tourism attraction in Victoria, Australia.