Zoos South Australia encompasses two popular visitor attractions: Adelaide Zoo and Monarto Sarafi Park. Elaine Bensted has been the Chief Executive since 2012.
In 2014, Elaine Bensted spoke to Blooloop about her first few years in the role. Since then, Zoos South Australia has unveiled and embarked on its 20-year plan. In the years that have passed since that conversation, the magnitude of the crisis facing the natural world has become more evident.
Bensted begins by recapping the circuitous route that brought her into the zoo world.
"I've been at this organisation now for seven years, having started at the end of 2012. My most recent job before that was chief executive of TAFE. That is South Australia's largest vocational education and training provider."
Previously, she had roles in government and almost 17 years in the private sector.
"I grew up wanting to be a vet. That's all I ever wanted to be. But I hate blood. I started doing a science degree because I couldn't go to vet school and handle the blood involved. I dropped out because it really wasn't what I wanted if I couldn't be a vet."
A dream career
Now, thirty years on, Elaine Bensted feels she is effectively realising her childhood dream:
"Someone asked me once whether I had any regrets in my career. My first instinct was to say, 'I really should have started in the zoo world so much earlier.' However, I couldn't have done this much earlier. I needed to have done all those other jobs to equip me for my role here."
"I'm never leaving this role until I retire; it's my personal passion. There is always something happening, something new to learn, a new challenge."
Zoos South Australia's 20-year plan
In 2015, Zoos South Australia released its 20-year masterplan.
Bensted says: "It was really asking the question, what do we want Adelaide Zoo and Monarto – now rebranded as a safari park, as it's a better description of what the park offers – to look like in 20 years?"
"What experiences do we want to offer our visitors? What animals do we want to hold? Furthermore, how do we use our sites to deliver on our purpose? Which is about connecting people with nature, and saving species from extinction.
"We involved all our staff, the volunteers, and then we went out to our stakeholders. Everybody has their own view. And it is really important for us to take those into account as we develop a long term picture for each site."
It was key to Bensted that financial concerns should not limit the scope of the plan.
"At the time we did it, there were a lot of questions. People were saying, 'You've got this grand plan, but you don't have any money.'
"But I was very clear with my staff when we were developing it. I didn't want to start limiting what we'd like to do according to how much money we had. Because then we'd never come up with any plans. So, it was a matter of coming up with a plan, then working out how we would fund it."
A new roadmap
"We call it a 20-year plan," says Elaine Bensted. "If we come into some huge amount of money, it might be a 10 or a 15-year plan. If we don't, it might be a 30 year one. We will do things as we can afford them, and as new partnerships become available. Each project can get funded in a slightly different way."
Developing the plan has given Zoos South Australia a roadmap for where they want to go. It has clarified priorities.
"It has been fabulous to start seeing it come to fruition. We've already been able to roll out some of the projects that were in the plan."
Nature's Playground
"The very first project we did was in Adelaide; called Nature's Playground. Adelaide Zoo had no playground. So we worked with Variety, an international charity focused on children with special needs, to develop a fully accessible playground.
"We used the nature play principles as well as working with Variety. I was on the Nature Play board, and am passionate about the principles. It is a really nice partnership."
This first project, which opened just before Christmas 2015, obtained funding through a variety of sources.
"We had a bequest, which was fabulous," says Bensted. "And we used some of our own retained earnings.
"Additionally, we had a three-year agreement with Variety. They gave us some cash which helped us complete the project. We gave them the same value back as zoo product that they could use for disadvantaged families. This meant they could give tickets to Zoos South Australia. Or they could hold functions and events, where they could invite people. It was a lovely win-win."
Lion 360 experience
The second part of the plan was the Lions 360 experience at Monarto Safari Park. Here, people can get up close to the predators roaming free in a naturalistic habitat.
"It reverses the concept, putting the people in the cage," says Bensted. "It has so many pluses."
Animal welfare is at the core of this unusual and compelling concept.
"We have had babies do it, people in wheelchairs, even someone of 93. It's inspiring to get that close to the lions, but still, be safe. It has helped us raise funds for programs that we support in Africa. We sell little bracelets as a memento to show you have done 'the walk of the brave': the Lions 360. It's a simple bracelet with a lion's head, and all the profits from that go to our Zambian carnivore programme.
"So the experience is great for animal welfare, great for visitors, and great for conservation. Plus, the lions love it. They choose to come and interact."
View this post on Instagram
The lions roam free in an area of 10 hectares (25 acres).
"They've got a lot of space, and 99% of the time at least some will choose to come over to the lion dome. Everybody can see that it's entirely the lions' choice to be there, which sends such a positive message. If we have eight lionesses out and only four come over, while the rest continue to lie under a tree, that's okay."
Children's zoo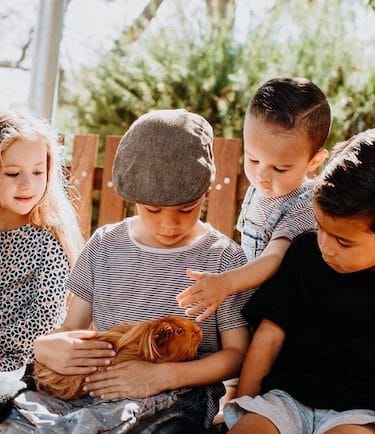 Recently, a third project, a children's zoo, opened at Adelaide Zoo, next to the Nature's Playground. Bensted says:
"Again, it changes the concept. It used to be that children would go in with the animals to feed the goats, and so on. Now, it's a little more controlled, from an animal welfare perspective. Do quokkas always want people next to them? So we showcase them, but if the quokkas want to go into a nice quiet retreat area and hide, that's okay.
"Again, it's about trying to make it good for visitors, and great for animal welfare."
Elaine Bensted on the problem with zoos
Zoos have an enduring image problem. Addressing the issue of poor zoos, Elaine Bensted's feeling is that those with a willingness to improve should receive help and support in order to do so:
"We give funding support to an organisation called Wild Welfare. This is the first project-led captive wild animal welfare initiative solely focused on improving welfare standards by uniting leading zoos and animal welfare NGOs around the world. It was founded in 2012 by Dr David Jones.
"They do a fabulous job," says Bensted. "They go into organizations that desperately need to make improvements, but have a willingness to try and improve. I think that those who are able to do so should provide that support and encouragement to improve."
If there is a willingness and some resourcing to try and improve, then what we call 'good' zoos should do what they can to provide support. But I think there are others that simply should be shut down
There are some, however, that she feels are beyond saving:
"There are some zoos around the world that have zero interest in trying to improve. Pata Zoo in Bangkok is an example. It's on the top floor of a shopping centre; there are single primates in cages on concrete floors.
"If there is a willingness and some resourcing to try and improve, then what we call 'good' zoos should do what they can to provide support. But I think there are others that simply should be shut down."
Zoos South Australia and animal welfare
Our perception of what constitutes animal welfare is changing constantly.
"We have to be honest," says Bensted. "I grew up primarily in Adelaide and came to Adelaide Zoo as a child. "And I remember, as a small city zoo, it had a single elephant.
"We would never do that now. I'm not necessarily making negative comments about the zoo directors then. We know so much more now about animal welfare – but we're learning more every day. In Australia, the accreditation is all based on the five domains."
The five domains
Bensted is referring to the model of the Five Domains of Potential Welfare. This explores how compromises in an animal's nutrition, environment, health and behaviour can impact upon its mental state.
"It's very scientifically focused. And when you go through it to provide evidence, you realise that there are some particular animals or species that we just don't know. If you are working with mammals, you can assess a variety of factors. If a lion wants to show its displeasure, everybody sees it. It's less easy with a lizard or a fish.
"We are learning all the time. There's such a scientific gap in some of these areas. We just need to do the very best we can with the knowledge we have. And we've got to be ready to move with our knowledge."
Zoos South Australia and visitor engagement
Beyond animal welfare, there is the need to engage people with animals, and with conservation. Bensted feels there is a danger that, in the face of the magnitude of the challenges facing the natural world, people will become disaffected. They may begin to feel like there is no action they can take that will make a difference.
"Good zoos can play a really strong role in making sure that doesn't happen. You look at David Attenborough. Those shows are so beautifully filmed, and they fill such an important purpose. But they're still not quite the same as looking at an animal, seeing his eyes and getting that real, emotional connection.
"I've watched people in Lions 360 and they suddenly have a lion right above them let out a roar. You can literally feel it vibrate in your chest when that happens. Everybody jumps.
"It would be hard to replicate that sense of awe and the feeling that these are truly phenomenal creatures. And once you've got that connection, our keepers then talk about the challenges that lions are facing in the wild. As well as what we're doing to try and address that.
"Then they talk about how you as a visitor can help us do that more effectively."
An emotional connection
"Once there is that emotional connection, people are so much more open to what they can do," says Bensted. "That might be giving a donation; it might be buying a bracelet. Or, if we're talking about our Sumatran orangutans or tigers, it might be about being smarter shoppers in regard to only using responsibly sourced palm oil.
"People are more responsive if you give them a specific action. But first, you need to get that emotional connection. You've got to give people hope, and you've got to give them something tangible that they can do."
View this post on Instagram
Good zoos, she says, are uniquely placed to do that:
"Zoos South Australia has such a reach; so many visitors. It's not like a government advertising campaign, where people switch off. Zoos get people in a good mood. They engage, they establish that connection with nature and animals, and then people want to change. It's not that they're being forced to change."
Elaine Bensted on hope for the future
Elaine Bensted feels that maintaining hope is crucial.
"You just have to look at what we can do, and what we are doing. Take the critically endangered orange-bellied parrot. It's a beautiful little bird that is in serious trouble. There aren't many of them left. They have an amazing migratory pattern which takes them from South Victoria to Tasmania. That is a long way [a minimum of 460 km] for a tiny parrot."
The species, once abundant, is now one of the rarest Australian birds:
"Some people use the economical argument, feeling it's too late. We might as well let that species go and put our energies somewhere else. My team are absolutely not prepared to do that.
"They've had some real breeding success, using heat lamps to bring forward their breeding in Adelaide. Last year we had the most successful breeding year and released some to the wild. It's not too late. And if it doesn't work, we will know we tried and gave that species a chance."
Breeding programmes at Zoos South Australia
As a conservation charity, Zoos South Australia has been involved in numerous breeding programmes over the years.
"Take the bilby," says Elaine Bensted. "They were extinct in South Australia. So every bilby in South Australia now is the result of a breeding program from Zoos South Australia. We have also worked with a whole range of wallaby species for many years."
Zoos South Australia, in collaboration with partners, has reintroduced black-flanked Rock-wallabies into a protected area. Its goal is to ensure the long term survival of the species.
"They are very sweet. They are called the Warru in Aboriginal language. And they were almost extinct in the Aṉangu Pitjantjatjara Yankunytjatjara (APY) Aboriginal land.
"Our team have been working with the local Aboriginal communities using science and doing some cross-fostering. This was so we could improve the breeding results. We were breeding at Monarto then bringing them back to the middle of Australia and releasing them into a large fenced area. The project also included upskilling the local Aboriginal community to act as Rangers."
Connecting with the community
"It's a nice community story. The Aboriginal people of Australia have dream time, which is their storytelling. They have now created a new story about Warru. It's about the Warru leaving the lands, coming to the Adelaide hills, and then coming back to the lands. That story brings tears to my eyes."
"This project is a conservation story, but it is also about community development. The Aboriginal land in the middle of South Australia is incredibly disadvantaged. One of the effects of bringing this animal back is the creation of employment, and of pride in the Aboriginal areas."
View this post on Instagram
"The Warru is now breeding in its natural habitat again. It's pretty special, both in human and in animal terms. And, of course, for us, it's a bit teary, because of Maureen the Warru, our ambassador animal, who was a special girl.
"She was past breeding age, and not on public display. But whenever we had a politician or a potential grant-giver or famous pop star, they would meet her. Jane Goodall has met Maureen. Jane just squatted down, and Maureen hopped into her lap."
"Maureen lived to a very good age, and she died having done her species proud."
Zoos South Australia and animal habitats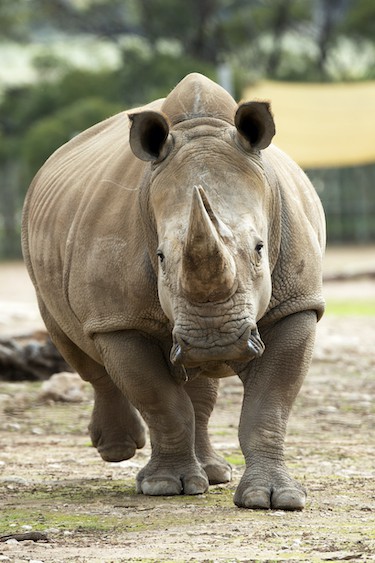 Habitat is key. For some species, this means their habitat needs recreation in the wild. Others will remain as captive populations for the foreseeable future.
"With native animals, we have been doing a lot of revegetation and habitat work," says Elaine Bensted. "For example, with animals like the red-tailed black cockatoo. We have been working with farmers. Getting the farming community on board to recreate habitats has been fabulous.
"They are hard projects; you've got to commit to long term. You've got to work with those local communities for many years. But there are a number of species, particularly at Monarto, such as the scimitar-horned oryx, that are extinct in the wild.
"We have a big group of them at Monarto. Is there any area to release them back into the wild? Probably not. And that is certainly the case with some of our exotic animal collection."
"We do a lot of feral animal control. Some of my team travel to parts of South Australia, trying to control feral cats and foxes. Because otherwise, we're breeding wallabies or Bettongs and then releasing them back to be food."
Repopulation
Breeding needs to be undertaken in conjunction with habitat recreation and predator control.
"There is a great new project that has just launched," says Benstead. "It concerns the boot-shaped Yorke peninsula. We're part of a project with multiple partners to put a fence right across the bottom bit. We are fencing off an area so we can repopulate it with native animals."
The 23-kilometre predator-proof fence will enclose the southern tip of the Yorke peninsula. This encompasses Innes National Park and some small towns, as well as thousands of hectares of farmland. It will be a step towards the reintroduction of the 27 or so mammal species that have vanished from the peninsula due to feral predators and habitat destruction.
Eventually, the fence will be gradually moved up the 'leg' of the peninsula. This means it will enclose an increasingly greater area.
Elaine Bensted on the importance of raising awareness
When it comes to raising awareness, some species are at a natural advantage.
"We use the media and have a great relationship with them, so that helps with raising awareness. But if it's a panda, a tiger or a rhino, it's so much easier.
"When we first bred the pygmy blue-tongued skink we were so excited. People had thought it was extinct until 1992. Then a small number were found in the wild. They hadn't bred in captivity before so what we did was an achievement."
"But trying to get the mainstream media excited about a tiny lizard, or a frog or a tortoise is hard. There are pockets of the community that are passionate. To get the TV news crews interested, a chimpanzee or a rhino will win every time.
"So we use the ambassador animals to raise awareness about conservation. All animals are going to benefit from that.
"Take the work we are doing in China with giant pandas. If you are improving habitat for the charismatic big animals, you are actually improving habitat for the whole lot. Even though the donors and media may only be interested in the big charismatics."
Zoos vs. sanctuaries
Is 'zoo' a loaded term?
Elaine Bensted says: "People will often feel an animal 'sanctuary' is likely to be a good place. While a 'zoo' is something else. Sanctuaries are often driven by people with fabulous motives. But they generally don't have great resources, so they can't always deliver on animal welfare. They don't have vets on-site, and all those sorts of things."
Whether you call it a zoo or something else…It is not about the name, but about educating the public about what a good zoo can do
"I think we just go on giving information to the public about the role that a good zoo can play. If asked for the definition of a 'good zoo', to me, it's pretty simple:
"A good zoo does three things. Animal welfare is an absolute focus – the care for the animals under your care. Then there is conservation – care for animals in the wider world, not under your care. Finally, there is education, both within the zoo and of the broader community. Talking to young people, giving them options and actions to do.
"Whether you call it a zoo or something else – we have got a zoo and a safari park because it's a better description of the experience Monarto offers. It is not about the name, but about educating the public about what a good zoo can do. As well as uniting to improve or close down those that aren't good zoos."
Wild habitats
There can be a romanticised perception of 'the wild' as the place all animals should be. While clearly, wild animals should be in the wild if they can be safe there, some habitats have been compromised or destroyed.
"Jane Goodall was visiting Monarto early this year," says Bensted. "We named our chimpanzee facility after her. And she also named our latest newborn chimp. Interestingly, she chose the name Hope."
View this post on Instagram
"Someone from the media asked Jane, 'Wouldn't you rather see chimps in the wild?'
"Her answer was: 'If I were a Chimp, I think I'd rather be here, because, for one, there is actually not a lot of wild left. In the wild, my habitat is disappearing. I might be getting my foot caught in a trap. I wouldn't be getting a healthy, varied diet and I certainly wouldn't be getting healthcare. The chimps here are doing pretty well.'
"Jane is passionate about her sanctuaries and improving the lot of chimpanzees, but she's also realistic. There is no welfare in the wild. There is also not a lot of wild left in some places. The idea that all animals should be in the wild is very simplistic."
Elaine Bensted on the future of Zoos South Australia
For the immediate future, the next part of the 20-year plan concerns the implementation of a luxurious safari experience.
"At Monarto Safari Park we have a private partner who is going to be building accommodation on site, a safari resort and glamping. He will be running the accommodation and will pay us to run the safari experiences.
"For us, it is critical for a couple of reasons. Number one, we'll make a profit out of it. The money raised will allow us to improve our facilities at both Adelaide and Monarto. Particularly at Adelaide, where we have older facilities."
View this post on Instagram

"It will also allow us to raise more money for conservation. Everybody who stays overnight will make a contribution to our conservation fund. So we can do a lot more work with Australian natives and with our partners overseas. It will also allow us to bring in people that wouldn't normally come to our facilities.
"We will broaden our reach in connecting new audiences with nature and conservation messaging. For us, it's a win-win.
"We will give people the most fabulous experience," says Elaine Bensted. "It will also be the biggest safari experience in the world outside of Africa. A wonderful experience, raising money for conservation and allowing us to upgrade our facilities to improve both visitor experience and animal welfare. So that's the next big thing, which we aim to open in around two years."