Safety systems innovator for adventure attractions, Kanopeo, has provided its Saferoller belay system to Harvest Hill, Japan.
Located in Osaka Prefecture, Harvest Hill aims to offer visitors a hands-on connection with nature and farming. Visitors can harvest seasonal produce, bake bread, watch sheepdogs in action and try their hand at a range of handicrafts.
New to the park this year is Ora!Woo!Tan!, an adventure attraction featuring three aerial courses up to 8 metres off the ground.
Swiss manufacturer, Kanopeo, supplied its Saferoller® rolling continuous belay system for the courses which are designed to cater to all ages and abilities.
Ora!Woo!Tan! engages guests with a range of challenges
Participants are invited to test their skills with a range of challenges including a Zigzag Bridge, Sky Surfing, You Net, Snake Bridge, Swinging Log, Climbing Panel, Cat Beam, Zip Lines and a Quick Jump.
Japanese aerial adventure park designer and builder, Tandem Corporation, developed the Ora! Woo! Tan! concept and park design. Tandem and Kanopeo have also recently partnered on the complex new aerial adventure at Lotte Arai Ski Resort.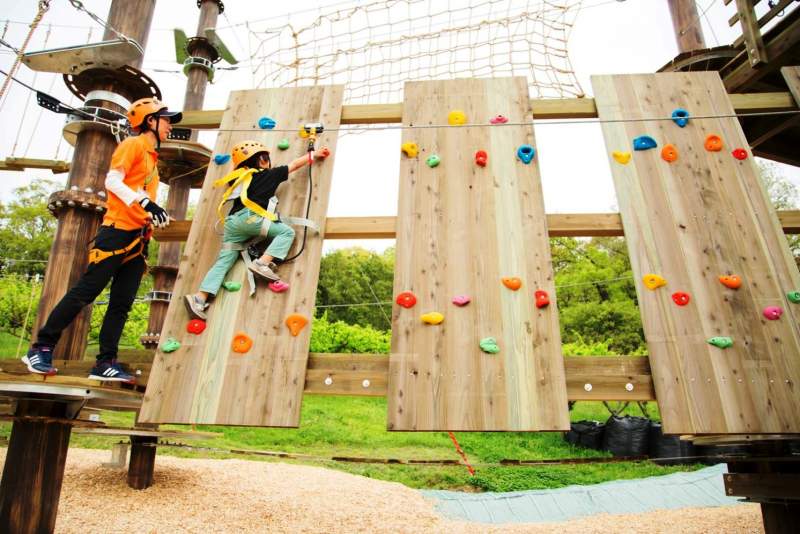 The world's first rolling continuous belay system, Saferoller is currently the only system that can be installed with the safety line out-of-reach, ensuring maximum adrenaline rush. Adventure attractions are increasingly relying on the system, impressed by its ability to handle high throughput with minimal staffing.
Earlier this year, Kanopeo supplied a Saferoller system to the world's highest aerial adventure in Penang, Malaysia. A heady 239 metres off the ground, brave participants access the course from the 65th floor of the Komtar Penang in George Town.
Kanopeo systems are installed in over 450 adventure parks worldwide.