More design details have been revealed for the MSG Sphere London. A planning application has been submitted for the state-of-the-art music, esports and entertainment venue set for Stratford, London.
The Madison Square Garden Company (MSG) have purchased a 1.9-hectare (4.7-acre) site in Stratford, adjacent to the Olympic Park and Westfield.
Designed by Populous, the concert arena would seat 17,566 people and hold up to 21,500 people, making it the largest concert arena in the UK.
Manchester Arena and London's O2 hold 21,000 and 20,000, respectively.
We're excited to announce we've submitted our planning application for MSG Sphere – a state-of-the-art new venue that would support up to 3,200 jobs each year across the UK once it's open, deliver community investment, and revolutionise live entertainment: https://t.co/BnOuPoIAbx pic.twitter.com/VQqloeo6bz

— MSG London (@msglondon) March 27, 2019
esports arena
As well as music concerts, the attraction will host awards shows, circus events, esports events and ring sports.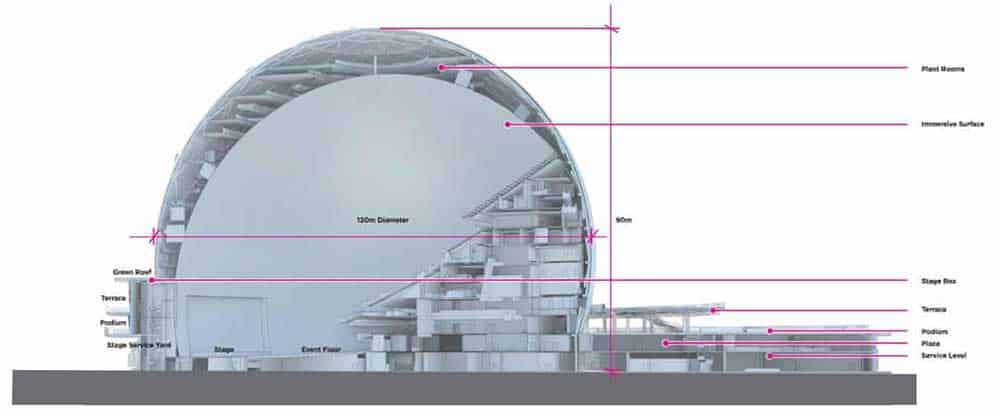 It'll also have a separate 1,500-capacity venue for emerging music acts, and a 450-capacity restaurant and nightclub, cafes and shops.
According to planning documents filed by MSG, the sphere itself will be covered in LED panels that can display high-definition concert footage or advertising images.
With MSG Sphere, we want to create a thriving destination in #EastLondon – supporting local jobs and serving as a long-term #investment in the future of #Stratford and London. Sign up for all the latest on our plans: https://t.co/cYCMDabJJZ pic.twitter.com/9ALjHnfWPs

— MSG London (@msglondon) March 27, 2019
Another large LED screen will feature inside the venue's curved walls, for immersive performances and augmented reality (AR) experiences.
Four new bridges would connect the structure, designed to be 120 metres wide and 90 metres high, to the surrounding area.
Jayne McGivern, MSG's executive vice president of development and construction, said: "This is an opportunity to take an inaccessible coach park and use it to support thousands of jobs, and billions of pounds of economic benefit."
Analysis conducted by EY on behalf of MSG suggests the project will create 4,300 jobs across the three-year construction phase, and generate revenue of £2.7 billion over 20 years, supporting 3,200 jobs annually.
The MSG Company has teamed up with Las Vegas Sands to develop a similar 18,500-seat, immersive, spherical arena in Las Vegas.
Esports venues around the world
Elsewhere, Comcast Spectacor, The Cordish Companies and Populous have announced plans for a $50 million, next-generation esports and entertainment venue in the Philadelphia Sports Complex.
Previously, Blooloop spoke to industry experts Professor Andy Miah and Brian Mirakian about the growth of esports and what this will mean for the visitor experience.
Image: MSG London