Resorts World Sentosa (RWS) has confirmed to GGRAsia that the new Singapore Oceanarium will be completed by the end of 2024. The announcement comes at the same time as the launch of a new environmental partnership between RWS and the National University of Singapore (NUS), called the RWS-NUS Living Laboratory.
This five-year applied research collaboration aims to boost biodiversity conservation in the region, particularly in and around the Southern Islands. It will work to speed up decarbonisation in Singapore and introduce nature-based, energy-efficient solutions for buildings and infrastructure.
The new partnership was announced on 5 January 2022 by Alvin Tan, Minister of State for Trade & Industry and Culture, Community, and Youth Mr Alvin Tan. RWS has committed S$10 million in funding for the Living Laboratory, an academic-industry partnership that will enhance the tourism economy, environmental education and sustainability efforts in Singapore and contribute towards the Singapore Green Plan 2030.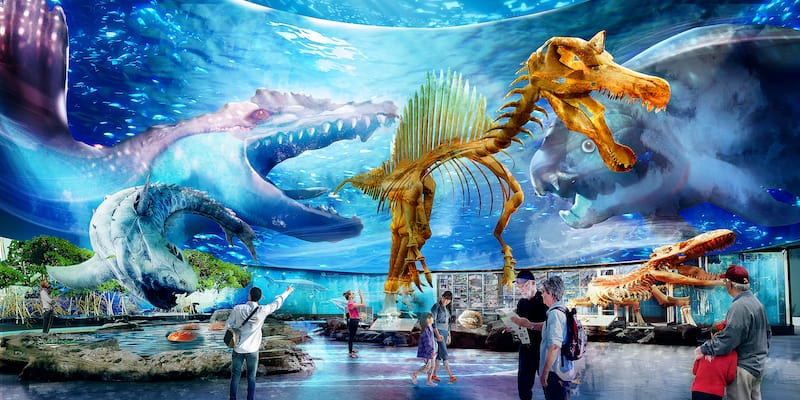 Enhancing sustainability
"This partnership showcases how industry and institutions can work together on sustainability and conservation research, while also reinforcing the attractiveness of Singapore as a tourism destination," said Tan, at the launch.
"I am confident that we will co-create many innovative and transformative research outcomes that will enhance biodiversity conservation, environmental sustainability, and decarbonisation. This, in turn, strengthens Singapore's standing in eco-tourism."
RWS CEO Tan Hee Teck added "The RWS-NUS Living Laboratory underscores our resolute commitment to make RWS a sustainable destination for Singaporeans and travellers. At the same time, the partnership will set the foundation for RWS to meet emerging trends where consumers are prioritising sustainability and unique engaging experiences when they travel."
RWS 2.0
Singapore Oceanarium is part of the S$9 billion investment in Singapore's two integrated resorts, Marina Bay Sands and Resorts World Sentosa. Here, Marina Bay Sands plans to add a new entertainment arena and hotel tower, while RWS will extend Universal Studios Singapore with two new attractions including Super Nintendo World.
The aquarium project is a rebranding of the S.E.A Aquarium. It will see the existing attraction triple in size, and introduce cutting-edge interactive technology. Singapore Oceanarium will have a strong conservation and education focus, bringing together marine life with exhibits that explore prehistoric life and deep-sea creatures. It will be part of a new waterfront lifestyle complex.