This follows on from the company's acquisition of Réalisations-Montréal. Bérubé's role is to guide management operations for Thinkwell's growth plans in Montréal.
Global leader in experience design Thinkwell Group has offices in Los Angeles, Beijing, Abu Dhabi, Montréal, and Riyadh. The award-winning company recently delivered the world's largest indoor theme park, Warner Bros. World Abu Dhabi. The ground-breaking attraction was also named one of Time Magazine's 100 Greatest Places of 2018.
Réalisations-Montréal is a company that uses art and custom-made, cutting-edge technology to create tailored experiences and installations. Blooloop caught up with newly appointed General Manager, Michel Bérubé, President and founder Roger Parent and Ron Morissette, VP Development for the Americas.
Appointment of Michel Bérubé and the strategic alliance
Michel Bérubé is to take over administrative duties while Roger Parent concentrates on the artistic aspects. He says: "I am the new kid on the block. I am dealing with these amazing people that have built this company and have worked on projects all over the world. I am here to take care of the administrative part of the business. And also everything that is not related to creative, R&D, branding and so on."
Roger Parent, who founded Réalisations-Montréal in 2000, says: "I met Michel when he was working with the Celine Dion Group, so his knowledge had a fairly extensive international aspect to it. After that, he worked for an engineering company that had its head office in the States, so the model was similar to the one that we are embarking on, which is a mothership somewhere in the US, and a Canadian company.
"And then, over the last few years, he worked for a cutting edge performance space in Montréal, where everything related to AR and VR, and all the ground-breaking festivals involving artists and technology can present their stuff. He was General Manager there, so he is used to wacky things."
A new synergy
Ron Morissette's area of responsibility includes taking care of client relationships and business development. He says: "I have been with the company since its founding. I have worked with Roger, and now with Thinkwell to develop this new synergy between Thinkwell and our creative studio."
He says: "Additionally, at Réalisations-Montréal we have a very strong research and development component of new, interactive and multimedia technologies. A large part of what we will be doing in the Thinkwell family is adding that dimension to the group."
Explaining how he came to found Réalisations-Montréal, Parent says: "In my previous life, I was executive producer for Cirque du Soleil. I opened the two first shows in Vegas, and the ones in Asia. I was responsible for about half the payroll in that enterprise, and I wanted to be in a smaller outfit where we could do more daring things – not that Cirque du Soleil was not daring.
Founding Réalisations-Montréal
"But the scale of stuff makes it a bit more complicated. So we created this small lab; Ron was in on the beginning of that. Our aim was to keep it at around 50 people, in number, with some freelancers on top."
From the outset, the idea was that the company would have two 'legs': "One would create content, the other would invent the technology that carries the content. Step one; step two: this way, we keep walking."
Parent says: "If we can buy stuff off the shelf, and twist it around to do what we need to do in a concept, that is great; if we can find components that partially do it, then we write the code that is needed to fix the apps, and we keep moving on. The technology influences the content, and vice versa."
Interactive people
For a while, Réalisations-Montréal did a number of projects and installations in bars, restaurants and casinos.
He says: "In 2002, 2003, we developed a kind of Microsoft Surface before Microsoft did. So we were doing very cutting edge things, and I became increasingly interested in the behaviour of people, not just in the way they might touch a screen, or click content in a table, but how they moved around in a space, how they interacted with each other. I was looking for ways in which those behaviours could, perhaps, influence the environment, or the content presented."
At this point, the company did the Renaissance New York Midtown Hotel project in New York City, at the Madison Square Gardens, part of the Marriot Group.
Parent says: "There, we tested out our ambient intelligence approach, a multisensory corridor with numerous sensors and motion detectors, where you created a soundscape as you walked. As I cross your path, my soundscape would mix with yours and create a third. You would also influence the wallpaper, which would change according to how fast you were moving."
Interactive technology
The interplay between guests and wall created a motion-responsive shifting visual tapestry of graphics. A digital interactive concierge showcased content from Time Out.
Most important of all with this interactive technology.. is that it disappears
"We uploaded content for the day every morning at 4 AM, so you could point and get information about the moustache contest in the park that afternoon at 12 o'clock, or all kinds of things that make a neighbourhood life vibrant.
"In that approach, there is the seed of what I think is most important of all with this interactive technology, which is that it disappears. I'm more interested in how people feel and what they do in spaces."
The spirit of New York
A project that illustrates this is the two-and-a-half minute video Réalisations-Montréal created for the See Forever Theatre permanent installation in the new observatory of the World Trade Centre in NYC.
Parent says: "We did the hundred and second floor presentation, when they did the OneWorld new building. It was video projections on a moving 3-D structure that looks like a skyscraper landscape, and we had two and a half minutes to tell the story of New York."
Encapsulating the spirit of New York in such a small time frame would not be easy. Parent describes the process. "Being French, we began by comparing Paris to New York, and everything that was the same, famous restaurants, famous museums, famous people, we crossed off, until we hit the line where the similarities ended: New Yorkers do not resemble Parisians at all. They don't speak at the same speed, they don't walk on the street at the same speed.
The beat of New York
"So we started timing New Yorkers on the street. I went out walking with them, with my iPhone, trying to get the beat of the New York walk, and from there, we built the beat of the editing. We decided to put in no monuments, nothing famous; we would concentrate simply on the gestures and movement of the ordinary people in the city. And that's what we presented."
The film's images and soundscape reflected the gestures, rhythm and sounds of New Yorkers' everyday existence, capturing their idiosyncratic essence.
Parent says: "We were rebuilding after 911; there were a big scar in people's minds, and we wanted to talk about hope. The best way to talk about hope is to talk about life, so that's why we made that choice. And it worked, because when the firemen and the policeman came to the pre-opening, either they cried, or they clapped.
"And the reason is that they could identify this beat. It's their pulse. So we are not into gimmick technology, we are into the meaningful things. When at all possible, we try to say something that is not just adding to the general noise."
The best way to talk about hope is to talk about life
Before forming the strategic alliance in 2018 that led to Thinkwell's acquisition of Réalisations-Montréal, the two companies had previously collaborated on a number of projects.
Why Montreal is special
Parent says: "François Bergeron [Thinkwell's chief operating and financial officer] was at Cirque du Soleil at the end of the 1980s and the early 1990s. When I was executive producer, he was creating soundscapes. So we have known each other for ever."
Two years ago, Morissette brought them back together.
"Ron brought me to LA to see François, who was interested in what we were doing, and in our approach. He comes from here, so he understands what makes Montréal special."
Parent says this is a unique strength of character: "Montréal is a very vibrant place for new technology, and artificial intelligence. We have a bunch of start-ups here; we do a lot of video games, all the major companies have a presence here. Because we don't have a very favourable climate, we have some kind of strength in our character which lets us achieve impossible things. Like maintaining life at -35°.
Seamless technology
"Having a studio in Montréal made sense in Thinkwell's portfolio, and, as Ron said, we have a little twist of R&D, which is very well supported by the Canadian government here, to push the envelope of technology so it becomes increasingly seamless and nonintrusive."
Discussing how the partnership with Thinkwell will help Réalisations move forward, Morissette says: "What is interesting, obviously, is that it allows us to be in touch with a wider range of projects across the world than we would be able to do on our own.
"For Thinkwell, it gives them yet another perspective on projects; our way of looking at things, our special way of utilising and inventing technology that supports the content in a meaningful way. That is an element that is very natural to us, it is part of our DNA, and introducing that into the approach Thinkwell has on its projects is an interesting twist.
A closer releationship
"We are able to collaborate in corners of the project where we use our technology in an innovative way that Thinkwell didn't necessarily have as part of their on-board toolkit. They are very innovative technologically. However, it wasn't an on-board thing. Now, with us on board, it's a much closer relationship. We are now able to really collaborate in a technologically creative way, while at the same time proposing content that has a unique perspective."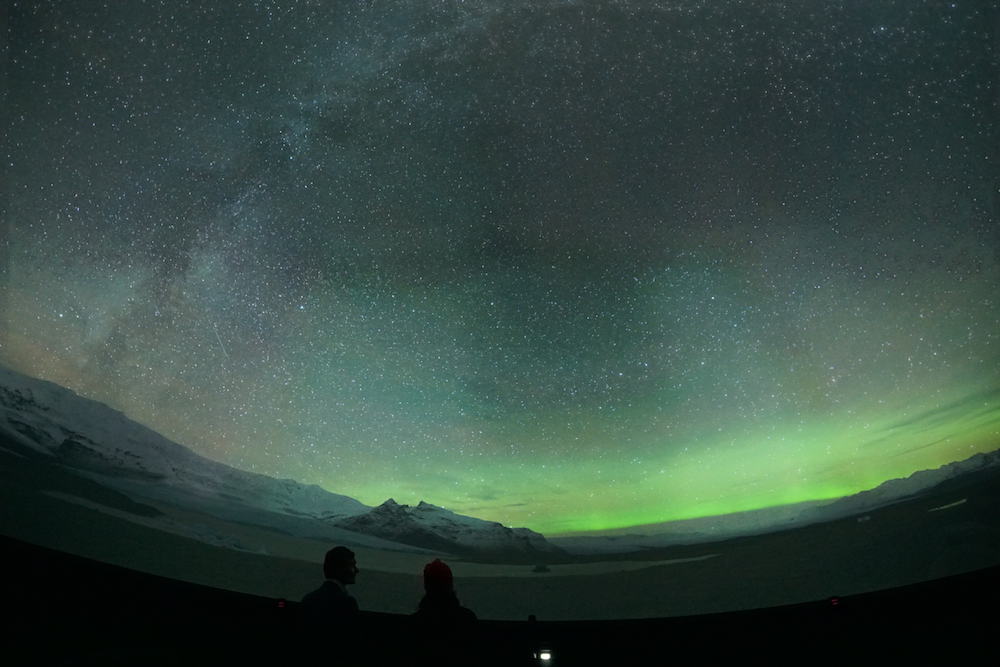 Berube agrees, saying: "We will begin by making sure we have a synergy between Thinkwell and the Montréal studio. This means moving in the right direction. It also means matching our company philosophies while maintaining our own identity, here, up in Montréal.
"Thinkwell see Thinkwell Montréal as being their main office in Canada; that's a good thing for us all. They can support us administratively. They can also offer us some tools that we might not have here in Montréal. In addition, they can support us marketing -wise too.
"We have goals for the future of the Montréal studio. However, for the short term the focus must be on working out exactly how we can best work together."
Common DNA
Parent says: "Thinkwell are branded as 'The Experience Company'; for us interactivity is real people doing real things, and that is experience, right there. So we have a common DNA structure."
Morissette says: "We are about 50 people in a studio in Montréal. Apart from the three or four of us that are in the admin part, the rest is a unique combination. Half are engineers and scientists with doctorates in things I don't understand. These are really smart people that are used to and enjoy working in the quirky world of creativity. They are able to understand to support a creative idea. They also understand how to enhance it through the technology that we are developing.
You are constantly looking at glowing rectangles
"And the other half is our creative team. They have learned how to communicate with our scientific team. And as a result, they are able to excite them to get them on board. You could call this combination the left brain and the right brain, under one roof. It allows us to come up with things that are, we hope, unique. And uniqueness is a rare commodity these days."
Competing for the user's attention
In conclusion, Roger Parent explains exactly where he sees Thinkwell- Réalisations-Montréal positioning their product.
"I find it very interesting that everything that is going on in the media world and the technology world at the consumer level, even on city levels, is competing for the attention of the user. Walk down the street and your phone rings. You are constantly looking at glowing rectangles. They are in your bag, your pocket, in your hand, all over the place.
"If we can understand that kind of environment, we can come up with options that stop this over-solicitation. We can bring users back to an environment that they prefer. Targeted, planned publicity is effective in getting an objective across.
The space between
"However, if you sit in the park and read a book sitting on a bench, you may or may not see the cloud and the leaves making shadows on your book. You may or may not feel the wind on your skin. Or listen to the birds, or the dog in the distance, or the sound of the wheels of a bike. But they all are there, and they are not screaming for your attention.
"The park still attracts us: it's a powerful force; people still gravitate to squares and parks, even though they have all the technology in the world. They still need that.
"If we can do projects that are in a space between, I think that would be the course of action I would like to see in the next 5 to 10 years. Because when you are in the natural world, your mind works. And having a mind and not using it is kind of boring."
Images/video kind courtesy Thinkwell Group and Réalisations-Montréal.