It has current or imminent exhibitions in Japan, Indonesia, China, Australia and the USA.
When Helsinki's contemporary art museum, Amox Rex, opened in 2018 at a cost of 50m euros, it was with an inaugural exhibition by teamLab.
'teamLab: Massless' featured a range of hypnotic environments created with supercomputers, servers and 140 Epson projectors. The exhibition showcased teamLab's 'Vortex of Light Particles' installation, based on a representation of the interaction between water particles. The digital simulation shows water pouring upward in reversed gravity towards the domed ceiling. Epson was the show sponsor.
This is part of a rapidly growing trend for immersive art experiences. teamLab – as a collective – spoke to Blooloop about their beginnings, vision, and meteoric rise.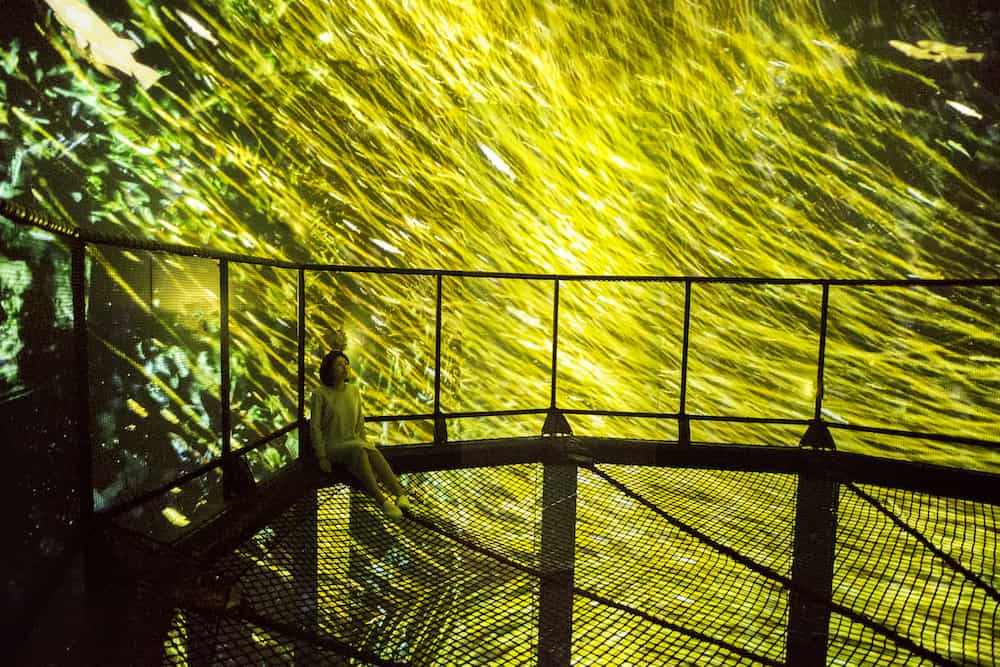 Describing how the collective came about, they explain: "teamLab is an interdisciplinary group. Its collaborative practise seeks to navigate the confluence of art, science, technology, design and the natural world. Digital technology has allowed art to liberate itself from the physical and transcend boundaries.
"teamLab sees no boundary between humans and nature, between oneself and the world. Everything exists in a long, fragile yet miraculous, borderless continuity of life."
teamLab began in 2001, founded by Toshiyuki Inoko, and several friends. The aim was to create a space for co-creative activities. "By putting ourselves in such an environment to create, we wanted to deepen our thoughts and insights. Our aim is to create a new experience, and also to explore what the world is for humans.
"Our aim has always been to change people's standards of value and contribute to societal progress. That hasn't changed."
Initially, the group lacked the means and opportunity of displaying or presenting their work. They also lacked the funds to sustain the teams producing that art:
"On the other hand," the collective says, "We believed in the power of digital technology and creativity. We simply loved it. We just wanted to keep creating something new, no matter which genre it would turn out to be."
teamLab built up a passionate following among the young. However, they were largely ignored by the Japanese art world. This changed in 2011. Acclaimed artist Takashi Murakami invited teamLab to show artwork at his Kaikai Kiki Gallery in Taipei. It was a resounding success.
"Since then, we have had opportunities in cosmopolitan cities such as Singapore. We joined the Singapore Biennale in 2013. In 2014, New York PACE Gallery started to promote our artworks.
"Finally, in 2015, for the first time in Japan, we were able to organize our own exhibition."
Evolution
"From then, our evolution accelerated," says the collective. "We now exhibit internationally; London, Paris, the U.S., Taiwan, China, Korea, Indonesia, Thailand."
There are now several hundred members of teamLab, from varying specialities. "teamLab consists of artists, but also programmers, engineers, CG animators, mathematicians and architects. We call ourselves 'ultratechnologists'," says the collective.
"We are a team of technologists who practice hands-on labour with highly specialized knowledge. Although there always is a broad concept for us to aim for, the goal of each project is vague – we create as we think through and flesh out the full idea.
"Through such processes, we explore what we call collective creation. We think technologists and collective creation always come together."
Describing the ethos underlying teamLab, the collective says: "Humans are naturally collaborative and creative. However, current education emphasizes only one correct answer over all others, stifling creativity. It suppresses free-thinking and behaviour that is different.
"Students become afraid of making mistakes, and lose their natural creativity."
But in the real world, there aren't often problems with only one correct answer. "By creating new solutions that solve problems in different ways, new correct answers are born. And also, people gain enjoyment in the process. It is creativity that allows us to overcome problems. 
"Humans learn about the world through interaction with others and by sharing experiences. "
By focusing on creating change in the connections between people, as well as creating positive experiences, the collective hopes to turn individual creative acts into co-creative activities.
teamLab believes digital technology can expand art. And also that art made in this way can create new relationships between people.
"Physical media is no longer the limit," says the collective. "Digital technology has made it possible for artworks to expand physically. Art created using digital technology can easily expand. So, it provides us with a greater degree of autonomy within the space. We are now able to manipulate and use much larger spaces. Also, viewers are able to experience the artwork more directly.
"Viewers, in interaction with their environment, can instigate perpetual change in an artwork. It's an interactive relationship between the viewers and the artwork. Viewers become an intrinsic part of that artwork."
According to the collective's website: "digital technology releases expression from substance and creates an existence with the possibility for transformation."
Explaining the process, the collective says: "Once the large concept of the artwork is set, we gather specialized members related to the work and think more finely. For example, the Flower Forest: Lost, Immersed and Reborn piece we exhibited at PACE Beijing. This was created with a specialist who creates 3D CG flower model and animation.
"We also had a 3D software programmer and an engineer who designs equipment such as projectors. Other people working on the project included a software programmer and an architect."
teamLab Borderless (MORI Building DIGITAL ART MUSEUM: teamLab Borderless) is teamLab's permanent museum in Odaiba, Tokyo. Since opening in June 2018, it has already exceeded 2.3 million visitors.
The collective says: "teamLab Borderless is a group of artworks that form one borderless world. Here, we ask guests to wander, explore, and discover. Artworks also move out of the rooms freely. They form connections and relationships with people. The artworks communicate with, influence and sometimes intermingle with each other. They also have the same concept of time as the human body.
"People lose themselves in the artwork world. The borderless works transform according to the presence of people. As we immerse and meld ourselves into this unified world, we explore a continuity among people. It's a new relationship that transcends the boundaries between people and the world."
This is a semi-permanent museum in Toyosu, Tokyo which opened in July 2018. There are four vast exhibition spaces in the centre. It includes seven works of art based on the collective's concept of 'Body Immersive'.
"The massive Body Immersive space consists of a collection of installations. Here, the entire body becomes immersed in art. The boundaries between the viewer and the work become ambiguous."
Visitors enter the museum barefoot. They become immersed with other visitors in the huge installation spaces.
"The boundary between the self and the artwork becomes ambiguous," says the collective. "And, through that experience, the boundary between the self and the world begins to disappear."
teamLab: A Forest Where Gods Live
The 500,000 square meter Mifuneyama Rakuen Park in Takeo Hot Springs, Kyushu, Japan dates back to 1845. At the borderline of the park is the 3,000-year-old sacred Okusu tree of Takeo Shrine.
1,300 years ago, the famous priest Gyoki carved figures into rock faces in the forest caves. Visitors can still see these today.
The collective says, "We have returned to Mifuneyama Rakuen with two exhibitions. Firstly, teamLab: A Forest Where Gods Live – earth music & ecology. This transforms the mountains and nature of Mifuneyama into art every night at sunset. Secondly, teamLab: A Forest Where Gods Live, Ruins and Heritage – THE NATURE OF TIME. This shows artworks in the ruins that are scattered around Mifuneyama and is open to visitors during the day.
"This will be our fifth year in Mifuneyama Rakuen. However, this exhibition is on a larger scale than before."
21 artworks, including new, never-before-seen works, will be on display across the 500,000 square meters of Mifuneyama Rakuen. This exhibition will take place from July 12 until November 4, 2019.
Interactive digital exhibitions
One of these all-new artworks, Megaliths in the Bath House Ruins, is the latest teamLab artwork. This work is one of the highlights of the exhibitions in Mifuneyama. It is also one of the collective's most ambitious projects to date.
The collective says, "Three-dimensional objects made of artworks flattened through ultra subjective space are crowded in the ruins."
Megaliths in the Bath House Ruins, 2019 is an interactive digital installation in the former bath house. It is comprised of works including 'Universe of Water Particles'. In this piece, multiple waterfalls cascade down three-dimensional objects.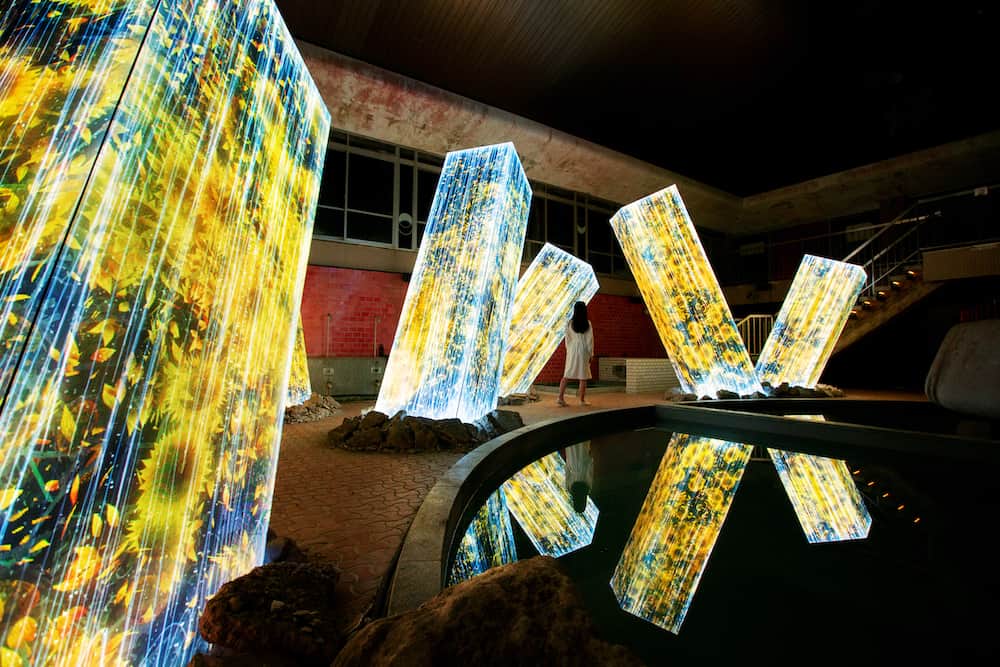 When people approach the artwork, the flow of the water changes. The movement of people influences the artwork, causing it to evolve continuously. The artwork also influences other works in turn. For example, it causes the flowers in the work Flowers and People to scatter.
Cycle of change
"Water is represented by a continuum of numerous water particles. The interaction between the particles is calculated and then lines are drawn in relation to the behaviour of the water particles. The lines are "flattened" using what teamLab considers to be ultra subjective space."
'Flowers and People' is in a state of continuous change. Over one hour, a year's worth of seasonal flowers blossom and scatter. "The flowers bud, grow, and then blossom before their petals begin to wither and eventually fade away. The cycle of growth and decay repeats itself in perpetuity. If a person stays still, the flowers surrounding them grow and bloom more abundantly."
The trend for 'artainment'
'Artainment' is a growing trend. Could it be reflecting a need for art and new means of expression in the face of the problems facing us globally? The collective answers this in the light of its own work:
"We aim to explore a new relationship between humans and the world. We do this through digital art. When we look at the world through an intellectual lens, problems are overwhelming, and we feel hopeless.
"What's more important, as an artist, is to seek out and affirm an idealistic part of humanity. We present an ideal fictitious view of the future, that may be realised somewhat. There are problems that cannot be solved now. But we suggest that we may be able to create an ideal world once more. We can do this by connecting the hints that can be found in the long history of humanity.
"It is more important to create the world than to criticise it."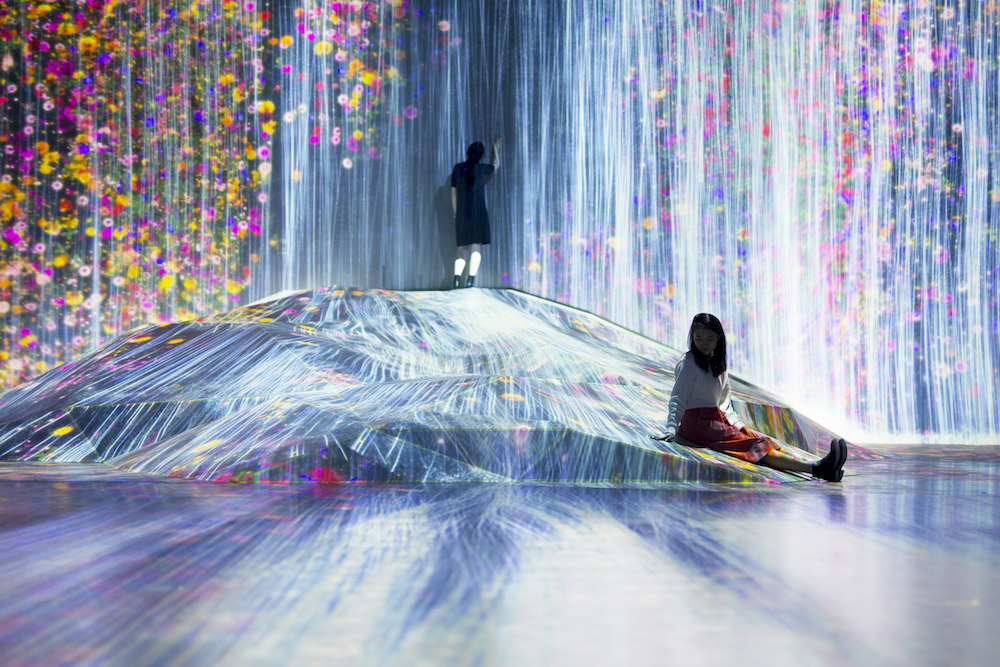 A new type of interactivity
The collective also feels that it is breaking new ground by using participatory, interactive artworks to alter the relationship between people, forging a new and positive dynamic.
The team says, "A type of interactivity we pursue is that your presence transforms the work. If you find a change caused by someone else to be beautiful, that person's presence may also become beautiful.
"Much art finds the presence of other viewers an obstruction. You feel very lucky if you happen to be alone at an exhibition. But what teamLab aims to do is to make the presence of others beautiful."
"This concept also applies to the cities we live in. In modern cities, the presence of others is something to be tolerated. The city doesn't transform due to the presence of you or others. If the entire city were to be digitised by our digital art, the presence of others could become something positive.
"The world is something that changes due to your existence. So, we want to create an experience where the relationship between the world and the self is borderless and continuous.
"A world without boundaries is beautiful. Our intention is to change people's standard of beauty, even if it requires a great deal of time."
All images kind courtesy of teamLab. teamLab is represented by Pace Gallery.