The start of the journey into location-based entertainment for the video gaming giant was the Raving Rabbids 4D dark ride at Futuroscope.  Ubisoft have also opened their first Rabbids family entertainment centre in Montreal, which serves as a testbed for new experiences.
Since then the company has been working with industry partners to design and produce game-changing virtual reality experiences. Two significant new attractions were launched at IAAPA in November 2017. These were a VR walk-through Rabbids maze that will be distributed by Triotech, and an attendant-free Rabbids arcade ride developed with LAI Games (part of Helix Leisure).
Blooloop spoke to Deborah Papiernik (left), SVP, New Business Development, Technology and Strategic Alliances at Ubisoft, about the company's ventures IRL and plans for the future. Allison Timberlake, Marketing Manager at Helix Leisure, Ernest Yale, President, CEO and Founder of Triotech, and Christian Martin, Marketing Vice-President of Triotech also offered insights.
"The aim in location based entertainment is always to create something you can't do at home," says Papiernik, who has been with Ubisoft for more than 20 years.
She points to the company's success in adapting their Eagle Flight VR game into a competitive arcade experience, currently playable at IMAX VR. The game allows players to soar above a post-apocalyptic Paris in which nature is reclaiming the city. The title is also an IMAX VR top seller due to the richness of the experience.
Also in the pipeline are Just Dance Live shows. With cool neon dancers and catchy music there is the opportunity, and challenge, to create a fun, shared experience for a large audience. Tickets are on sale now for the shows which debut in the US in March 2018.
The future of at-home VR
Papiernik likens the current market for at home VR equipment as comparable to that for PC consoles in the 1980s. VR is still very new and people will need to try it out to understand it and decide whether to invest. Though prices are going down; the home entertainment potential is currently limited by cost and quality.
The difficulty in VR is to create a shared experience, both for players and spectators. There are areas in which Papiernik sees interesting things happening in the market, for instance pop-up VR arcades.
"VR World in New York is leading the way in being able to create an atmosphere in VR," she says, adding that, "The adoption of VR will go through the development of VR arcades, with accessible and fun experiences. Accessibility is key both for the new player, and for the operator, who needs to optimize the staffing and the throughput of his room. Fun results from the sensations and immersion that players will get in a 5 to 10-minute experience."
This year's IAAPA was packed with VR attractions. VR has certainly become much more sophisticated in a very short period of time. However quality, storytelling and game play vary dramatically in quality between offerings.
The bar is set particularly high for Ubisoft. As a developer of AAA content video games, fans will expect their LBE VR to offer the best quality experience possible whilst remaining true to the DNA of their IPs.
Virtual Rabbids: The Big Ride – an attendant-free VR coin-op game
Ubisoft has been a pioneer in developing at-home gaming experiences for VR. When assessing at the location-based entertainment market, the company believes that consumers want an arcade twist to a live experience – a simulator, mixed reality or multiplayer features.
Virtual Rabbids: The Big Ride, was developed with LAI Games. The ride uses state-of-the-art premium quality components: a D-Box motion platform, HTC Vive headsets, dynamic wind simulation, commercial-grade computers and hi-fi audio.
Papiernik points out that one of the biggest challenges when creating a VR experience is to make sure the movement of the seats and 4D effects are perfectly synchronised with the visual elements. This stops players from feeling nauseous.
Virtual Rabbids: The Big Ride is the first VR attraction to operate without the need for an attendant to set up players. Three high-quality VR experiences are available in the themed unit.
Allison Timberlake (right), Marketing Manager at Helix Leisure, explains that the aim was to create a VR attraction that could be operated and serviced like any traditional coin-op game.
"Our goal was to offer operators of all sizes a way to bring premiere VR experiences to their guests without the expense of an attendant and the space requirements that are normally involved in a dedicated VR offering. We achieved that through a well-designed cabinet and intuitive user interface that are easily understood by first-time riders."
Maximising revenue
LAI Games have designed the game to maximise revenue. "The game is full of innovations that set it apart," says Timberlake. "The cabinet is designed for maximum earning potential, with each seat monetized. Forward-facing seats and video screen showcase the hilarious reactions riders are having during the game and encourage more plays. Also, players are immersed in a 360-degree reality, with action in every direction. They can experience something new every time they play."
The fun appeal of the Rabbids is going to be key to the success of the game. "Ubisoft's content is some of the best we've seen in any VR offering. It has with plenty of thrills that appeal to first-time users and VR enthusiasts alike."
Timberlake says the company had a fantastic reaction to the game at IAAPA. "Everyone seemed to love it. I heard from many people that the content was the best VR at the show. It was a thrill to watch people enjoying it and laughing out loud while riding it. Quite a few crowds developed just to watch people experience the ride."
Virtual Rabbids: The Big Maze
Ubisoft and Triotech also unveiled their new immersive VR experience at IAAPA 2017. Their walkthrough virtual reality Rabbids maze was developed in collaboration with ASTERION VR, a VR developer who came up with the original concept of the compact walk-in experience.
Triotech and Ubisoft are neighbours in Montreal and had been looking for a project on which to collaborate for a number of years. Virtual Rabbids: The Big Maze seemed like the ideal opportunity. Triotech's experience of LBE and IP and large network of customers, combines well with Ubisoft's expertise and reputation for delivering the highest quality video games. "We complement each other for this market," says Ernest Yale (right), President, CEO and Founder of Triotech. "We make a good team. There will be a lot of things that we will discover by working together and potentially a lot of opportunities."
Triotech's role has been to develop the platform and operational deployment. "We're talking about an attraction that has a physical component where you walk around a maze," says Yale. "That's where our expertise comes in. We've been developing these attractions for more than 15 years."
Adapting the VR maze for a small footprint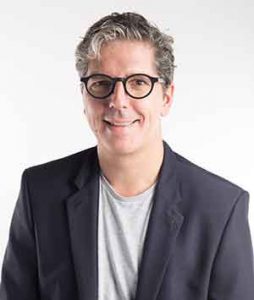 VR is big news at the moment with lots of companies trying to employ the new technologies in attractions delivering a range of experience quality. Some of the applications that rely merely on the VR helmet and poorly synchronised shaking, result in making participants feel like they're "almost a victim of the ride" says Christian Martin (left), Marketing Vice-President of Triotech.
Virtual Rabbids: The Big Maze falls "right in the sweet spot" says Martin, in between free roam and a seated ride. The IP provides an emotional connection and there is interactivity and immersion, backed up with high quality tech.
One of the biggest challenges with the maze has been adapting the experience for a small footprint.
"In my opinion a lot of the issue with VR is that the user moves around the world without necessarily moving physically. Or walking around in the physical world is limited," says Yale. "So what we tried to do with the maze is to make every one of your movements become a movement in the 3D world. Obviously there's limited space. However the perception for the player is that there is an infinite world. You have the illusion of moving 100 m whereas in reality you're in a 10 sqm area."
Positive response at IAAPA
The maze was featured by Fox35 at IAAPA. The response from FEC owners was generally very positive. "A lot of people have told us that it was the best VR experience at IAAPA," says Yale. "The response has been great and we will see a lot of these Triotech mazes around the world in 2018. We have hundreds of FECs around the US alone that use Triotech attractions. These are established customers who know us and the quality of our products and tech support. They're eager to add yet another Triotech experience into their location."
There has also been interest from theme parks who are looking at VR but need a higher capacity attraction than many on offer.
"We're also in talks with larger amusement parks," says Yale. "We are working to take the maze experience and make it a higher capacity experience. It's a scalable footprint and you could run these mazes in parallel. Also we can put multiple people in a larger maze. A person starts every 30 seconds, not crossing paths. So we can have a lot of people in a single maze and then, say, ten of them running at the same time. We're already testing seven of the mazes side by side in one location in Europe."
Assassin's Creed Origins maze
The next title to be adapted for the VR Maze is Assassin's Creed, due for launch in 2018.
The iconic IP has already been successfully adapted for a film franchise, and the tenth instalment of the video game – Assassin's Creed: Origins – was released in October. The latest adventure takes place in ancient Egypt and new features mark an evolution for the series.
Despite the name, Assassin's Creed is much more than just a fighting game. With the new Discovery Tour iteration Ubisoft has recognised that fans are keen to explore and learn as they complete missions. "We're creating worlds," explains Papiernik. "Assassin's Creed Origins is so rich in historically accurate references".
The game has been developed in collaboration with archaeologists to bring in authentic details. The pyramid in the game even features the recently discovered hidden chamber in the Great Pyramid at Giza.
Assassin's Creed Discovery Tour mode includes educational elements that are accessible by non-gamers. Similarly, the VR Maze will offer a very accessible experience of exploring an ancient Egyptian temple.
Technology and story
Translating hours of game play into a minutes' long experience that will satisfy fans is a challenge.  It's not just a question of the storyline, the technical challenges are also tremendous, to ensure that the attraction will do justice to the video game.
"Ubisoft are amongst the top developers of video games around the world with the best engines and graphics," says Yale. "The key is to have the latest and greatest graphics to assure the quality of the experience. Assassin's Creed will have cutting edge graphics with millions of polygons – a visual experience that has no equal.
"In the end though it's not just about the technology," he continues. "Anyone can have a VR headset. It's not just about the quality of the graphics, but also the quality of the game play and user experience."
Rabbids and Assassin's Creed IPs can both draw on extensive back stories to inspire when creating an attraction. The Rabbids are funny and appealing, meanwhile, Assassin's Creed has an exciting cool aura of its own. The result is that the experience created has the potential to be so much more than point-and-shoot.
A new audience for FECs and amusement parks
With more titles planned, the VR mazes can offer attractions appealing to a broad audience. Titles developed for the maze can easily be switched, so, for example, Rabbids could run on a Saturday morning for kids, while Assassin's Creed takes over for the afternoon or evening.
Successfully adapting VR experiences from Ubisoft's much-loved titles is going to be a step change for the industry,which will enable gamers to experience a new facet of their favourite IP.
"It's also going to bring a new audience into FECs and amusement parks," says Yale. "People who are gamers and have not necessarily been exposed to the other VRs. It's going to be very important. I think it has huge potential for the future."