The Asian Para Games took place last month in Jakarta. At the opening ceremony, Christie's Indonesian partner Argo Visual delivered stunning visuals that captivated the assembled audience.
Thousands in the stadium, and millions more watching on TV, witnessed a flamboyant display of unity and inspiration that highlighted the talent and spirit of people with disabilities. The two-and-a-half hour ceremony at the Gelora Bung Karno Stadium on October 6 kicked off a week of games. Host nation Indonesia welcomed athletes from 43 countries in the international multi-sport event under the "We Are One" theme.
Colourful visuals and a fighting spirit
The projections in the show were accomplished using 24 Christie Roadster HD20K-J 3DLP projectors. These provided bright and colourful visuals on a huge curved 40 x 20m backdrop that resembled the equator line. Traditional elements and motifs symbolised the strength and fighting spirit of the participating Paralympic athletes.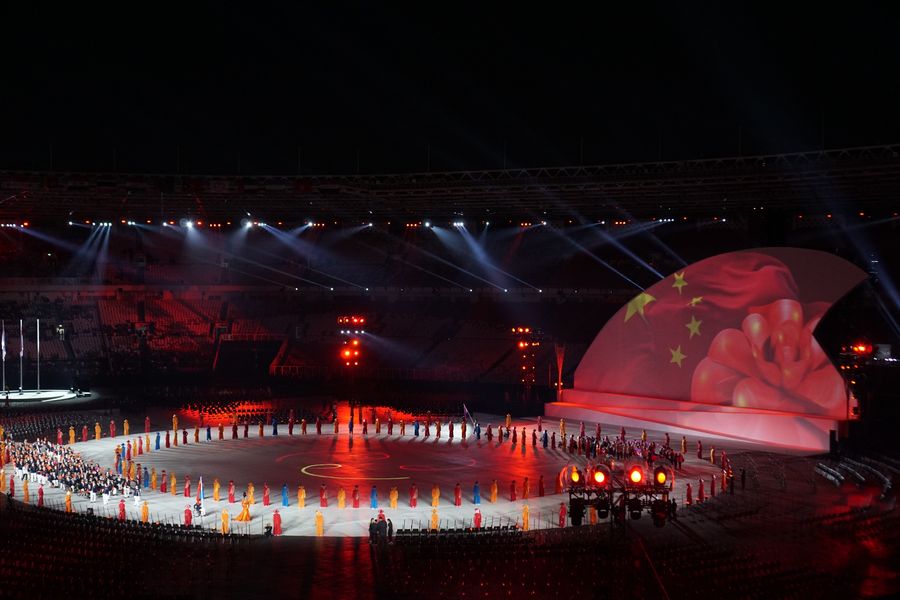 "We are absolutely delighted to play a role in the opening ceremony of one of the world's biggest Paralympic sporting events with a vibrant projection mapping performance during the main show segments," said Ignatius Alvin Antono, managing director of Argo Visual.
The opening ceremony was staged by Italian-based organiser Balich Worldwide Show with help from local contractor Royalindo Dutaexpo.
For Antono, "the most challenging part was the long and extensive working schedule in the lead-up to the event. But thankfully, we had everything set up without a glitch for the big day. And our efforts paid off handsomely. Spectators cheered and applauded enthusiastically when the projections displaying traditional and modern imagery synchronised perfectly with the movements of hundreds of performers on stage. I'm very pleased that the Christie J Series projectors rose to the occasion once again."
The installation process
The 24 HD20K-J projectors had to be hoisted to the fifth level of the arena using a crane. There were then fitted onto two projection towers. Each tower housed 12 projectors situated about 170 meters away from the projection canvas. The physical installation process took three days to complete. The calibration and fine-tuning of the projectors lasted for another 10 days.
Argo Visual previously used Christie projectors as part of a highly-acclaimed projection mapping show at the National Monument in Jakarta to welcome athletes to Indonesia for the Asian Para Games.