Christie, the global visual and audio technology company, has launched free software solutions that enable customers to easily monitor and align projectors.
Christie is proud to introduce new free software solutions to help its customers install and maintain blended images as well as to monitor and control their projection systems – Christie Mystique Lite and Christie Conductor.
Christie Mystique Lite
Christie Mystique is a camera-based alignment and recalibration solution that simplifies the installation, alignment, calibration and maintenance of multi-projection systems. This allows operators to manage multi-projector arrays, projection mapping and complex screen shapes with ease.
Christie Mystique Lite is the latest addition to the range and is a free software download. It can easily align up to three supported Christie projectors in a single horizontal projector array on a flat surface or screen, using a third-party webcam. The webcam and projectors are detected automatically, meaning that users can mark the corners of their screen, allowing them to align, blend and warp an image.
Christie Conductor
Christie Conductor is a free advanced monitoring and control software solution. It can be used with up to  256 Christie 3DLP projectors.
This software allows operators to diagnose technical problems as well as enabling repetitive processes with one click. This helps to keep projector systems working smoothly and avoids the risk of downtime. It was designed to monitor and control the 252 Christie D4K40-RGB projectors installed as part of the stunning Al Wasl Plaza dome project for Expo 2020 Dubai.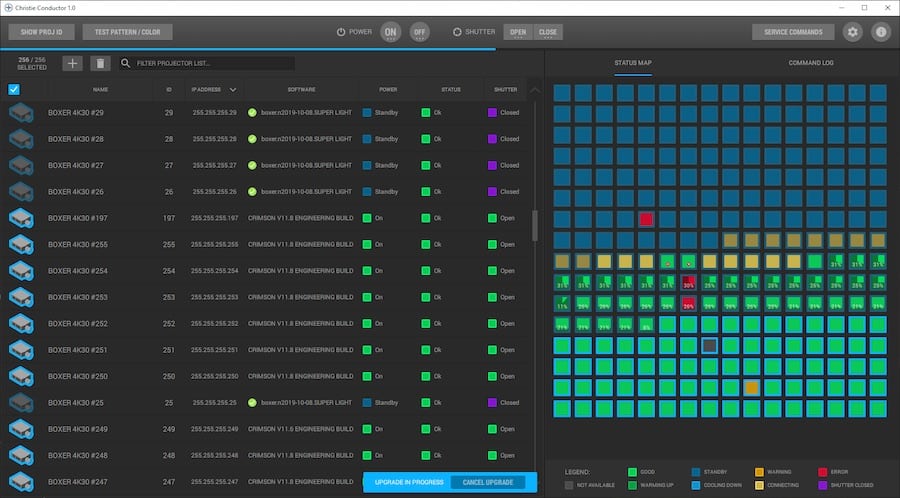 Using this software, operators can do multiple firmware updates remotely, view projector statuses and control the power, all from one place.
"Mystique Lite and Conductor software save time and make complex projection systems easier to operate and maintain, removing hours of manual work," says Brad Martin, senior product manager, Christie. "Both are available for our newest 3DLP projector, Griffyn 4K32-RGB, which is not only the smallest and quietest 34,000 lumen RGB pure laser projector on the market, it's now easier to manage."
Christie Mystique Lite will be available early July. Christie Conductor is available now for free download here.
Earlier this month, the company announced that its 4K RGB pure laser projectors are providing immersive experiences for the dome theatre at Miraikan – The National Museum of Emerging Science and Innovation in Tokyo, Japan.