Innovative new technology from leading AV solutions company, Christie, was used to power a huge, panoramic canvas at this year's Adobe Summit in Las Vegas.
Designed specifically for giant projection surfaces, the Christie Spyder X80 multi-screen windowing processor was selected by AV support specialist, WorldStage.
The towering on-stage panorama spanned more than 450 feet and comprised expansive projection surfaces flanked by recessed LED walls.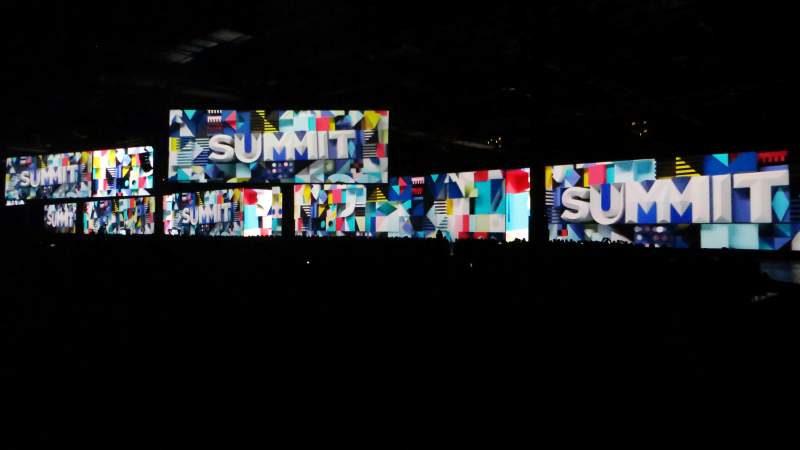 WorldStage was quick to invest in a number of the new processors which provided the brains for its new screen management systems. The digital marketing conference was a fitting debut for the X80 system. The complexities of the show required a system capable of seamlessly managing 68 projectors and a mix of HD and 4K sources.
Christie Spyder X80 'dwarfs everything else on the market'
"The Spyder X80 is the next-generation multi-window processor," stated WorldStage Senior VP, Richard Bevan. "It completely dwarfs everything else on the market and the difference is even greater because we can seamlessly use multiple units when we need more than one."
Billed as the most powerful processor in the world, each Spyder X80 offers an 80 million pixel canvas and permits 4K/60 on every input and output simultaneously.  The system can be configured with up to 24 inputs and 16 outputs per unit and supports user-defined colour depth of 8 bits, 10 bits or 12 bits per colour as well as HDR.  What's more, it features Christie's new Spyder Studio control system and a comprehensive EDID Manager.
"Christie's partnership with WorldStage has led to the creation of stunning large-scale events," added Clark Williams, Executive Vice President, Content Management and Processing, Christie. "The use of Christie Spyder X80 to manage millions of pixels from source to display demonstrates the trust that WorldStage has in Christie technology."
The Adobe Summit attracts thousands of industry professionals as well as major brands. Among the keynote speakers at this year's event were Sir Richard Branson; actress and writer, Leslie Jones and the NFL's JJ Watt.