Unveiled for the first time at this week's ISE 2019 trade show in Amsterdam, Christie's new MicroTiles LED are powerful and more flexible than their predecessor.
This evolution of the Christie MicroTiles brand, which already has myriad installations around the world, builds on a solid, successful past to offer a new narrow pixel pitch LED for the future.
Delivering P3 colour space, fully compliant HDR-10 and patented software that keeps the wall calibrated at 97 per cent or greater uniformity, Christie MicroTiles LED are suitable for broadcast sets, corporation venues, museums, retail, stadiums, arenas and higher education. Powerful capabilities including 12-bit 4K at 120Hz input sources with HDR10 compliance, integrated image processing, and scaling and simple switching.
Christie MicroTiles LED – stunning visuals in a slimline module
"Christie has been very successful with the MicroTiles brand," says senior product manager Ted Romanowitz. "Customers and our integrators love it because it makes for an easy creative solution. The visuals are a lot more stunning on MicroTiles LED – and all in a cabinet-free tile with a depth the size of a tablet computer."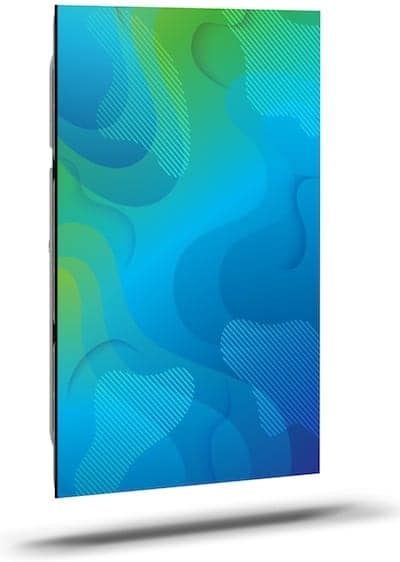 "The international markets for narrow pixel pitch indoor LED has experienced remarkable growth at nearly 60 per cent year over year," says Chris McIntyre-Brown, associate director for Professional Equipment and Displays at FutureSource Consulting. "We're beginning to see the market evolve from mechanical design to focus more heavily on signal processing and the introduction of advanced capabilities such as AV over IP."
Faster and easier setup
Christie MicroTiles LED comes with a low profile ADA-compliant QuickMount system. This enables displays to be created in any shape and size, including 90-degree inside/outside corners and both concave and convex curves.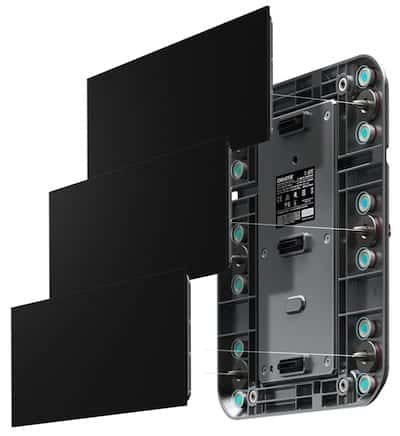 A single PoE Cat6 Ethernet cable is all that is required to connect each module to the entire display for a clean and simple cabling solution, dramatically reducing points of failure of typical LED cabinet design. With the click-n-go magnetic tiles, populating the display with LED tiles is incredibly fast.
"It takes approximately half the time to build a MicroTiles LED wall compared to a typical, same-sized LED wall," says Romanowitz. "Each tile and module is very small and lightweight. You can put any module board anywhere on the wall; they are completely interchangeable, which makes it so easy. Each tile has sensors so it's frequently analysing and adjusting itself to optimize both brightness and colour performance."
Simple to service
Hot-swappable, front serviceable tiles give technicians complete access to all parts while indicator lights give technicians at-a-glance status confirmation. For added convenience, the remote power and control system allows components to be installed in convenient, accessible locations away from the video wall, removing heat, noise and complexity.
The intuitive, easy-to-use web-based control interface can be accessed from any laptop, tablet or mobile device. MicroTiles LED's web user interface gives users complete command of display setup, control and management. And by adding Christie or third-party processing, media servers or content management solutions, customers benefit from a completely optimised workflow.
"MicroTiles LED is also the first display technology with Christie Terra SDVoE integrated directly into the product," says Romanowitz. "Combine that benefit with both Christie Pandoras Box and Christie Spyder and you have a complete solution that makes it simple and easy for our integrators and partners do amazing things they previously could only imagine."

Christie MicroTiles LED come with a three-year parts and labour warranty, which is extendable to five years, and ships in late spring 2019.
ChristieView – a new way to see content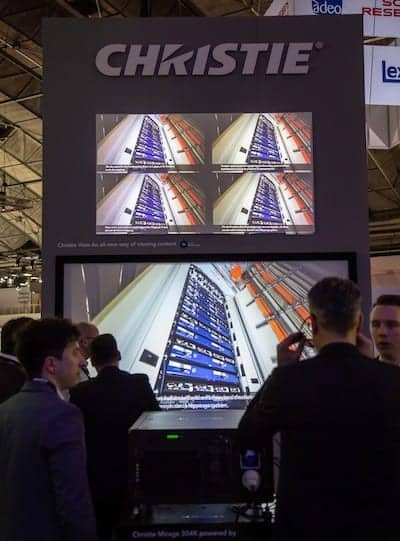 Also at ISE, Christie is demonstrating an all-new way of seeing content from a single projector. Christie View allows up to four users to view different 2K simultaneously. Alternatively, two outputs of 3D content can be viewed.
The system is previewed with a high performance Christie Mirage 304K projector (as pictured), configured to run at 240Hz and split into four mono inputs at 60Hz each. Each user views a single 60Hz output through shuttered 3D glasses that connect to an emitter and back to the projector.
"We believe our customers will see applications for Christie View in manufacturing design reviews, themed entertainment attractions, subtitles for museums or movie theatres and multi-person interactive content like video games," says Christie senior product manager, Mike Garrido.
 Meet Christie at ISE in hall 1 on stand H70. The show continues until Friday, February 8.