Roaming robots could one day be joining costumed characters in interacting with Disney guests. This is one of two new technological possibilities as a result of patents filed recently by the theme park giant.
"Robots can be found providing interactive guidance or entertainment in stores and amusement parks and in more dynamic settings," notes an application filed on April 6th. It goes on to calls for "a robot that will move and physically interact like an animated character."
But could they actually replace the theme parks cast members in costume? From Aladdin to Winnie the Pooh, Woody and of course a famous family of mice, character appearances are an integral part of the Disney park experience. The robots Disney wants to patent would be soft-body versions "designed for reducing collision impacts during human interaction."
Although they could potentially reduce labour costs, the company has refused to comment on what its plans for the robots would be.
A prototype sketch filed with the patent application shows a robot in the shape of the Baymax character in the 2014 movie Big Hero 6. Disney has experimented with free-roaming, human-free characters before. However Lucky the Dinosaur and the remote-controlled vehicle Push the Talking Trash Can at Walt Disney World were not without their limitations.
The new patent application describes air or fluid filled pliable chambers making up the body of the robot. The robot would be able to sense pressure on each chamber and adjust the amount of air or water to respond to a child's hug or accidental collision. Components made with a 3D printer and outer shapes on the robot would include "a donut shape, a cylinder, and a cylinder with a round end."
"It's hard to know why Disney decides to file for a patent," writer Jim Hill told the Orlando Sentinel, "but they have been looking at soft body robots since Big Hero. Disney is still terrified that even with this soft technology, a robot could accidentally harm a child. They do a lot of testing."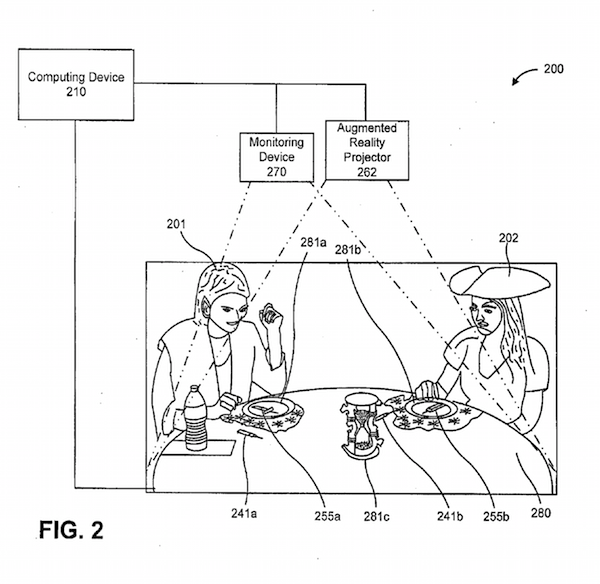 Meanwhile in its patent application Augmented Reality Controls for User Interactions, Disney is attempting to protect a projection technique using that would relay virtual content onto commonplace 2D objects. Potentially this would allow park guests to enjoy AR experiences without goggles or headsets,
According to the filing, "a user control onto the physical object including a visual representation correlated with a virtual element in the virtual world, determine a user input for controlling the virtual element based on a user manipulation of the physical object, and update, using the projector, the user control projected onto the physical object based on the user manipulation of the physical object to maintain the visual representation correlated with the virtual element in the virtual world."
In January Disney filed a patent for a responsive theme park ride system.
http://www.orlandosentinel.com/business/brinkmann-on-business/os-bz-disney-soft-robots-20170407-story.html